Post by Chicago Astronomer Joe on Jul 20, 2004 1:47:22 GMT -6
[glow=Yellow,2,300]
"Houston, The Eagle Has Landed"[/glow]
_______________________________
I was a mere lad of 8 when the Apollo mission headed for the Moon. I was glued to the black and white TV set we had thirty five years ago. My ignorant friends wanted to play softball and other activities of simple youth, but I refused. I invited them instead to join me and watch this great event in human history. They shrugged and said "What for?", and went on their way. Amazed with the myopic mind set, I continued my vigilance, everything else was not as important. Tang was big then, and my mom made me a big pitcher of it, as I sat in front of the flickering TV set, taking in all I could.

Even back then I trusted Walter Cronkite and was eager to hear the NASA astronauts speak about the mission.
Walter Schirra I remember vividly....handling models of the Command module and the LEM...explaining the pitch & dock procedure for LEM SEP from the SB-IV.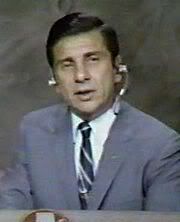 And Top notch ABC News Space & Science reporter Jules Verne Berman, who knew his stuff.
My Dad, wanting to keep this event for posterity, took Polaroids of the landing. Kinda funny now, but although faded, quite cool to still have. It was evening by the time Armstrong pushed off the ladder and onto the surface. We were all just quiet and watched in stunned amazement at what was unfolding before us in real time.
I must have fallen asleep around 2:00 am. Got some rest, and went back at it again when I woke up. Funny how after the first Moon landing, I don't recall any following flights until the Skylab missions. Not even Apollo 13 do I recollect at all.
Last year, I won this great 3 DVD set of the Apollo Mission from Spacecraftfilms,com. It has over ten hours of raw footage, transmissions and practically every bit of minutia of the project one can think of. They go into visual detail on bolts, transport vehicles, Saturn V stacking, pad operations, mundane tasks during the trip and a whole lot more. A really terrific feature is the multi-angle sequence of shots of the same event from different angles.
img29.exs.cx/img29/2550/SVLaunch.jpg
[/IMG][/center]
The Lift-off is not to be believed with Surround sound. I like to kick it up and shake the house. Brings a smile to my face every time I do.
I also have the commemorative "Vinyl" 2 album set of the manned missions from Mercury to Apollo 11. I sent away for it from a magazine and quite excited when it arrived addressed to me!
It's very hard for me to grasp the concept of 35 years. Apart from some aches and pains, I feel like I did when I was 8, and still have the same wonderment of space exploration and astronomy. It's too bad the American public is more interested in fluff and mindless trends. We should be on Mars already and beyond.
---------------------
*Update: Now it's five years later and we are at the 40th anniversary of the landing. I'm still as fascinated with it as I was 40 years ago. And now...I get to follow along in real time with the mission and a better understanding on what's going on:

astronomer.proboards.com/index.cgi?action=display&board=40years&thread=2521&page=1

Cool stuff never gets old.