Post by Chicago Astronomer Joe on Mar 28, 2006 8:33:45 GMT -6
Mini-Comets Approaching Earth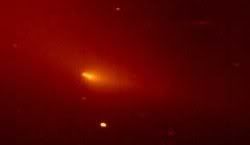 A cometary "string-of-pearls" will fly past Earth in May 2006 giving astronomers a fantastic view of a dying comet.
March 24, 2006: In 1995, Comet 73P/Schwassmann-Wachmann 3 did something unexpected: it fell apart. For no apparent reason, the comet's nucleus split into at least three "mini-comets" flying single file through space. Astronomers watched with interest, but the view was blurry even through large telescopes. "73P" was a hundred and fifty million miles away.
We're about to get a much closer look. In May 2006 the fragments are going to fly past Earth closer than any comet has come in more than twenty years.
"This is a rare opportunity to watch a comet in its death throes—from very close range," says Don Yeomans, head of NASA's Near Earth Object Program at JPL.
There's no danger of a collision. "Goodness, no," says Yeomans. "The closest fragment will be about six million miles away--or twenty-five times farther than the Moon." That's close without actually being scary.
The flyby is a big deal. "The Hubble Space Telescope will be watching," says Yeomans. "Also, the giant Arecibo radar in Puerto Rico will 'ping' the fragments to determine their shape and spin." Even backyard astronomers will be able to take pictures as the mini-comets file through the constellations Cygnus and Pegasus on May 12, 13 and 14.
Bonus: There could be a meteor shower, too.
This is very uncertain, indeed, forecasters consider it unlikely. But an expanding cloud of dust from the 1995 break-up of the comet could brush past Earth in May 2006 producing a display of meteors.
Astronomer Paul Wiegert at the University of Western Ontario has studied the possibility:
"We believe the cloud is expanding too slowly to reach Earth only eleven years after the break-up," he says, "but it all depends on what caused the comet to fly apart—and that we don't know."
Full story here from NASA:
science.nasa.gov/headlines/y2006/24mar_73p.htm
=============
Excellent...perhaps we not only get to observe some fragments, but maybe a meteor show to boot!...

It will also come mighty close to my favorite nebula M57 as well... ;D