Post by Chicago Astronomer Joe on Mar 13, 2006 22:51:47 GMT -6
Comet Halley 1910 & 1986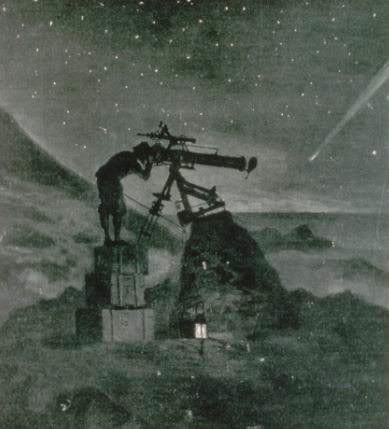 (Dig this astronomer from the turn of the century. His mighty long focal length refractor is perched precariously on a rock, some obstruction near the objective -Filter?...and he's piled unstable boxes to reach the eyepiece.....couldn't he have gotten just as good a view on the ground? We will never know!...
. But good for him anyway.)
I remember as a kid in the 60's reading about the great appearance of Halley's Comet of 1910. How it swept the skies with a great apparition and the hoopla surrounding it...like comet maddess where the masses thought since we would be passing thru the tail, that "toxic" gases would harm the people.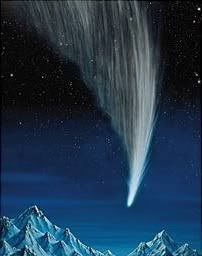 Then it was to re-appear in 1986...it seemed so far away, but I was going to be ready for it. I had my binoculars and 60mm telescope (still have it), got my charts from Astronomy magazine and waited.
Man...was I SOOO disapointed!...
No great tail, no bright coma, just a dim smudge. Shucks!
Then Comets Hail-Bopp and Hyatake came around astouding all of us amateur astronomers in modest equipment...and with it my faith back in cometary visits.
Here is a bit about the Giotto space craft mission to Comet Halley and it's discoveries:
Giotto 20 Years On

13 Mar 2006
On the night of 13 March 1985 the Giotto spacecraft passed within 600km of the core of comet 1P/Halley. Launched eight months earlier on 2 July 1985, Giotto was the first spacecraft to visit a comet's nucleus and represented ESA's first deep space mission.
Comet 1P/Halley was the logical choice for a cometary encounter mission. Aside from its fame with the public, Halley is a young, highly active comet and with 30 recorded apparitions its nature and orbit are perhaps the best understood of any comet.
Giotto was one of a small armada of spacecraft sent to rendezvous with Halley – two Soviet, two Japanese and one from NASA. An agreement was set up between the various agencies and information passed on to the Giotto team, which was the last to fly-by the comet, to help the final targeting of the spacecraft.
After successfully completing its goal to rendezvous with and observe Halley's comet, Giotto went into hibernation for four years. Although a few of the instruments were damaged during the encounter the spacecraft had survived the battering by cometary dust and a second cometary fly-by, this time of comet 26P/Grigg-Skjellerup, took place in July 1992.
Full story here with spacecraft instrumentation:
sci.esa.int/science-e/www/object/index.cfm?fobjectid=38922
========
Great little machines... ;D