Post by Chicago Astronomer Joe on Mar 18, 2006 4:03:50 GMT -6
Impromtu Observation session by the Adler
Fellow Chicago Astronomers and Adler crew...
Friday night proved to be a nice evening for astronomy, regardless of what the Clear sky clock would say on this St. Patrick's day.
Chicago Astronomer Bill called this session by the Adler in order to do a mini Messier marathon - mocking the bright Chicago skyline just before us.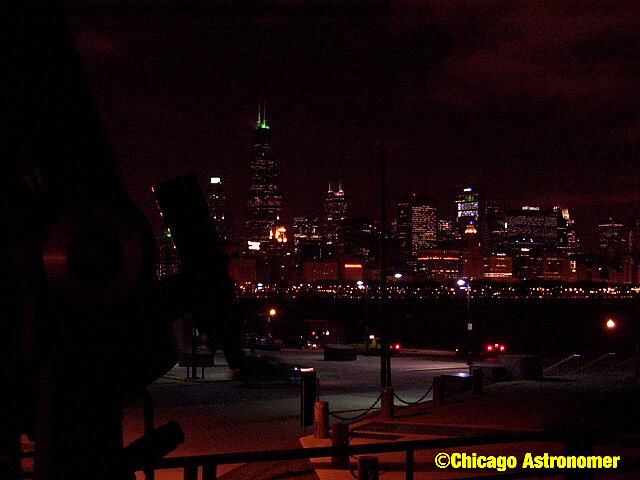 The Sears tower antenna's lit up green for this St. Patrick's day
Some time was spent aligning the SCT scopes, we had three in total, one 10" and two 8" - Celestrons and Meades. I brought my own equipment, but left it in the car and decided to do the hummingbird routine, lighting from scope to scope. With the goto's, finding objects were a snap, and one in particular, "Ghost of Jupiter nebula", I never heard of or seen before, but it was bright as nebulas go and quite a treat.
"The Ghost of Jupiter is one of the finest planetary nebulae for any size telescope, and one of the most observed non-Messier's.
This object was discovered by William Herschel in 1785. In a small telescope it appears as small, oval disk that bears a close resemblance to Jupiter (hence the name). It was H. Smyth who first noted this resemblance. Like most bright planetary nebulae, the Ghost appears pale blue or green to the eyes of most observers."
www.skyhound.com/sh/archive/mar/NGC_3242.html
It will become a regular in my sessions now, along with my favorite...M57... ;D
We had planned to catch a couple of Iridium flares this night around 7:30 pm, but with setting up and stuff, we forgot all about them. It wasn't until afterwards that I looked at my watch and remembered after the fact. Kalvis saw the flare from his house, but it was not near the -8 mag the notice made it out to be...
Motor drives were whirring here and there, jumping from galaxy to open cluster to nebula to Saturn...it was almost like musical chairs.
Chicago Astronomer Kalvis was showing me new astronomical software for his palm pilot that he got at Chicago Astronomer Al's SkyInsight website:
www.skyinsight.net/indexstd.html
, and displayed the rise and set times of different objects. I had noticed that the Moon had just risen and I suggested we look around the corner of the Adler to see it, and there it was...Orange and flattened. I wanted to observe it with a scope, but all were set and I dared not move them, or else feel the wrath of fellow astronomers. So I dragged out my favorite refractor - the 3" Nikon, and set up to catch the rising Moon. Looked great using a 25mm, but Chicago Astronomer Bill brought along his neat binoviewer, and I wanted to use it on the refractor...something I haven't done before. (We used it earlier on the 10" Meade SCT, and caught great views of Saturn in great depth and detail.) I slipped it in the Nikon focuser, but the damned thing wouldn't focus down enough!... #beatdeadhorse# I removed the adapter sleeve, and it still wouldn't focus down enough for a sharp image... #idea# I then removed the right angle diagonal and adapter, and carefully held the binoviewer by hand into the focuser...and in clear focus was the Moon...in 3D. Wow! A beautiful sight!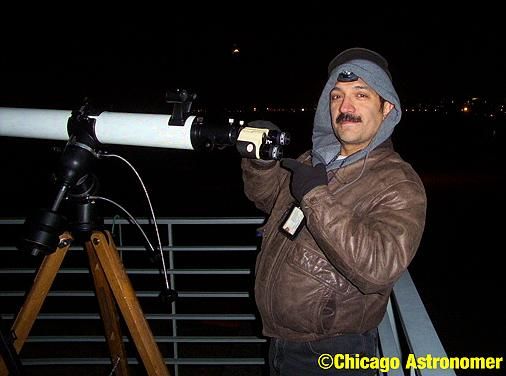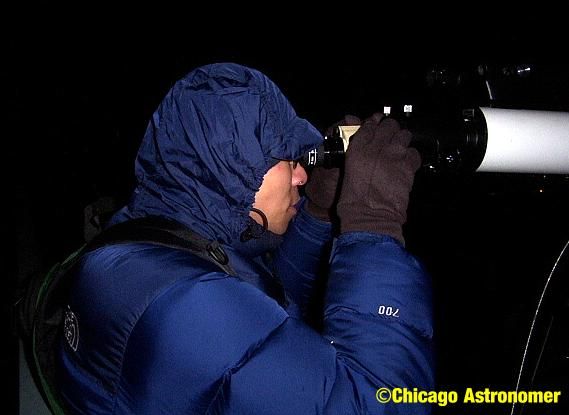 We all took a look and marveled at the view. I was the one who spent most time with the Binoviewer, but my arms were getting tired. I still wanted to maintain observation, so I wrapped a bungee cord around the viewer and scope and viola....it worked like a charm. It held steady and secure and all I had to manipulate were the slo-mo controls.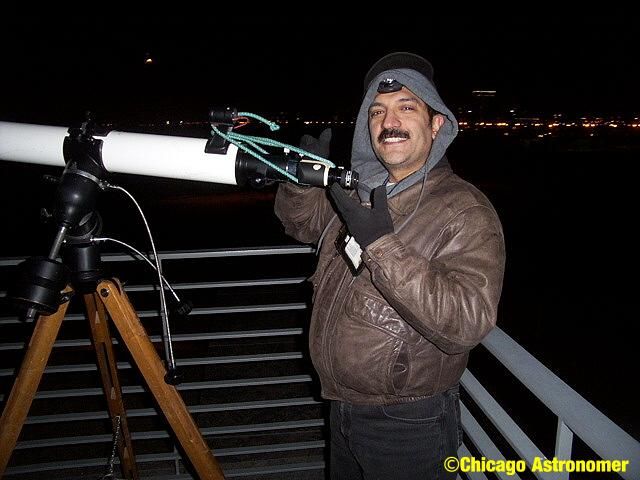 Using 20mm eyepieces the lunar landscape was in great relief in the binos. Boiling and bubbling with atmospheric turbulence, the Moon put on a good show. Great stuff.
It was then time to close up and head on our way, but it was a very nice evening of observation and sharing with friends.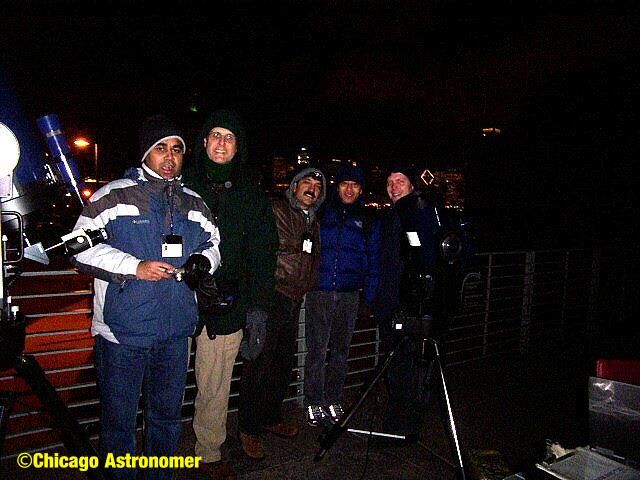 Chicago Astronomers Arvind, Steve, Myself, Bill and Kalvis
Joseph Guzmán
The Chicago Astronomer
Administrator & Founder
www.chicagoastronomer.com
astronomer.proboards23.com
"We are all in the Gutter, but some of us are looking at the Stars"
Oscar Wilde -1854-1900