Post by Chicago Astronomer Joe on Aug 9, 2006 22:09:24 GMT -6
Famed physicist James Van Allen dead at 91

Renowned physicist James Van Allen, who helped launch the United States into the space age and for whom the Van Allen radiation belts are named, has died. He was 91.
Interim University of Iowa President Gary Fethke announced the Van Allen's death Wednesday, but offered no details, the Des Moines Register reported.
Explorer I, the first successful U.S. space venture, carried, at Van Allen's insistence, a small Geiger counter. That led to a significant scientific finding: the discovery of two belts of intense radiation that surround the Earth.
Although his scientific accomplishments were myriad, he opposed manned space flight: "Man is a fabulous nuisance in space right now (1959). He's not worth all the costs of putting him up there and keeping him comfortable."
He once offered his own explanation of space: "It is that in which everything else is ... in other words, space is the hole that we are in."
In 1951 Van Allen became a professor and head of the University of Iowa's Department of Physics and Astronomy, the Register reported. He held that position until he retired from teaching in 1985.
Source:
www.physorg.com/news74350687.html
===========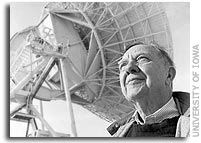 U.S. Space Pioneer, UI Professor James A. Van Allen Dies
Dr. James A. Van Allen, U.S. space pioneer and Regent Distinguished Professor of Physics in the University of Iowa College of Liberal Arts and Sciences, died this morning, Wednesday, Aug. 9, 2006 at the age of 91. Arrangements are pending.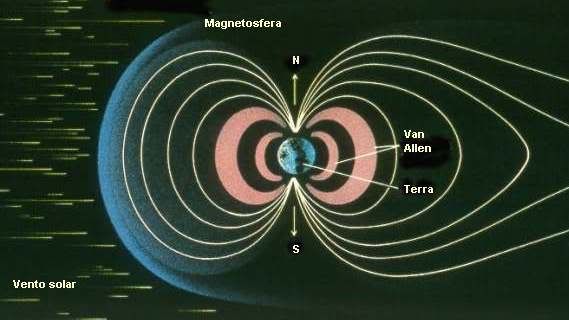 Though he retired from active teaching in 1985, he continued to monitor data from Pioneer 10 throughout the spacecraft's 1972-2003 operational lifetime and serve as an interdisciplinary scientist for the Galileo spacecraft, which reached Jupiter on Dec. 7, 1995.
The highlight of Van Allen's long and distinguished career was his use of UI-built instruments carried aboard the first successful U.S. satellite, Explorer 1, in 1958 to discover bands of intense radiation -- later known as the Van Allen radiation belts -- surrounding the Earth. It came at the height of the U.S.-Soviet space race and literally put the United States on the map in the field of space exploration.
Among the other accomplishments of which he was most proud was his 1973 first-ever survey of the radiation belts of Jupiter using the Pioneer 10 spacecraft and his 1979 discovery and survey of Saturn's radiation belts using data from the Pioneer 11 spacecraft. Ever a critic of manned space flight, Van Allen the scientist described himself as "a member of the loyal opposition" when it came to discussions of big-budget space programs, declaring that space science could be done better and more cheaply when left to remote-controlled, unmanned spacecraft. NASA's move toward cheaper, more focused unmanned spacecraft during the 1990s was, at least in part, a result of Van Allen's advocacy.
More here:
www.spaceref.com/news/viewpr.html?pid=20565
================
How cool it was to have such a tremendous discovery named after oneself.