Post by Chicago Astronomer Joe on Feb 17, 2014 0:37:36 GMT -6
Dark Matter Lecture at the Adler with Dr. Edward "Rocky" Kolb

15 February 2014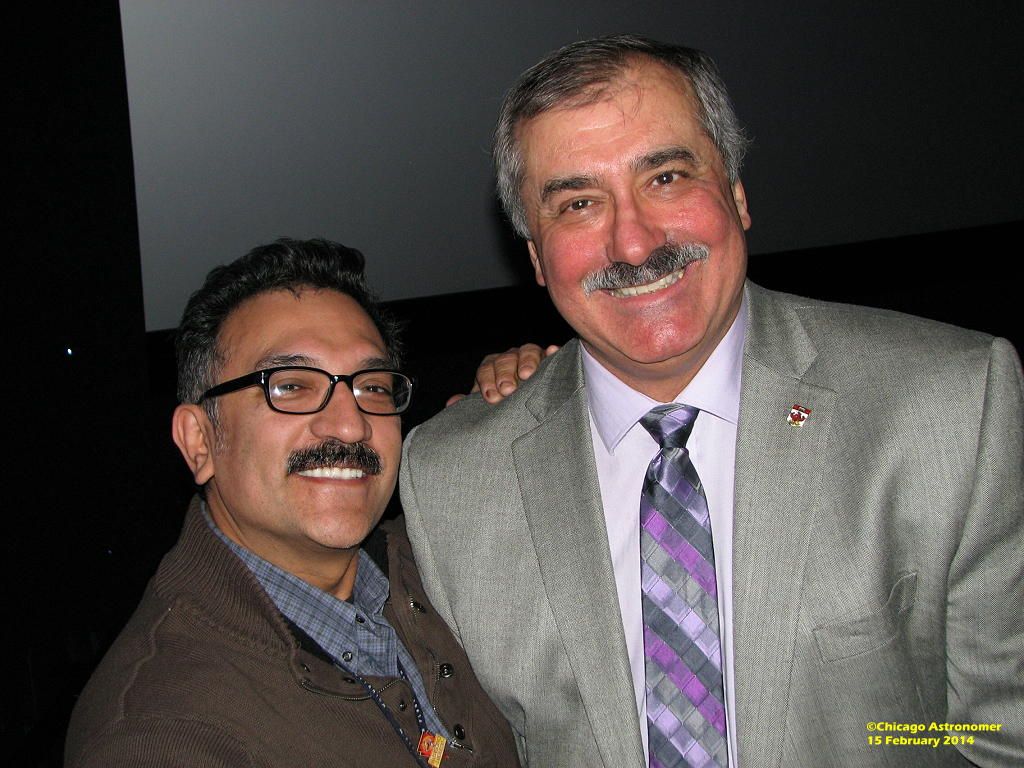 I had the great opportunity to enjoy a lecture and meet Dr. Edward Kolb, esteemed University of Chicago Cosmologist...on the topic of Dark Matter at the Adler Planetarium.
Prior to the lecture, the Adler displayed nice 3-D simulations of Supernovae and other related graphics...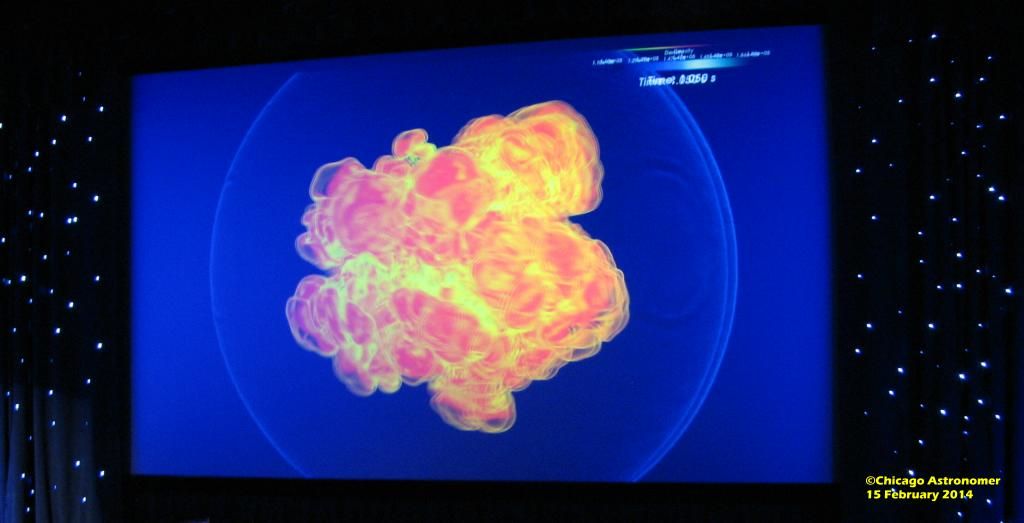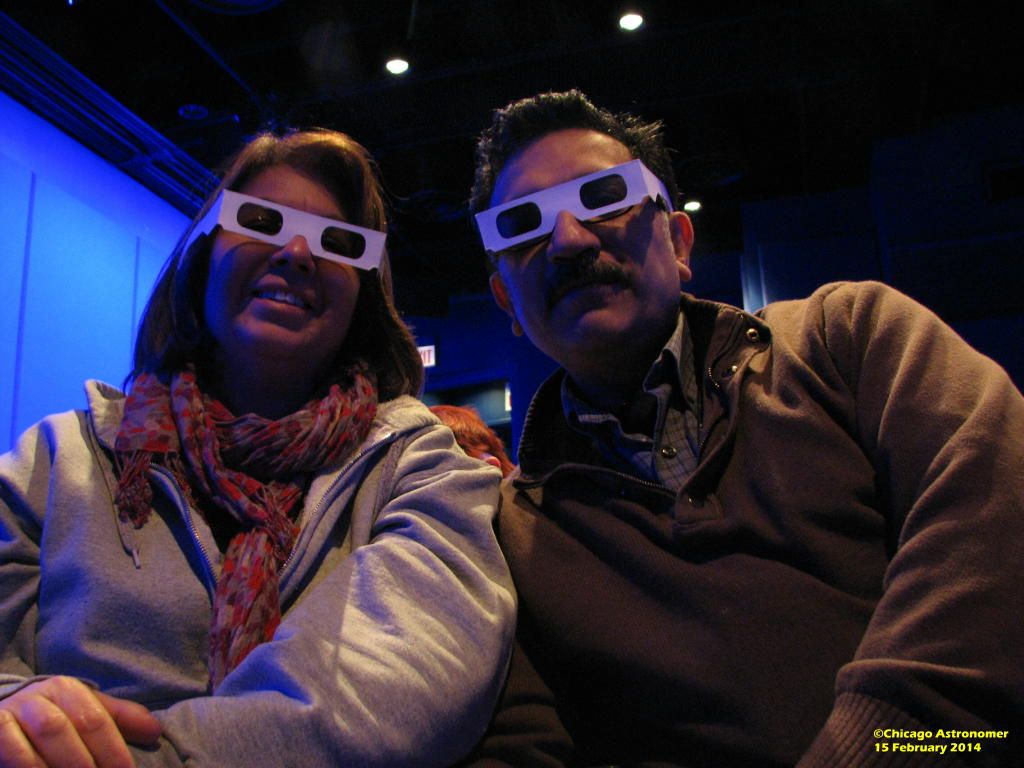 Introducing Dr. Kolb, was Paula S. Apsell - Senior Executive Producer of NOVA on PBS...
Dr. Kolb started out by explaining what he would discuss: "Dark matter" and not "Dark Energy" - describing the difference between the two...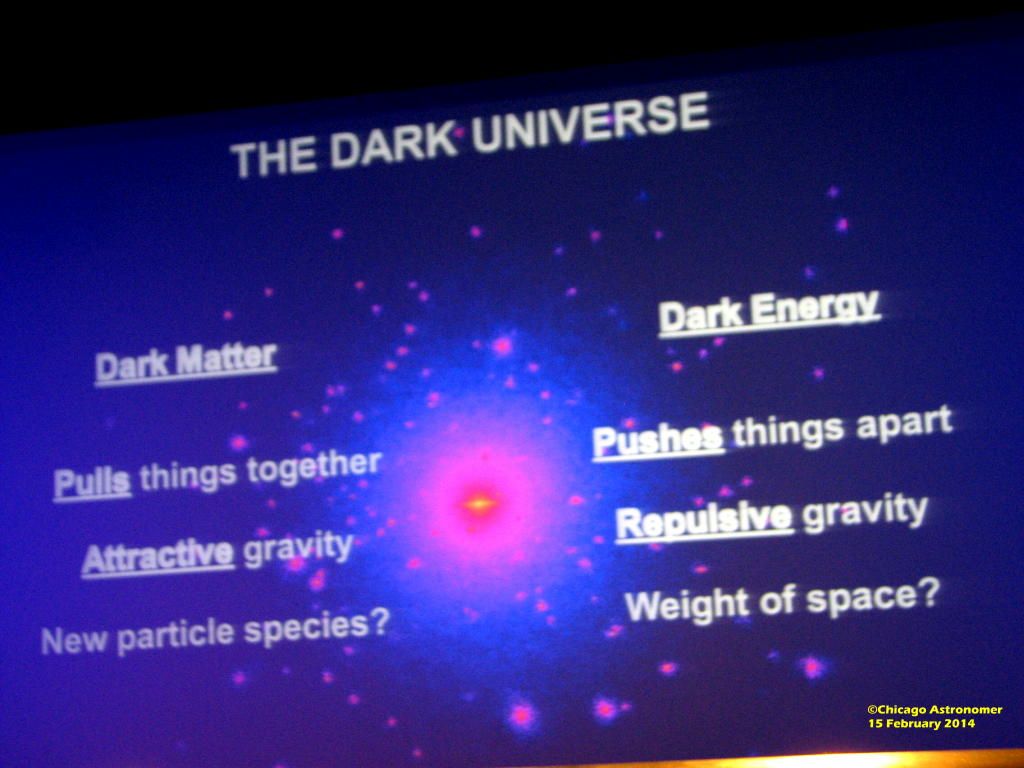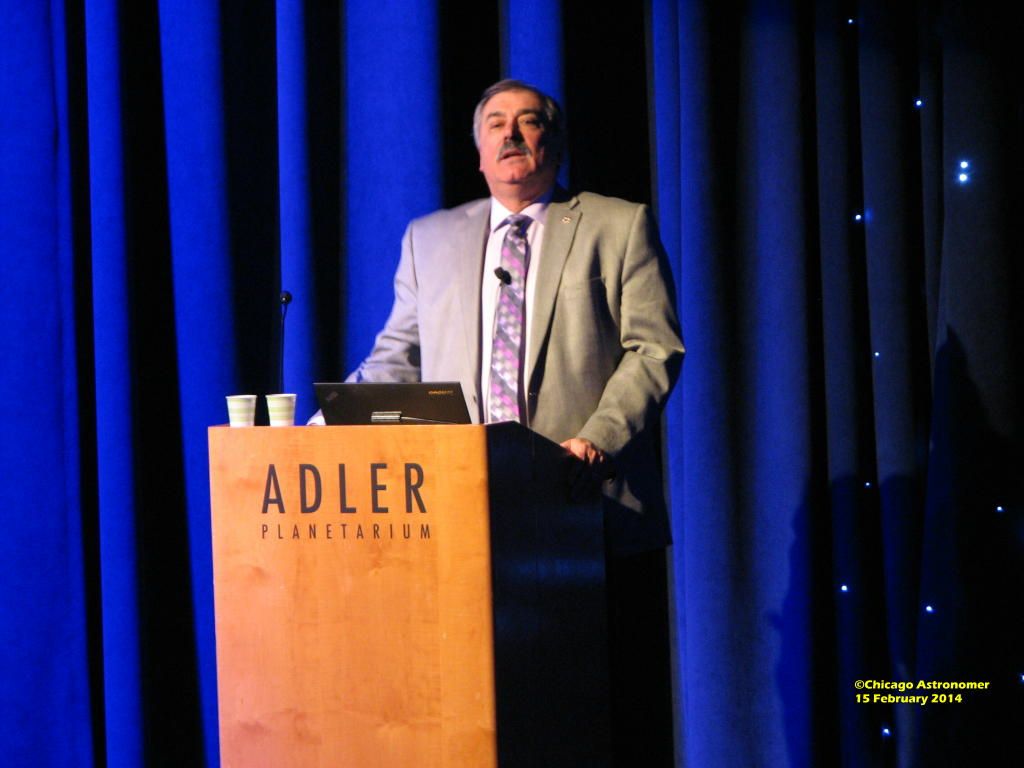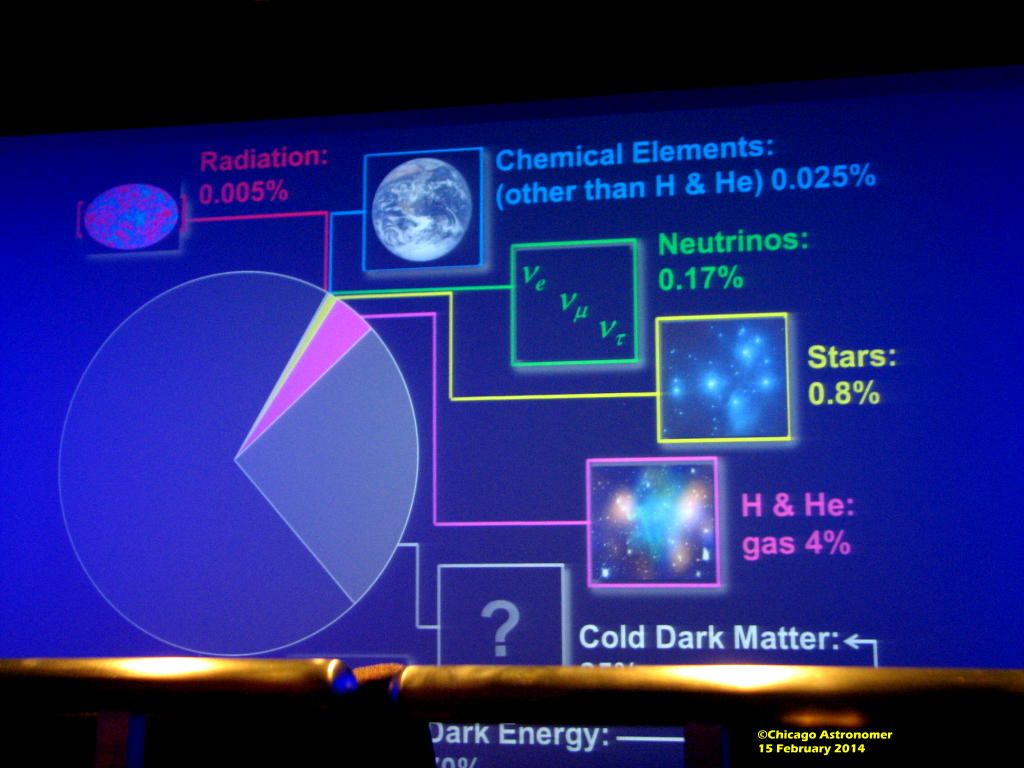 He stated that adding up all of what we can observe...it only measures to 5%...leaving 95%....unknown. But something in the Universe is present, beyond our means of identification...for now. But it seems we can only go back so far with our time machines...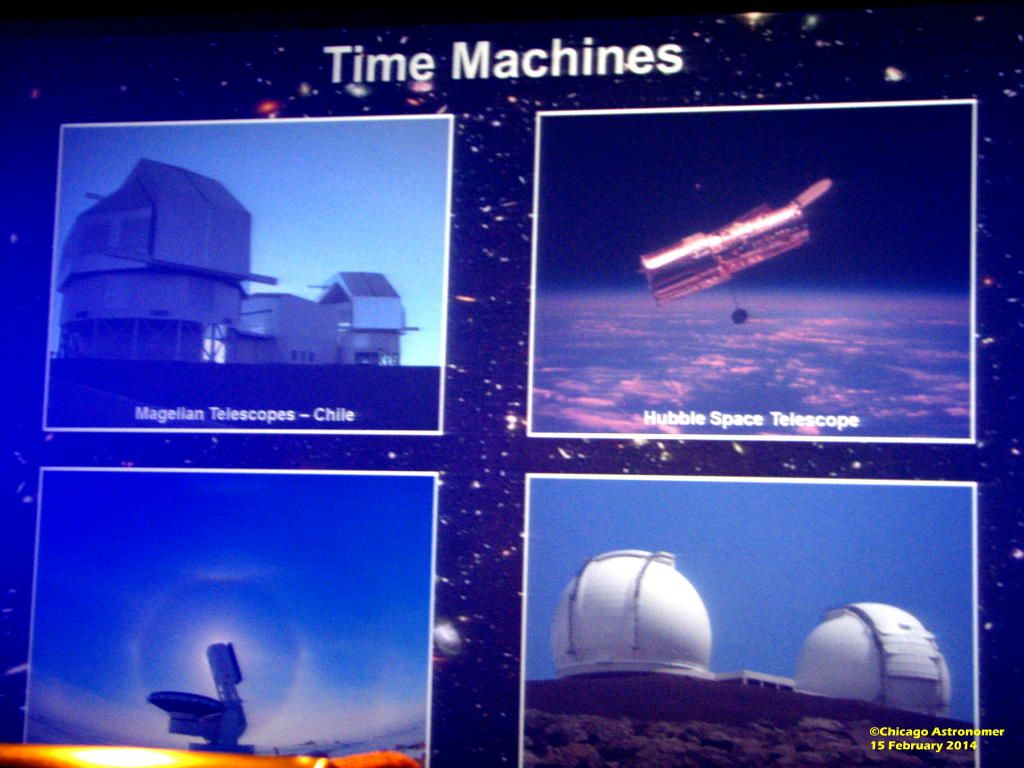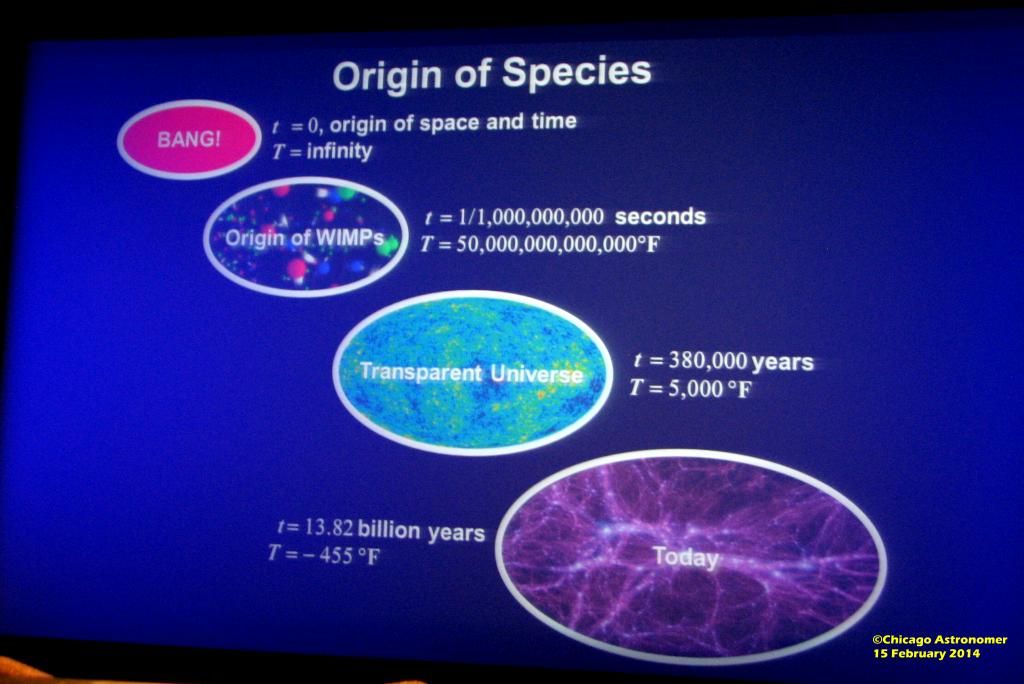 ...about to only 380.000 years after the big bang event, where the entire observable arena is totally obscured with background microwave radiation - with present instruments unable to penetrate.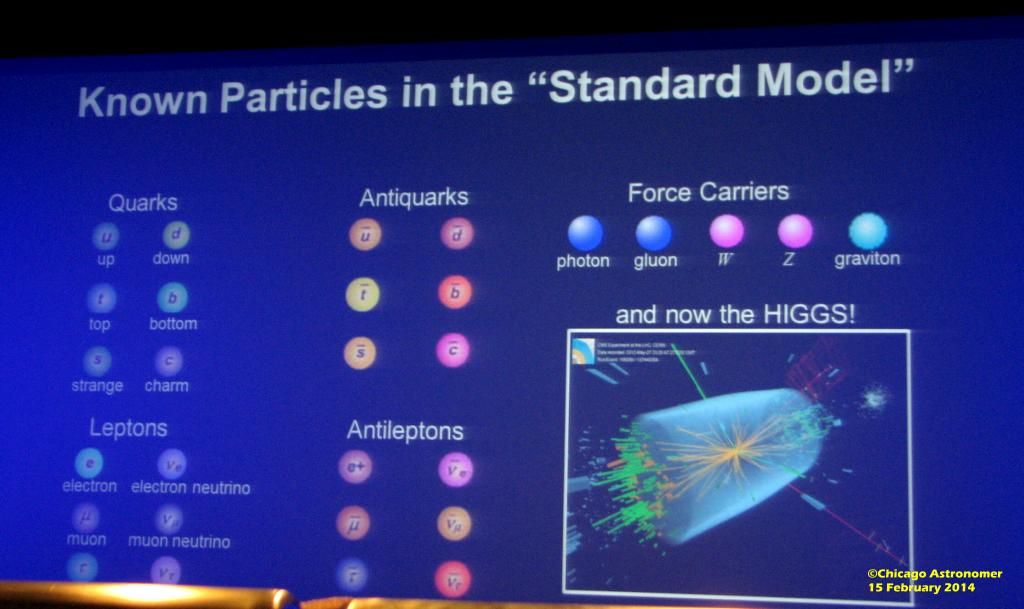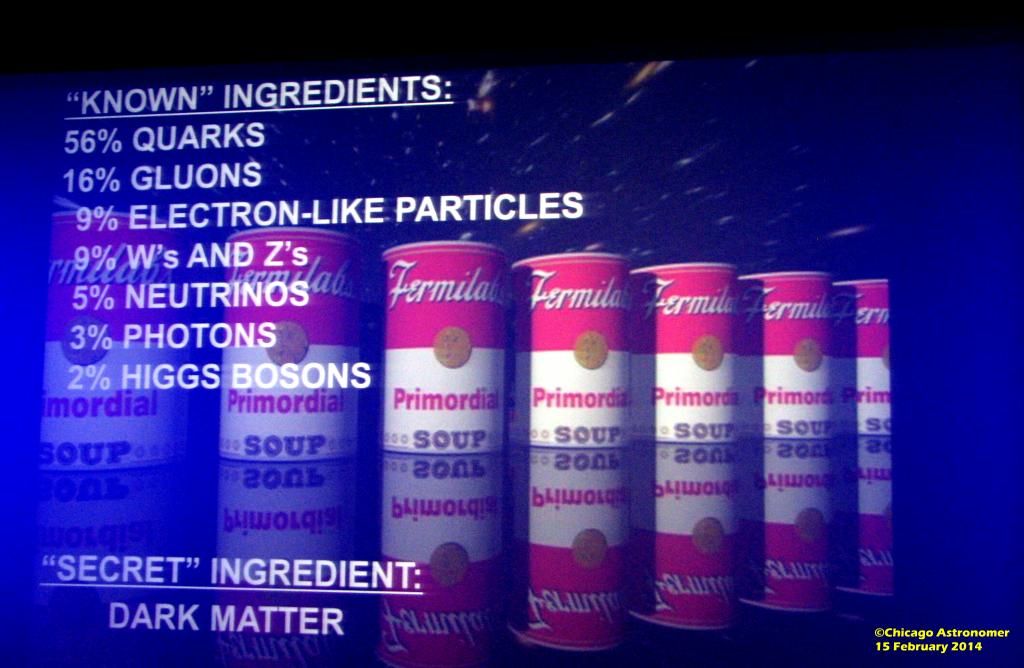 But sometime during the Big Bang event, Dark Matter was created and we are attempting to identify exotic particles with the CERN Accelerator...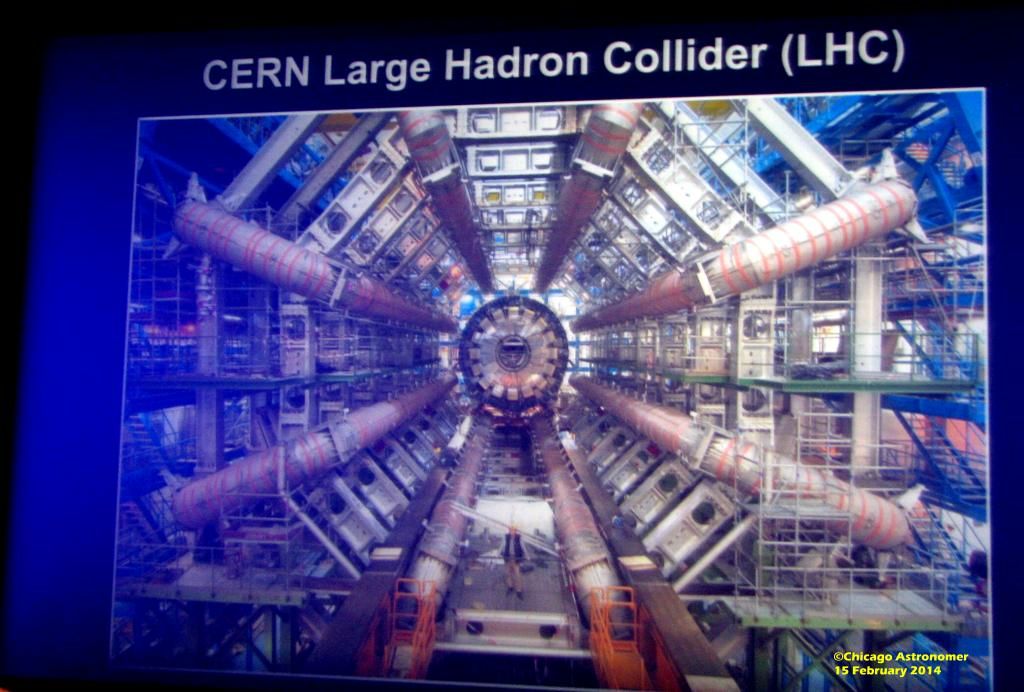 ...bringing us closer and closer to what makes up the majority of our Universe. Even here in the Chicagoland area, Cosmologists utilize the "Deep Underground Project" to collect elusive high energy particles...that are zipping through us all the time...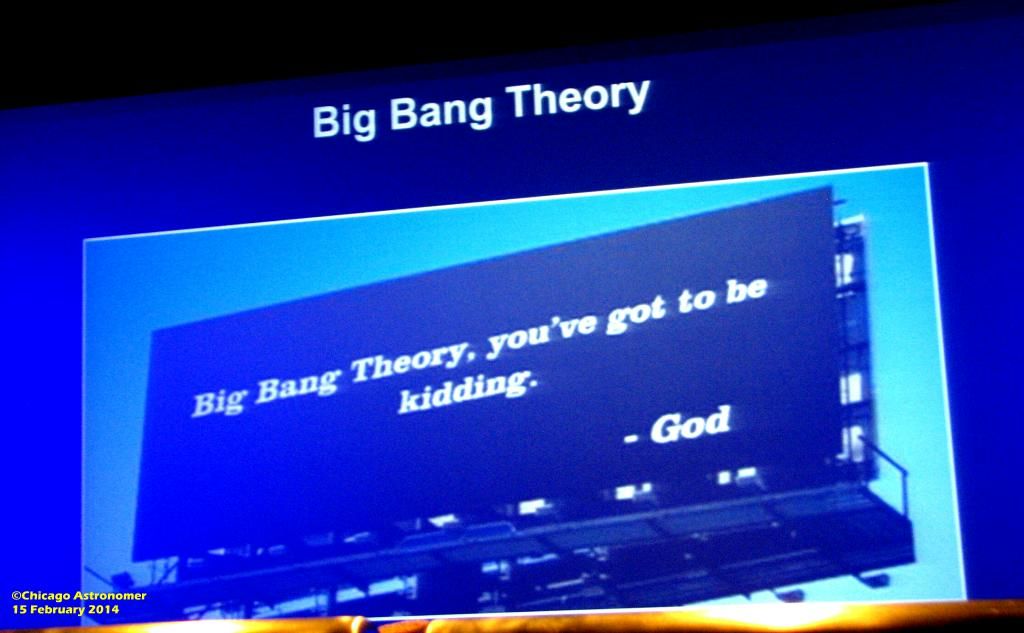 Dr. Kolb brought out a highly radioactive element to assist in demonstrating how energy particles are all about us from elements forged in the belly of stars and formed during the Big Bang...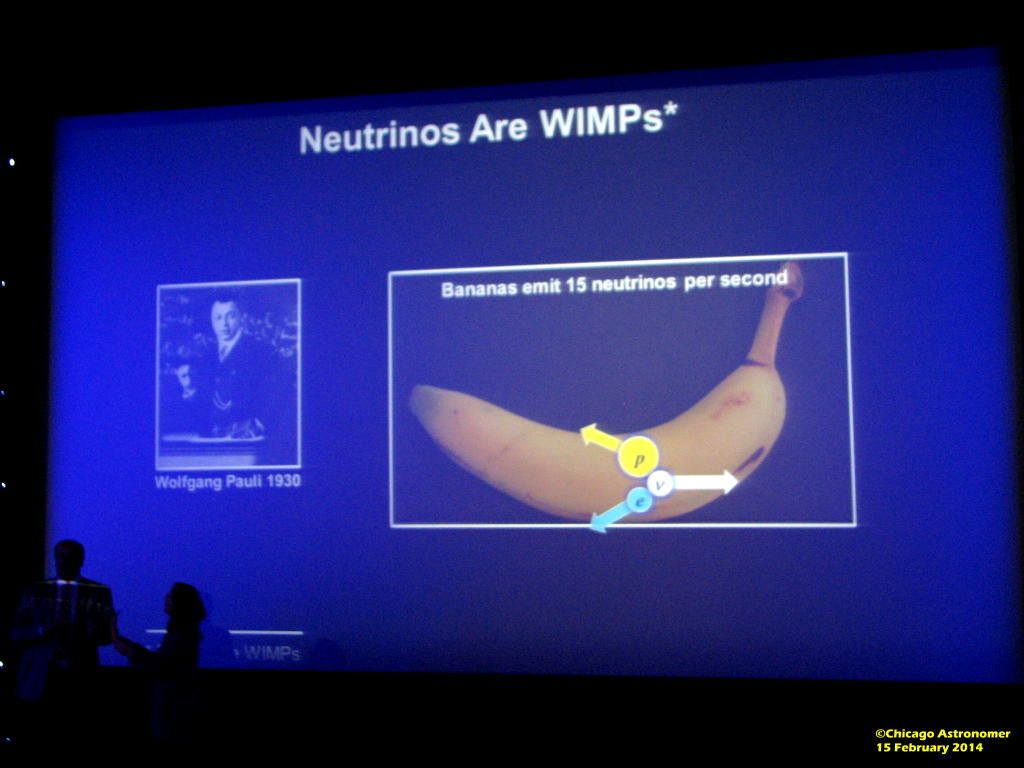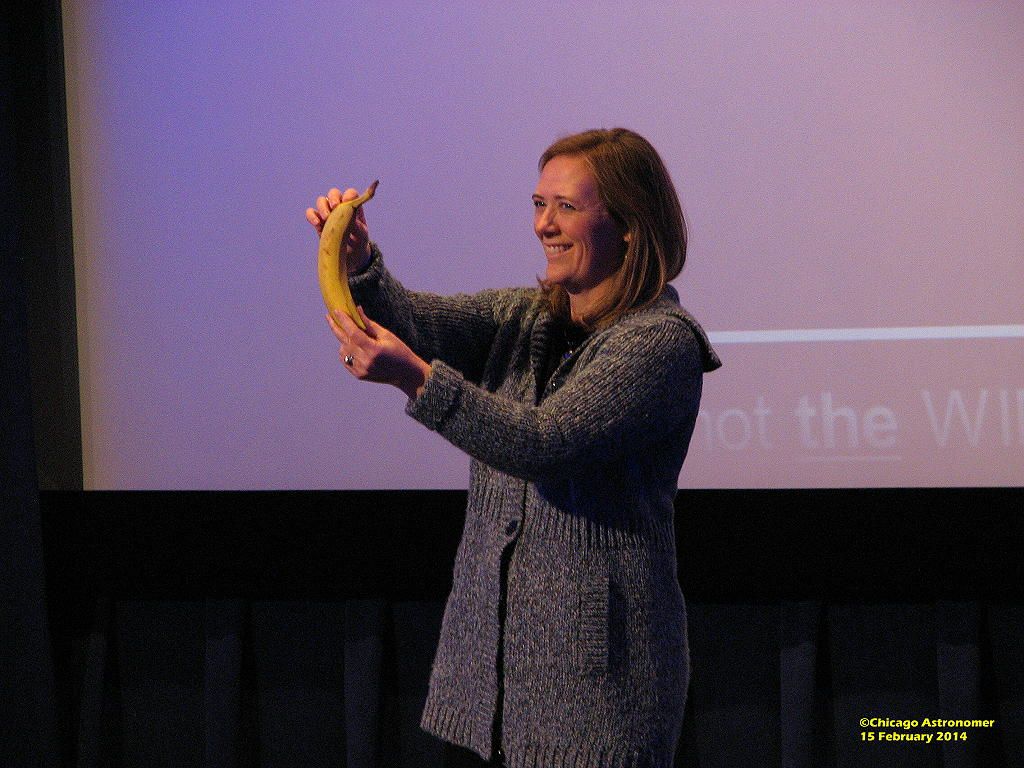 Potassium 39, a very highly radioactive element, is altered into Potassium 40..and still radioactive, but safe...sorta. But Cosmologists at one time thought that "Massive Compact Halo Objects" or M.A.C.H.O was the answer to the Dark Matter problem objects that were cold, non-radiating matter—burned-out stars, or large planets—are exerting their influences on galactic structure..but after sometime investigating...they could not identify such objects.
Then came the WIMPS....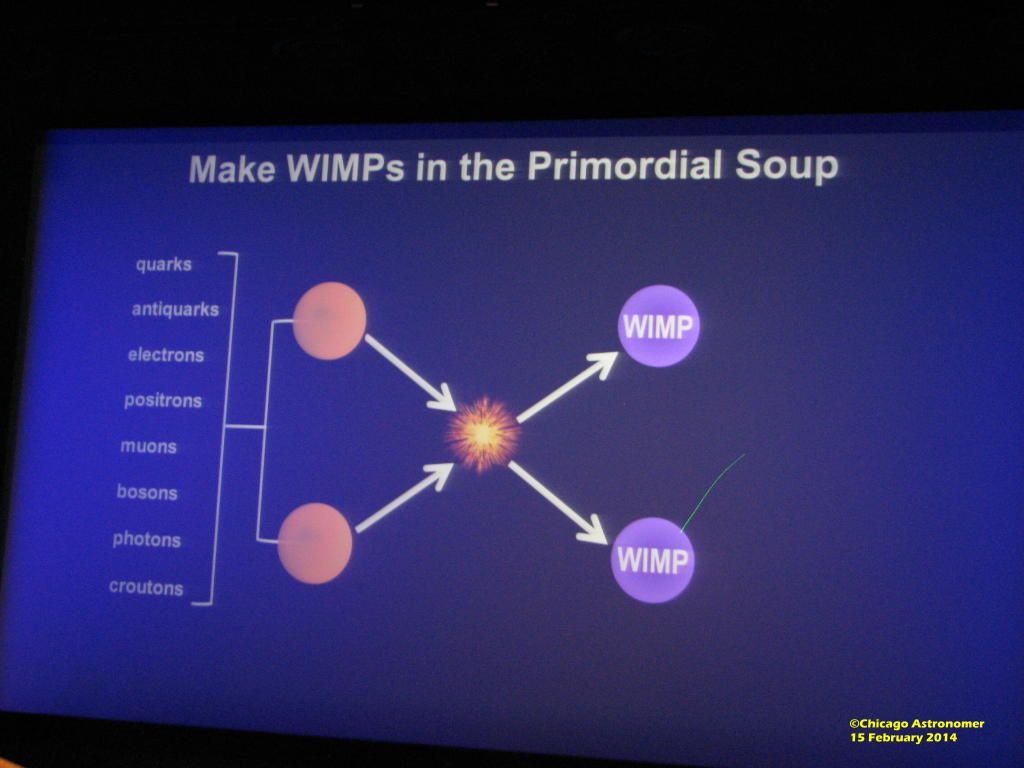 W.I.M.Ps =
Weakly Interacting Massive Particles or WIMPs, are hypothetical particles serving as one possible solution to the dark matter problem. Weakly Interacting Massive Particle (WIMP) theory has been the main competitor with the MACHO theory, but with the demise of the latter theory, scientists have now pinned their hopes on a WIMP subatomic particle to account for the necessary gravitational attraction.
If indeed dark matter exists, (Something is out there), according to physicists, then it should be expressed via a particle. After all, gravity is based on mass attraction, so if dark matter is holding the stars in their galactic orbits, and pulling those galaxies into clusters, there must be an invisible particle (or particles) responsible for the effect.
Dark matter seems be concentrated in clusters, HUGE fluffy clusters...surrounding galaxies....
..as shown above, with the center yellow being a galaxy like our own and the clusters of the unknown Dark Matter hanging about and influencing their surroundings.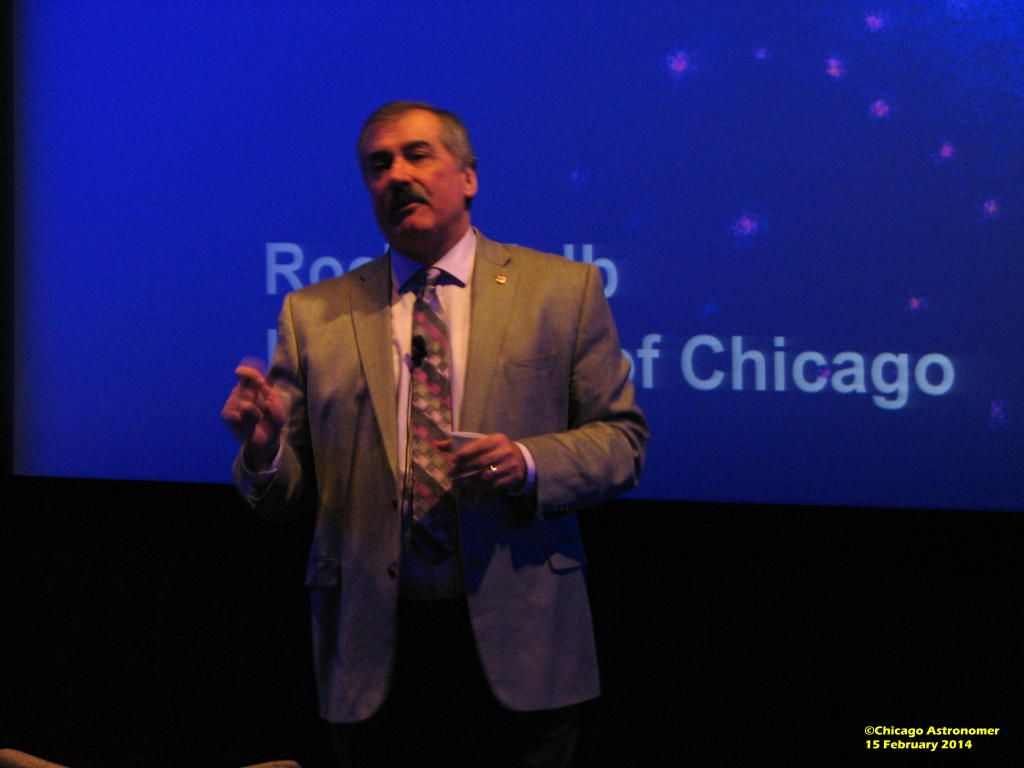 So, as Kolb puts it "WIMPS beat out MACHOS..."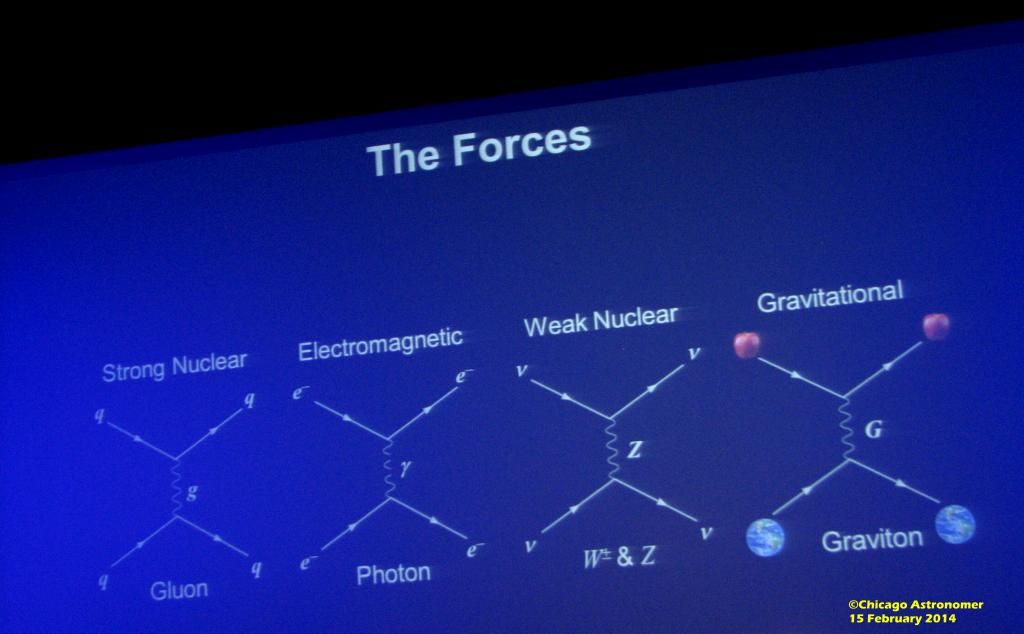 But, the answer is not yet at hand and the Universe is still a great mystery...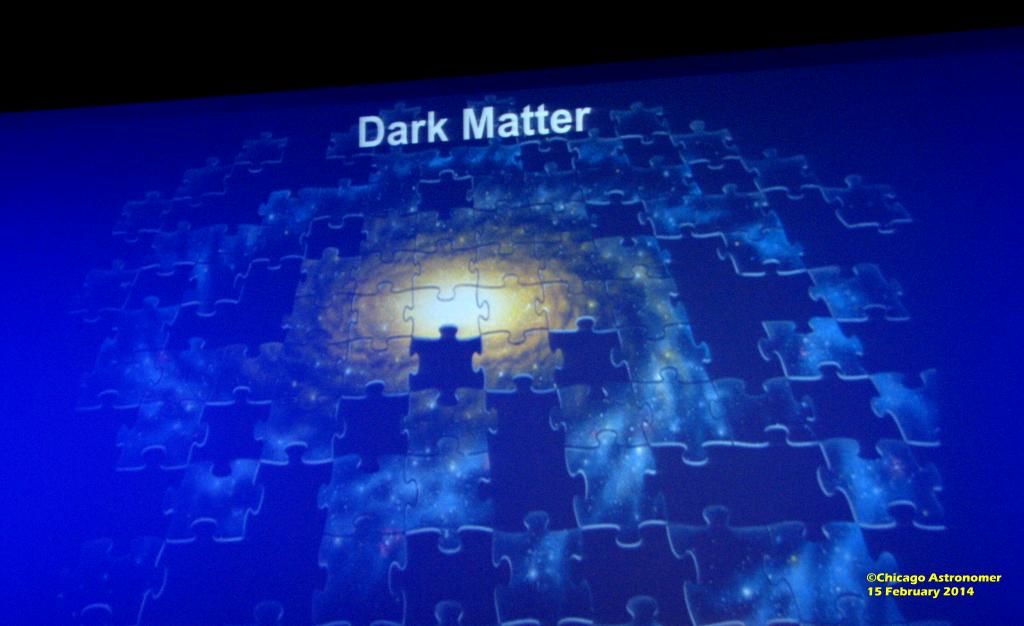 An uplifting lecture with humor and instruction.
At the end of the lecture, Dr. Kolb and I chatted for a bit and shared a shot with us...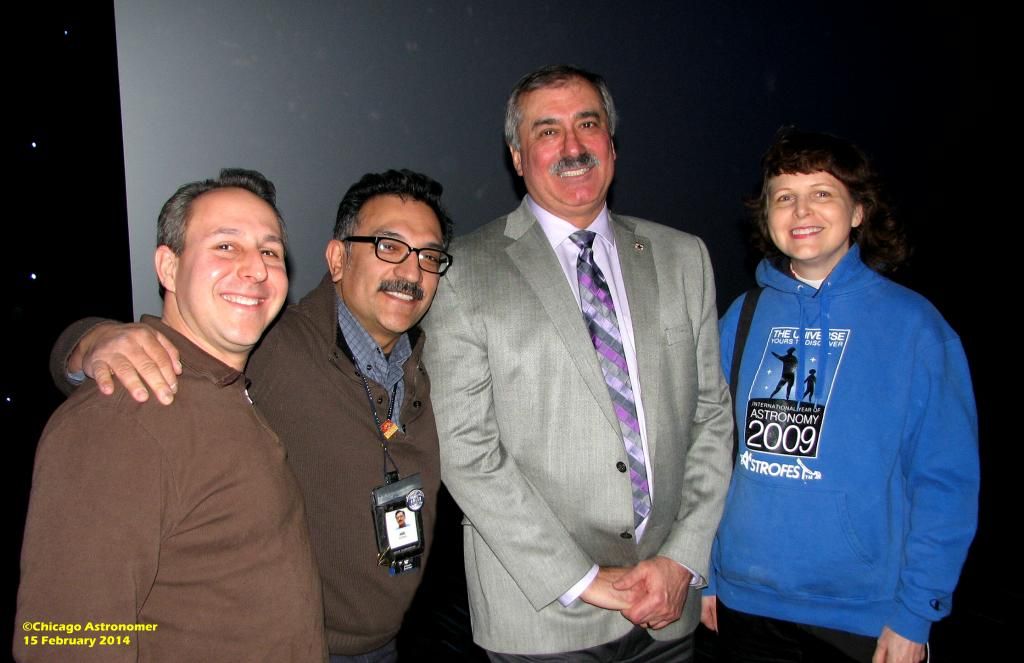 Pictured: Fellow Adler Telescope Facilitator John, myself, Kob and Audrey from the C.A.S.