Post by Chicago Astronomer Joe on Mar 28, 2013 13:54:08 GMT -6
Using an Ipad/Tablet for remote control Go-To on the CG-5
For the longest, I have been a all manual - all the time Astronomer. It's been cool, pushing OTAs to find celestial objects. Brings an intimate relationship with the cosmos really.
But, I like the option of the Go-To.
As a tool to augment, it can make an observation/imaging session better by finding those dim fuzzies quickly and if set-up well, precisely.
The Hand controller on the CG-5 and other mounts will do the job well - albeit a bit archaic. Slewing through menus to get what you want. The iPad/Tablet just on it's own, has brought a new element for both personal and public outreach sessions. With crisp and detailed star charts animated images, it has become a great way to navigate through the skies.
But, it can go a step further.
With the proper hardware and software one can not only attach a laptop, (NexRemote), to point and click to your target , but those pretty handy iPads/Tablets can now do the same...and wireless!
Pretty well I understand.
This is where the iPad dominates for now, as the Android platform hasn't caught up yet with remote Go-To control .There are several good astronomical telescope control apps , including "SkySafari", "Sky-Q" and a host of others...but I like "Luminos". It's interface is very detailed and workable. And it has the telescope control option.
Now, which system to invest in, now that I have a IPad mini to use....?
Celestron's "Sky-Q" is the most economical in the field...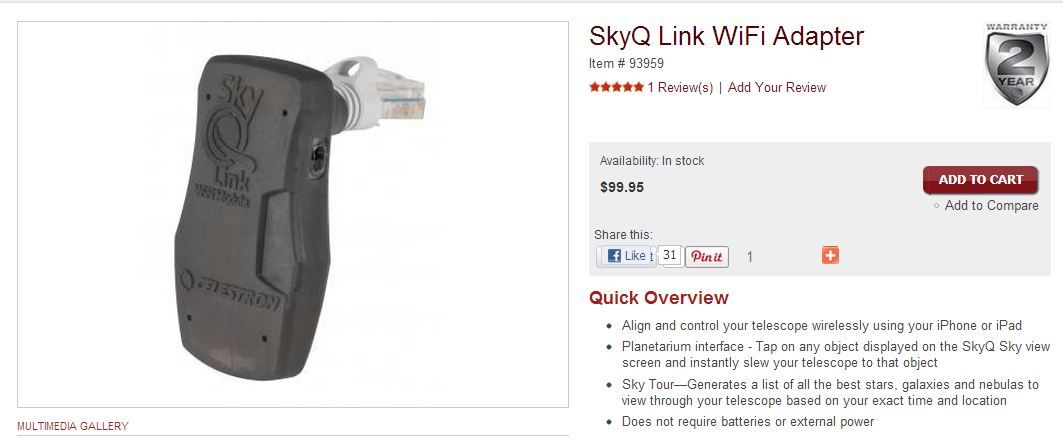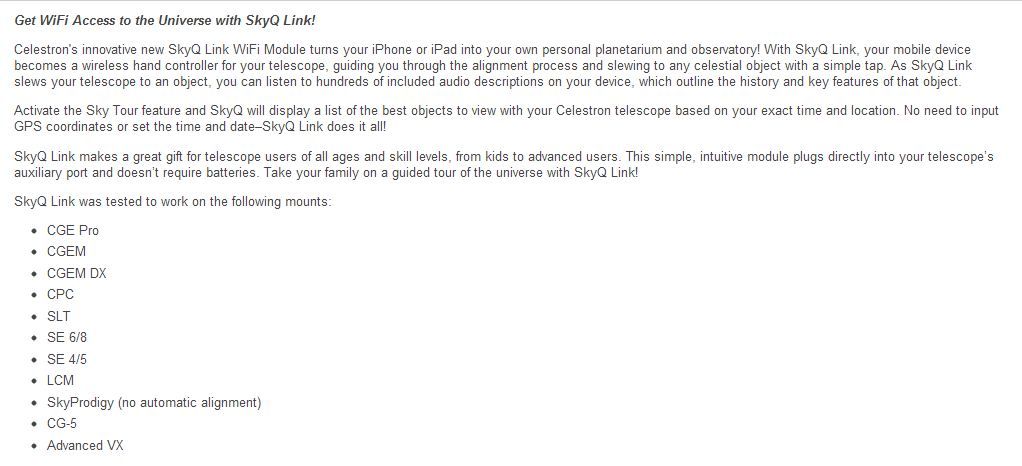 The SkyQ is by far the simplest and most economical of the iPad remote control field. At it's cheapest of $79.00...all you do is plug the little wi-fi dongle in the port of your mount...and you are off exploring. The no batteries is a great plus too.
But, although the graphic interface is adequate, it lacks the detailed data that other programs contain - like "Luminos".
The only other option is the Skyfi/Starseeker way....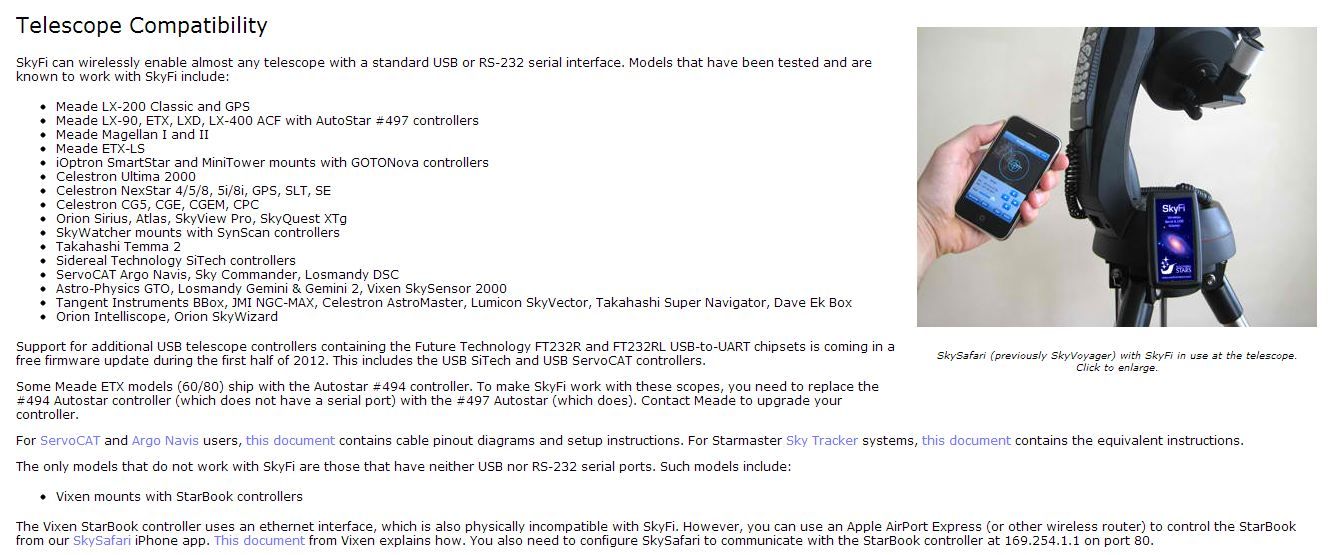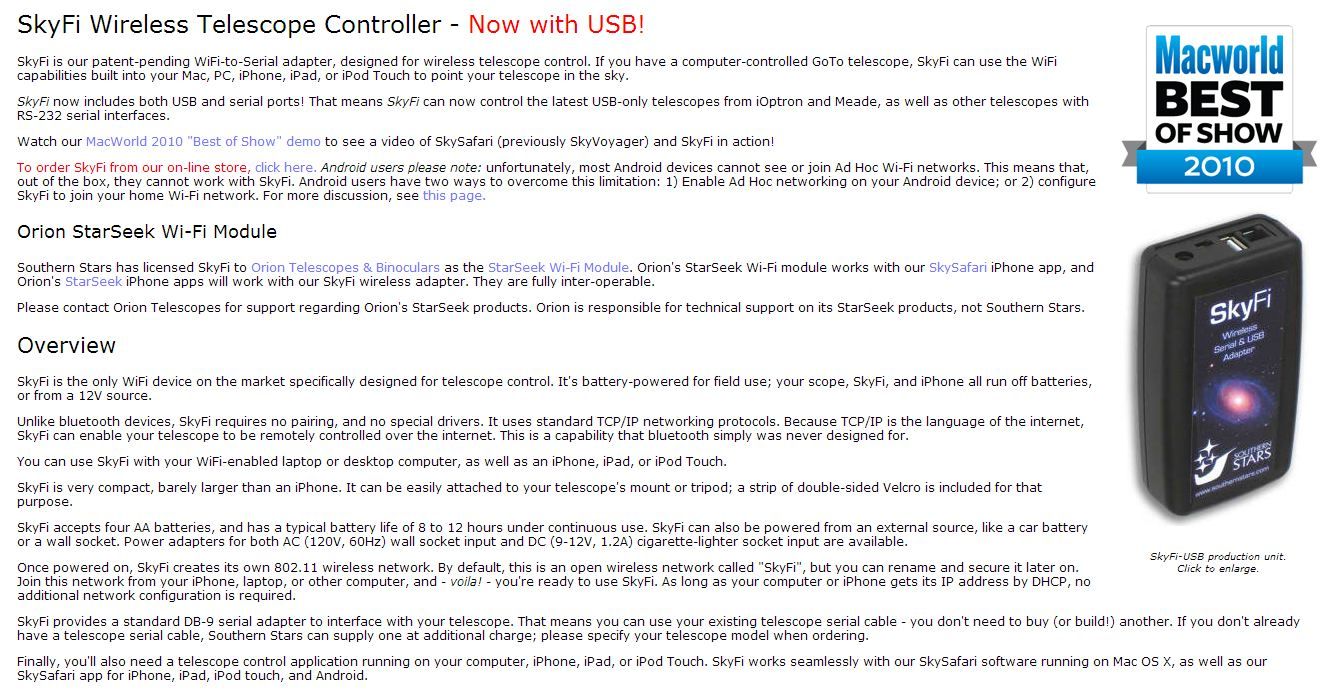 The Skyfi is the same device as the StarSeeker...just repackaged and 5 bucks more...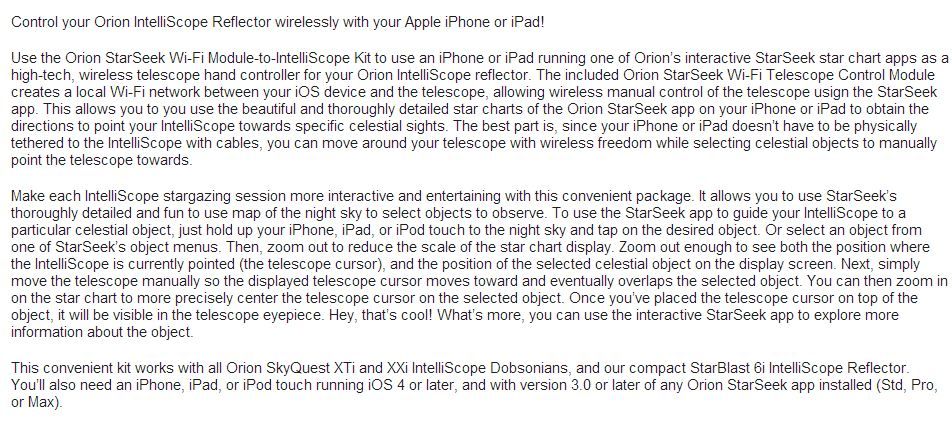 The pros on the Skyfi, is that it can work with many Astro Apps, whereas the SkyQ only works with it's own program...which is limited.
And...why are they still using the antiquated RS-232 serial port connector? That went out with floppy disks and dial up! So awkward back adapting things...
I have not decided on which as of yet, but it seems either the Sky-Q or the Skyfi for my remote Ipad Mini control needs. The Android Tablet will remain as my electronic star chart while I use the iPad as the controller.