Post by Chicago Astronomer Joe on Mar 26, 2013 8:10:04 GMT -6
How much weight can you load the CG-5 mount with?
The general consensus is that a user of the CG-5 mount should max out the working load to about 75% of the stated max capacity, which is 35lbs.
Most Astronomers will concur and really does make sense...but several are happily loading it beyond the 35 lbs and the mount just chugs along nicely.
So which is it?
Seems that there is no clear-cut answer...even from Celestron: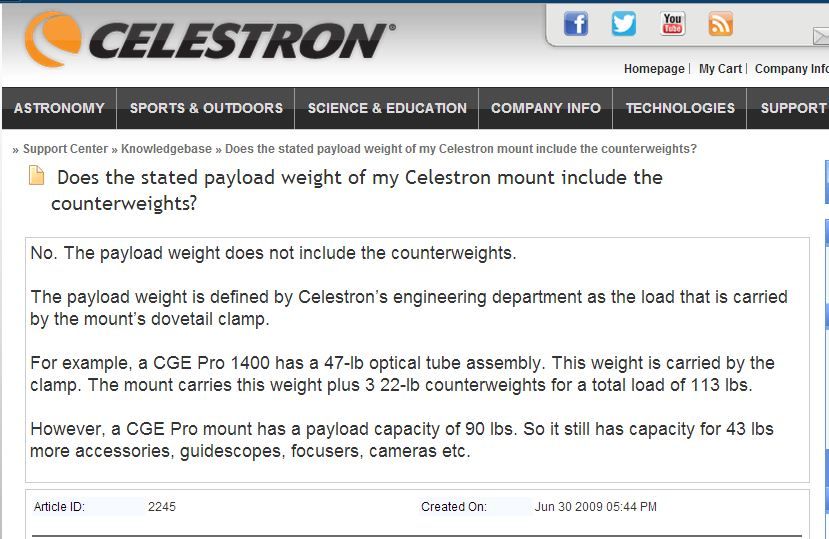 It does not mention what the motors are rated for, but instead that Celestron engineers base their Max weight solely on the grip of the mount's dovetail clamp.

From the CG-5 Yahoo Group, is this exchange:
My primary guess on weight limit is flexure and excess bearing load.

To much flexure means poor tracking. To counter this, the design would either have more material or go to steel. In either case you have more weight on the given bearings. And do not forget, the Declination axis, which includes the OTA rides on the Right Ascension axis.


Higher bearing loads means larger bearings and larger diameter and more
rumble and larger races, more material.



So mounts that handle 90 pound OTA will themselves weigh that much and are physically larger

The CGE outer housings and Azimuth and Elevation stuff is made of aluminum. The axels shafts are made of steel.

I feel the CGE is able to exceed the 45 pound limit. So with the counter weights, (I use two 25 pound weights), the the Elevation axis will have up to 100 pounds on that bearing. That is why the elevation adjustment is difficult to get precise adjustments for polar alignment. The azimuth adjustment is easier because the total weight is on a larger surface.

------

My feeling is that the marketing numbers for what the mount will carry are determined rather subjectively by the manufacturer.

An interesting case study in this is a comparison between the Astro-Physics Mach1 and the Meade LX850. If you look very closely at the mounts side by side, you will see that under the Starlock stuff on the Meade, the base mount appears to be a near identical copy of a Mach1. Astro-Physics rates the Mach1 at 45 lb and Meade rates the LX850 at 90 lb.

Is this because Meade can build essentially the same design to be twice as strong as Astro-Physics?

I don't think that anyone familiar with the mount market would remotely consider that a possibility. My personal opinion is that there are two factors at work here. First, I believe that what Meade's marketing department will accept for loaded performance is not the same thing that Roland Christen will accept. When Roland quotes a capacity, he is stating with no reservations that the mount will accommodate this load under nearly any circumstances you are likely to encounter. Meade is probably rating the mount for visual use in typical conditions.

And while I have a high respect for Astro-Physics' engineering, there is a small part of me that thinks that if the Mach 1's rated capacity were too close the AP900 70 lb rating, it would have the Mach 1 capturing an uncomfortable share of the 900's market.

Another interesting thing is that Astro-Physics is clear in their rating, that it's not an absolute number. They claim that the true capacity of the mount is not measured by weight, but by moment arm. On a scope with a short moment arm, they claim that you can expect to easily exceed the rated capacity, but that with a long refractor, you may see performance start to degrade with much less total weight on it. In that way, they give their rating as a general guideline.

As to the assertion theory that a 90 lb payload required a 90 lb mount, this is not what we see in the market. On the low end, we see the iOptron IEQ45 with a light weight and high capacity. On the high end, nearly all the newer mounts all weight much less than their stated payload capacity. The upcoming Astro-Physics AP1100 is projected to weigh 42 lb and have an imaging payload of between 110 and 120 lb - and this is the Astro-Physics
standards.

In trying to get back at least somewhat close to the topic of this forum, the new Celestron Advanced VX also has a significantly higher rated payload than its weight. And the initial reports I'm hearing on it, are that it's a strong performer in its class.



The stated weight capacities on mounts seem to be more of a guideline than an absolute. Granted, a bigger mount is always better, but with proper balancing and tweaking....
We will just have to see how this goes...