Post by Chicago Astronomer Joe on Mar 15, 2013 10:36:48 GMT -6
Celestron German Equatorial Mount 5 (CG5) for the Chicago Astronomer
I have been looking and asking around for some time now, on an economical Go-To mount.
Now, I have a credo that real astronomers do not need Go-To functionality....and I still hold that to be true, but sometimes the option is nice just to punch the desired target in the key pad and go. Then while it slews, one can go scratch, consult maps or load in another SD card for tunes. Also, a Go-To is handy when conducting public sessions. Sometimes I have experienced trouble, under poor viewing conditions, to locate celestial objects quickly and it's frustrating. I also would like to target dim fuzzies and DSOs without star hopping - unsure if I have the object while punching through low contrast light polluted skies of the city.
Also...the Losmandy-type Ci700 mount that the C11 currently rides on needs a tear down and rebuild something awful. Presently, it's all manual. It does track, but I no longer am able to use the keypad to slew - motor and circuit board issues. I would have liked to just replace the mount with a similar hefty behemoth like the Ci700 mount, but the pockets of the Chicago Astronomer rattle with change and not bulging with folding money.
In my mailbox, came this sales offer from a established retailer...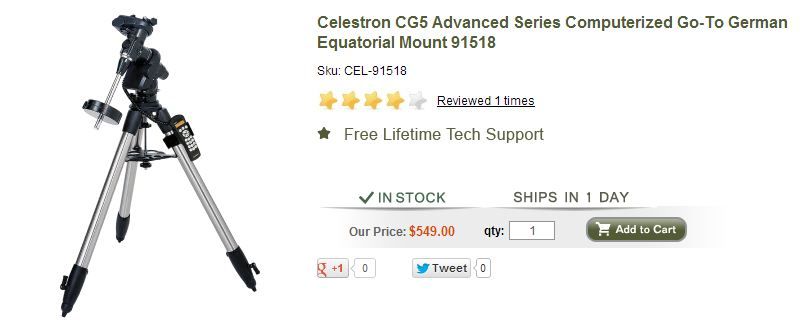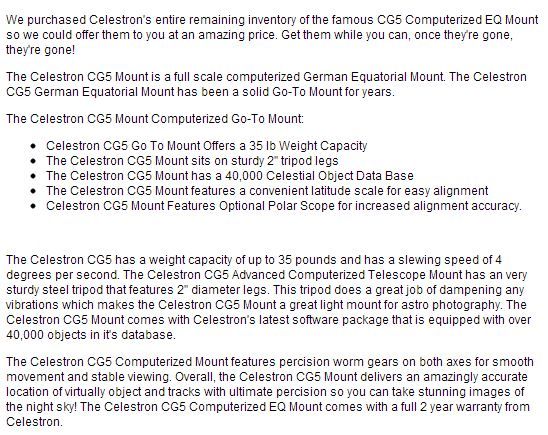 Ok then.
Researching around and consulting Chicago Astronomers who have had experience with this mount, they are generally happy with it's performance and portability. It's accurate and if properly polar aligned, it will perform nicely.
Here is the mount from the Celestron site:
And at $200.00 more...
It does suffer from poor Chinese assembly - unsuitable thick grease, clutch lever rubbing and bearing surfaces tolerances need attention, but a "Hypertune" project in an evening will take care of it. Chicago astronomer Robb did just that with his older CG5...
It's always great when someone before you has documented the procedure... ;D
Will it handle the C11 load, with all my accessories.....dunno.
We are pushing the the 35lb maximum capability of the mount. Chicago Astronomer Steve likes to load mounts to 65%/75% of their rated weight. I think that with proper delicate balancing of the counter-weights, I can get away with a slightly heavier load. I'm not too keen on the dovetail saddle and it does make a loud slewing sound....but it's all cool.
I spoke with Chicago Astronomer Rich as well, and he likes it too. He had mentioned that SCT guru Rod Mollise, also digs this mount. I looked his blog up...and yes, he does. He did encounter a problem with power connection, but a simple fix with a small screwdriver corrected it. In his experience, the mount finds it's targets and usually dead center in the eyepiece. Rod also has a pal that loads his C11 on this mount with satisfactory performance.
Rod's blog on the CG5 here:
uncle-rods.blogspot.com/2012/04/gem-of-gem.html
So there is hope for my heavy beast of a C11 OTA...
The price of $549.00 + $55.00 shipping - ($604.00) is ok. I haven't seen them cheaper new...and I have been desiring a new mount for the longest now. The other nice thing about this, is that I can still use the Ci700 mount with the C11 and pop on the C5/90mm/102mm scopes on the CG5. And....as a bonus, I can finally connect my laptop/tablet to the mount for some external guiding.
There is a CG6, but the improvements are not dramatic and it's a lot costlier. The 2" tubular legs are great and with the Celestron anti-vibration pads...we should have a solid platform for some decent astrophotography.
From their Facebook page: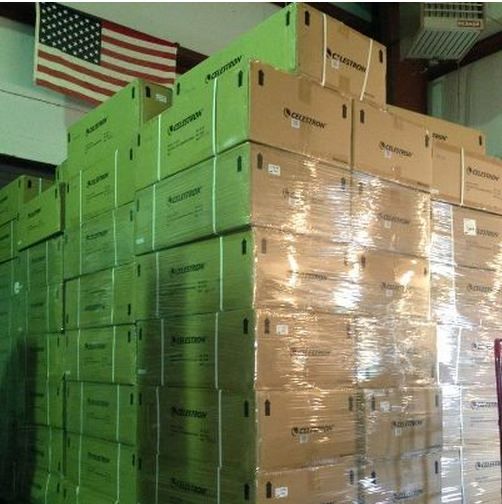 I want the 2nd middle one - from the fourth level.
I ordered it on 14 March 2013...and should be here next week. There was another retailer with the same mount, same price...and $5.00 cheaper on shipping - but they didn't send me anything in my email box.
Yep, not the perfect mount, but I'm anticipating this new addition to the Chicago Astronomer arsenal and I think it will work just fine.
Just in time for the Chicago Astronomer Observation Season...