Post by Chicago Astronomer Joe on Mar 8, 2013 14:52:39 GMT -6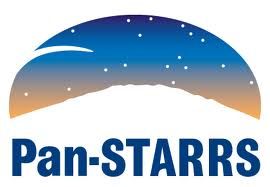 Pan-STARRS - C/2011 L4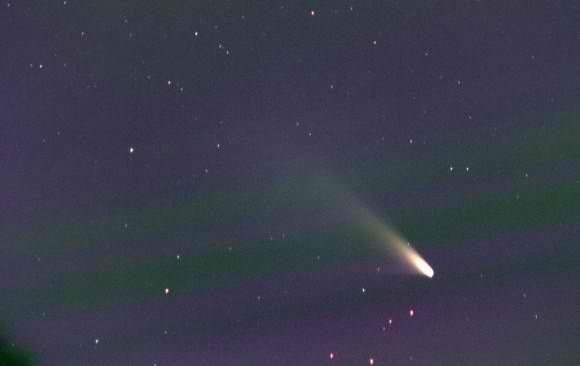 Comet Pan-Starrs has now breached the western horizon for northern hemisphere observers and will soon be visible for all city dwellers.
Comet Pan-STARRS was discovered at the "Panoramic Survey Telescope & Rapid Response System observatory in Hawaii.
More on the Observatory can be found here:
Presently, (08 March 2013), it's still too low to be observed, lost in the haze and muck of the atmosphere, but in the next few days, the comet will rise higher with each night - but will also dim as it orbits away from the Sun on it's way back out from the inner solar system....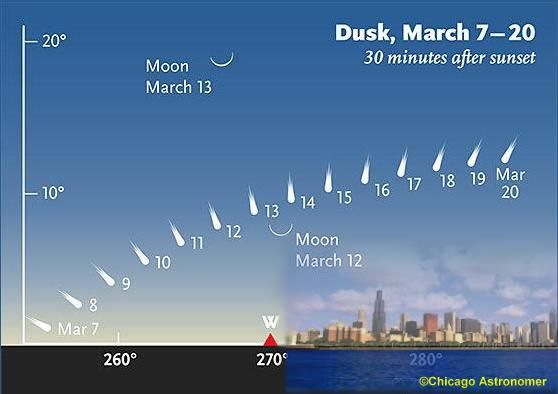 The above Graphic displays the approximate position of the comet in relation to the city skyline for the next few days before heading away - dimming rapidly as it does so. At it's closest, comet Pan-STARRS will be 28 million miles from Earth.
From the Chicago Astronomer observation site along the lakefront in front of the Adler Planetarium building, the comet will make it's appearance south of the city skyline - closer to Soldier Field. City observers on the ground, will have to wait till about the 11th of March. If you can get to high ground and view an unobstructed horizon...all the better. Use binoculars to scan the horizon after sunset.
Sunset on the evening of the 11th evening is 6:55 pm (Set-your clocks ahead one hour kids...! ) Start your searching earlier as soon as the Sun sets, but most likely it will pop out to the unaided eye at around 7:15/7:30 pm.
The comet will
not
appear as a huge bright object in the western sky, as some media outlets are making it to be. But instead, it will be a subtle "
Fuzzy
" star and a short tail. Similar to the image above.
You won't have long to enjoy it, as it will set shortly after sunset...but each evening will position it higher and stay longer - but dimmer with each passing evening. On the evening of the 12th of March, Comet Pan-STARRS will make a nice conjunction with the crescent Moon.
A photo-op certainly...

Check out Chicago Astronomer Curt's graphic of the progression of the comet for a longer period of time here...
And Chicago Astronomer member Dave's illustrations...
Updates will be added to this thread daily as we Astronomers in Chicago observe the comet. Public participation is welcomed when we set-up our Telescopic equipment on the Museum campus grounds. Monitor the "Star Party" thread here:
...and follow along on Twitter/facebook/google+ for up to the minute updates on the Chicago astronomer crew sessions.
(I will set-up scopes tonight, to "shake out" the C11 and gear - after a long winter hibernation. I will be on site at 7:00 pm. Check out the above link for more info.)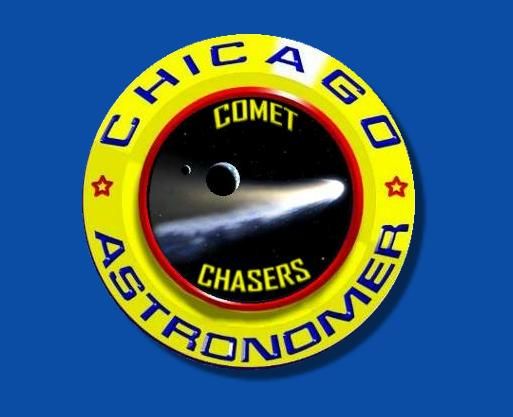 Chicago Astronomers are on Comet Watch