Post by Chicago Astronomer Joe on Feb 20, 2013 14:39:32 GMT -6
AstroZap 114mm - 136/146mm Baader Full Aperture Solar Filter

19 February 2013
With the newer 102mm Celestron Refractor, I have been doing my more than usual solar observing and imaging than I have in the past. The C11 provides some remarkable views, but in the bitter cold...I'm not eager to handle cold metal and set it up - and so the grab and go scopes, (102mm, 90mm & the 5" SCT) get the work outs.
I have been attaching the C11s full aperture solar filter to the smaller scopes, which worked well, but it is waaay too large, danger in a gust smashing it to the ground and it was getting scratched. I felt a dedicated smaller solar filter was called for. I had seriously though about in making my own filter with Baader solar sheets, but a dedicated cell with secure thumbscrews appealed to me.
Looking around, researching and reading reviews....I settled upon the AstroZap Baader full aperture solar filter...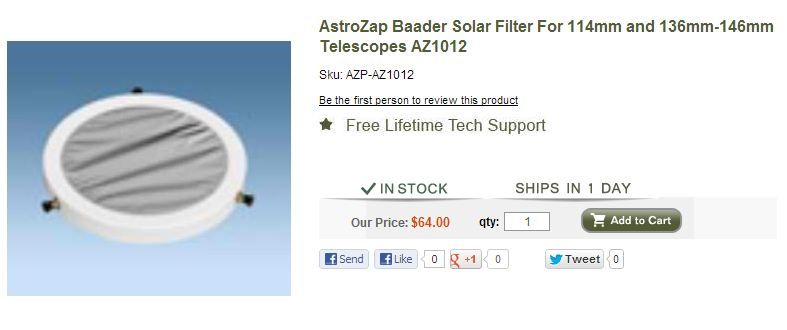 I ciphered for some time on which size to get. I figured to get one versatile filter that would fit many scopes and selected the 114mm - 136/146mm one. In this way, I could cap the 4.5" Reflectors, the 90mm, the 102mm and the 5" Celestron SCT scopes. Four for one.
After a few days, it arrived...waiting for me as I arrived home and at my door step...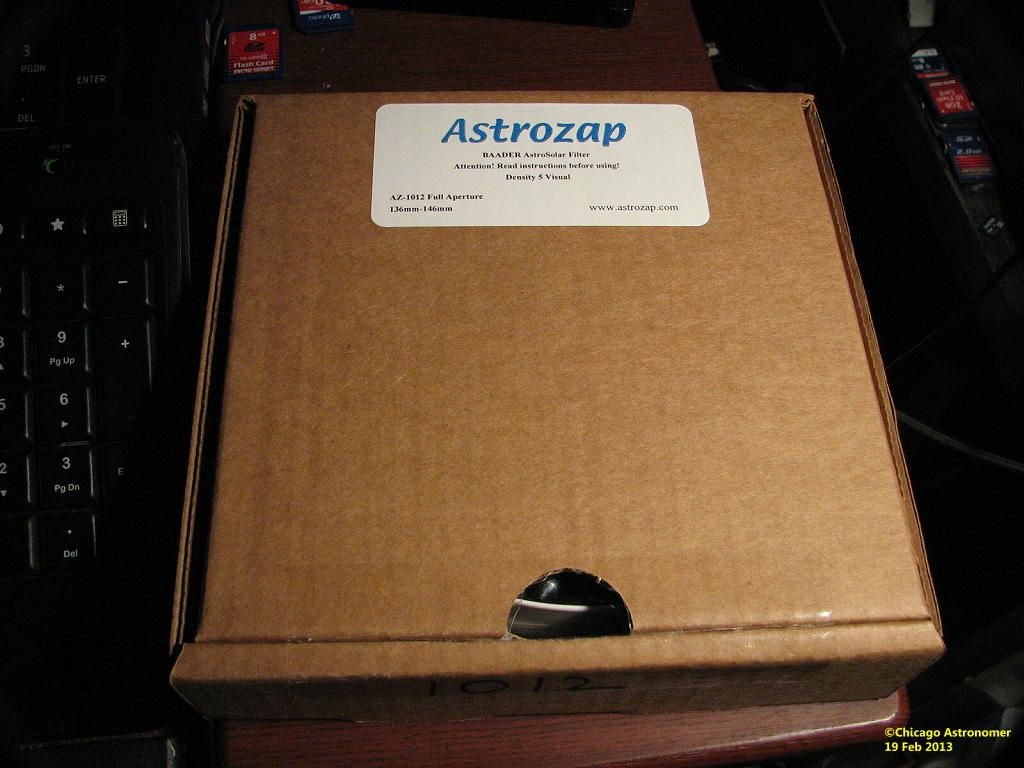 It's always fun to open a package...especially if it contains astro gear...
Packaged box in a box, the filter was wrapped in cellophane and protected by a round cardboard cut out. The cell is painted a nice white, with the inside rim lined with a thin layer of felt and the inside front with a ring circle of textured vinyl...
The plastic thumbscrews sit in brass guides and the actual filter itself seems securely seated in the cell, slightly wrinkled, but not creased, pin-holed nor damaged. The whole thing is very light.
But, did I figure it out correctly - fitting all my smaller scopes?
Yes....!
Trying it out on the 102mm, it fit nicely and securely with the thumbscrews...
Max the cat approves.
Next, trying it on the lesser used 4.5" reflector - which was donated and needs cleaning/rebuild...
A beautiful fit!
But now, what about the larger C5 SCT...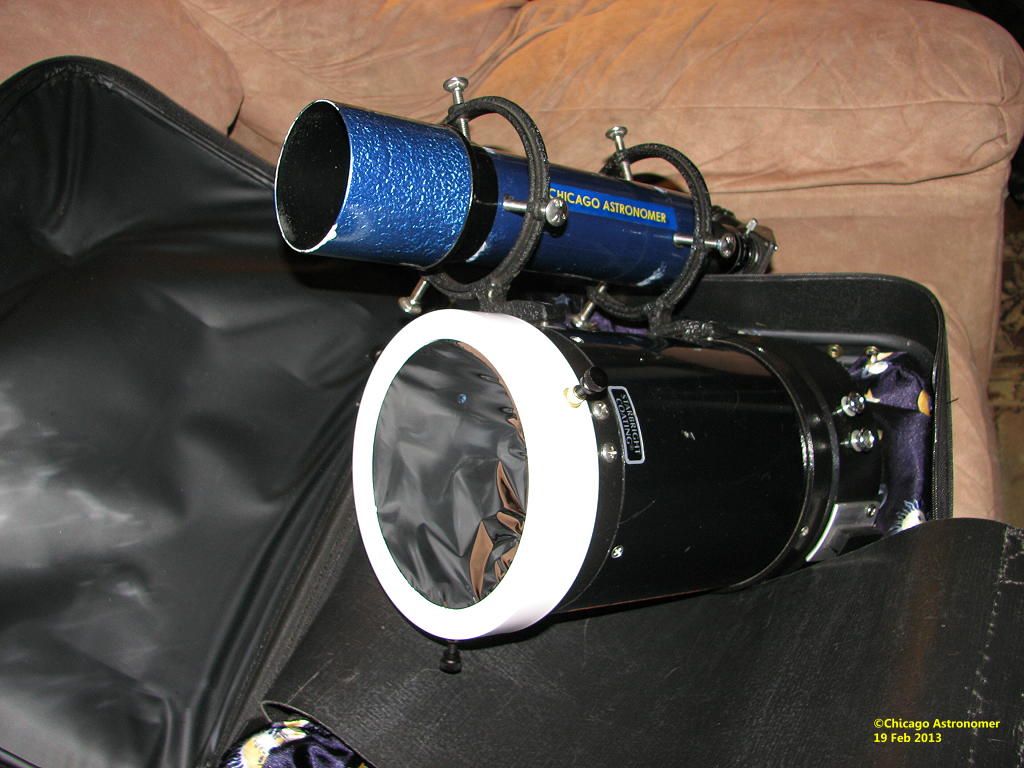 Solid fit and tight.
I didn't have the 90mm handy, but it will fit great on that scope as well.
Without a field test, so far....I'm digging the Solar filter and anxious to try it out and will make a great addition to the Chicago Astronomer equipment arsenal.