Post by Chicago Astronomer Joe on Jun 12, 2012 10:58:19 GMT -6
The Chicago Astronomer Venus Transit pics and video

05 June 2012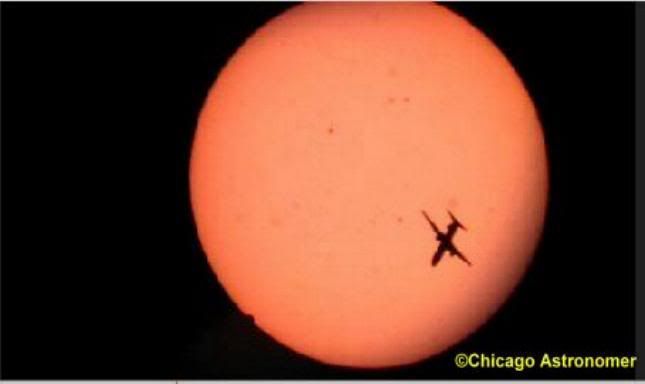 I, along with my fellow Chicago Astronomers, have been prepping this event for a very long time. Filters, projection screens, angles, recording devices etc... I felt I was ready for this last Venusian Transit of my life. Although I viewed the Venus Transit of 2004, I felt this one was more special...and with better equipment now, would experience it deeper. And that being part of the Adler Planetarium crew this time, I would serve literally thousands of eager visitors. Yep, all was ready for a solid go.
Fate does have a have a way of altering things....
The Friday before the event, we suffered a medical emergency with Mom (96) and rushed to the E.R., spending four long days and nights there. With a condition not fixable, it was uncertain what was to come. But by Monday, she was stable enough to come back home...for a Tuesday release.
Great that Mom was returning, very weak and fragile, but did it have to be on Tuesday...?
Bringing my Android tablet to the hospital, I was following along with others who were getting ready for this monster astronomical event...including Chicago Astronomers - spread out over the region with an armada of scopes and projection screens. I surrendered myself early in the day that I would miss this event, but it was ok. But as the hours approached, I was feeling sorry for myself for the situation I found myself in. Calling up the NASA Live Feed of the Venus Transit from Hawaii, I became antsy...eager to catch this, anything. So I made me a pin-hole camera from a piece of hospital info heavy paper and projected the image onto my Mom's hospital bed sheet that was draping down. Worked, but the image was only about the size of a dime and quite dim.
Looking at the clock, it was 3:55 pm. A thought started to form in my stressed out and tired brain...would it be possible to rush home and catch some of this? Insanity....they had stated that Mom would be released and brought home via ambulance sometime after 5:00 pm and I had to be there to monitor what was going on.
Tap....tap...tap....an hour to go...and I'm only about 10 minutes away...tap...tap...tap.
Mom was stable, all was arranged and the hospice people ready to go when I was.
Damn it...let's do it.
I grabbed my backpack filled with books and the tablet, kissed Mom on the forehead and told her I would be back in an hour - getting something to eat. With that...I rushed to the van and shot off to my scopes.
I kept rolling it around in my head as I drove home...was I doing right?... selfishly abandoning my bedside post where I have been for the past four days - so that I could indulge in this very cool event...? As I got closer, I looked at my watch, 4:20pm...I started to get nervous, going over what I had to do to catch this, but things were not ready to set-up, since I have been away practically for four days now. I screeched to halt in front of my neighbors garage and jumped out, waving to my neighbors as I rushed into my garage. I stopped for a moment, affirming that yes, this was about to happen and I would return in time to meet the ambulance at the hospital.
I grabbed the trusty 90mm Refractor for some quick viewing and shots - takes only a moment or two to set-up. I slapped on the full aperture 4" filter... found the disk and smiled...seeing beautiful Sunspots coming into focus. For a few minutes, I was content with this, but damn it...just a few away was the C11. It takes much too long to set up and break down and with only a few minutes left till first contact - no way...no time? I must be insane...all the time I have is to watch is a scant few minutes, maybe take a few pics and go. The C11 beast cannot be part of this, not under the circumstances. Going back to the 90mm, it was a nice full FOV in the 25mm 1.25" eyepiece...but the beast kept calling me. With some sort of internal anger, I felt that I was cheating myself out of the experience if I did not bring her out...mad at the situation that tightly embraced me.
Damn it...do it.
Leaving the 90mm, I grabbed the tripod and slammed it down just outside my garage doors, next to the 90mm and in a sorta clear patch of sunlight...the angle punching through some utility wires...but I gots no choice. OTA in place, full 11" aperture secured, I was now sweating, highly agitated and nervous - looking at the clock both counting down first contact and stealing my time from observing the full event. I popped in a 40mm 1" eyepiece, did the shadow method of solar disk searching...and got it...a wonderful sight...!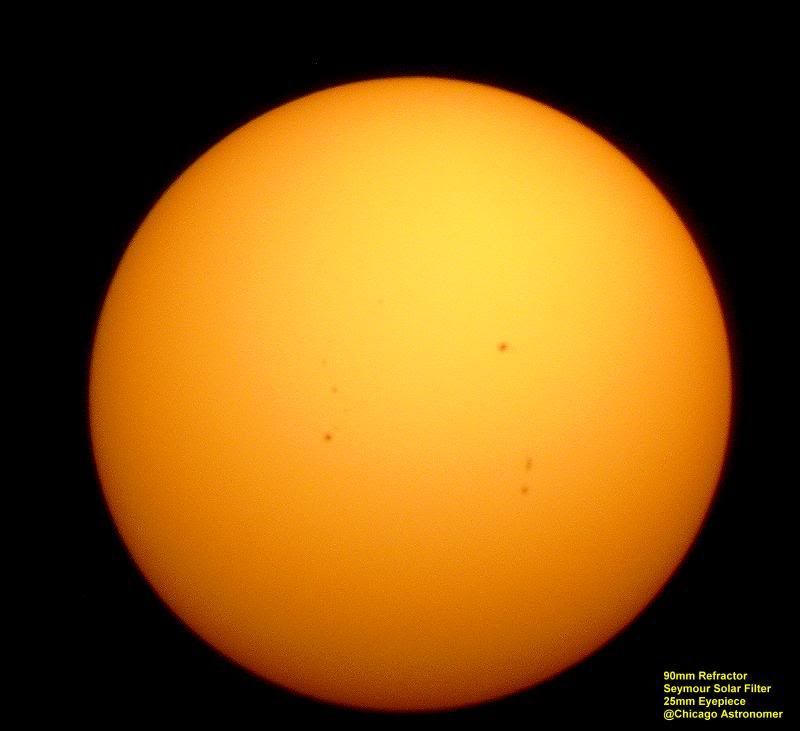 But, when I placed the camera for some test shots, the solar image was too large. Knowing that the SCT would both invert and flip the image, the Venusian disk would appear from the lower left...but will it? On my 90mm refractor, the Venusian disk will appear on the upper left solar limb.
Swapping out for a 56mm, I was now able to view the entire solar disk, confident that I could catch the first contact wherever it may come from. Now, I had two scopes out, people starting to gather and no patience for "have a looks" I taped the Canon Powershot S3 to the eyepiece, composed the shot, but with no time to set up polar alignment or power, it would be a totally manual brief observation session.
With just a few minutes till first contact, I was about as ready as I was going to get...and here it was for me to indulge in for a few moments....
Using another camera, a Polaroid pocket, I hand held the camera to the 90mm eyepiece and snapped away, as the camera on the C11 was set to video and I let it run - bouncing back and forth between scopes to constantly readjust the FOV. This session was going to make me work...and work hard.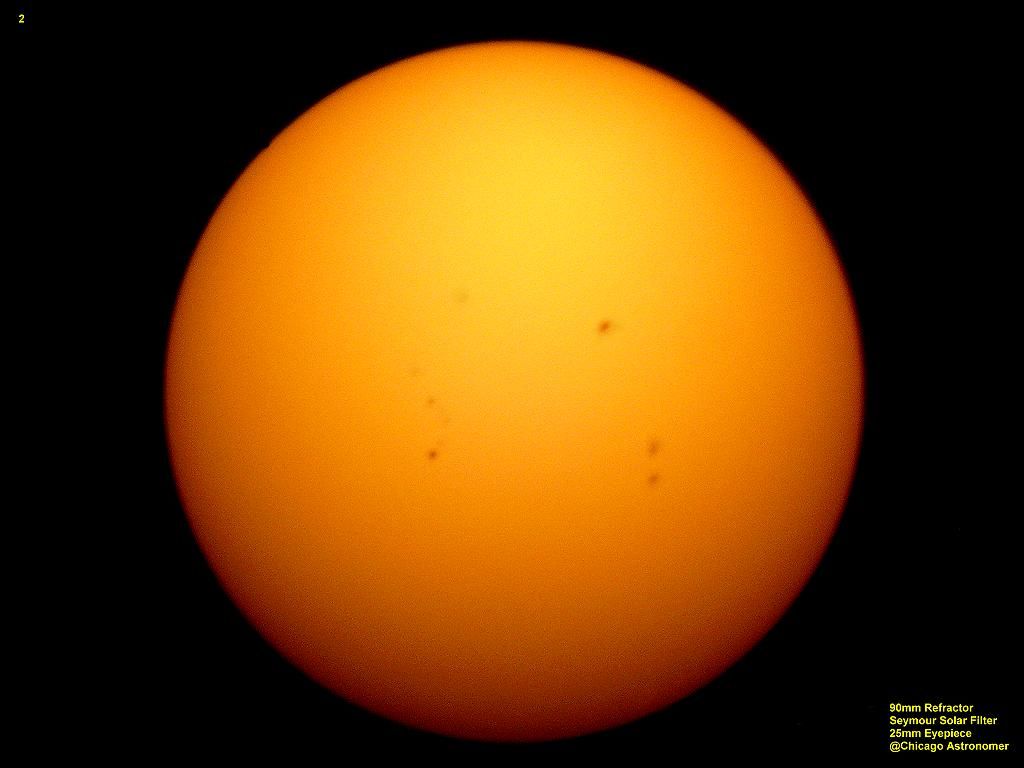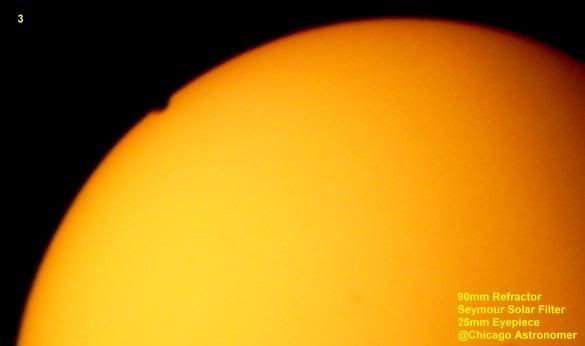 It was on...and I was here, despite all that was going, I was here.
But, just as I was getting into it, the delivery man who would be dropping off Mom's oxygen called and said he out front. Damn it...I cannot leave this to go attend to that and told him to come to the back and drop it off. In a few minutes he did, but also needed to instruct me how to operate it. Sigh. I told him that I literally had no time to pay him much attention, as this event needed constant attention. I will multi-task, looking in his direction as he did this and that, all the while staying by the scopes and recording. We limped through the set-up, confident on the operation and apologized for the rudeness and showed him views of the Transit. Thought it cool, as did my neighbors, who were watching the transit via the Camera screen and through the 90mm.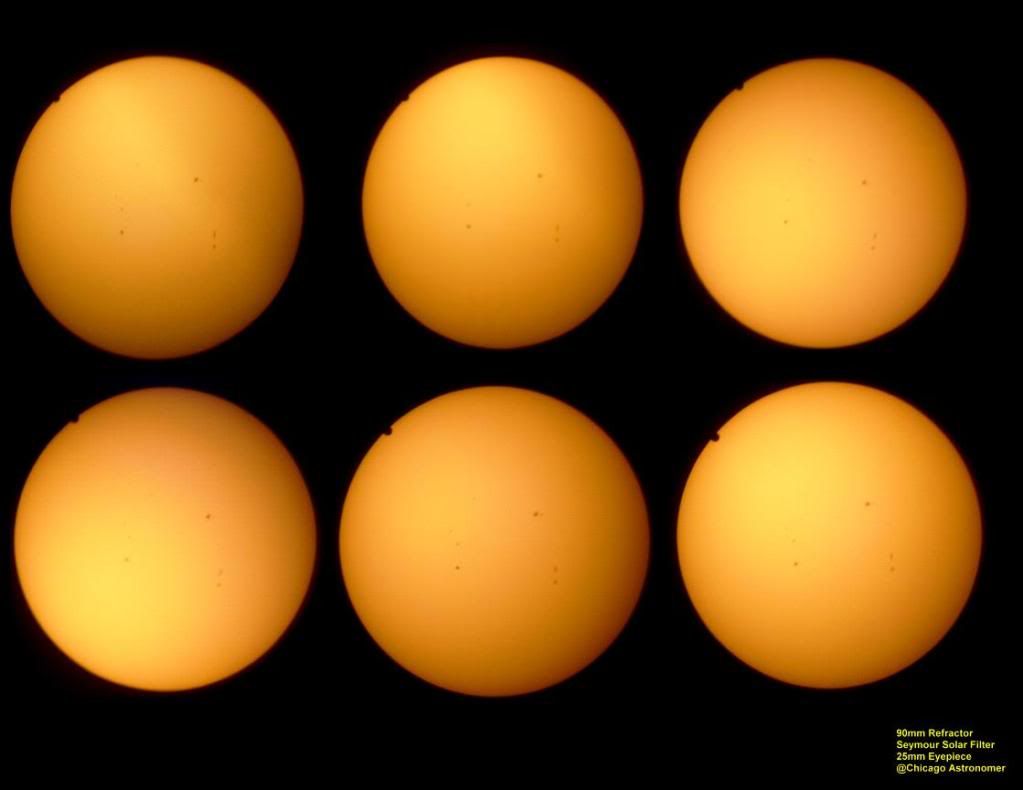 With a constant vigil on my wrist watch, ticking down the window... will I be offered enough time to catch full immersion of the Venusian disk? I will push this as far as I can...
I was enjoying this little window of opportunity in celestial mechanics that was granted me. I wished I could be 100% in the moment, but with worry and pressure elsewhere, I did the best I could. Viewing the pics and video later ...I was pleased at what I captured and the effort it took...

Then the hospital called, asking where I was and did I leave for good...and then calls from Out patient services and then the hospice care workers...sigh
Back to the event. I was also anticipating the "Tear Drop" effect and was not disappointed...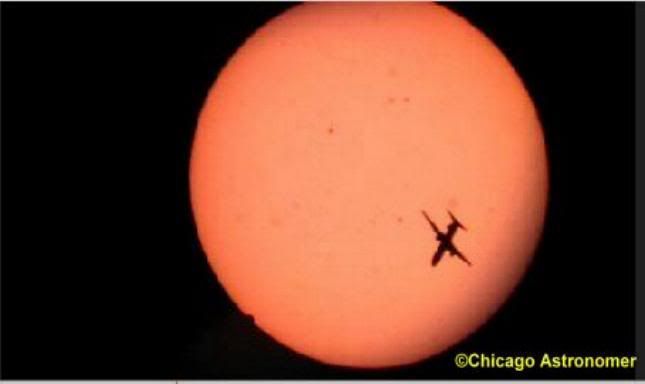 And it wasn't until processing the video, that I smiled at the capture of the quick aircraft transit....

And we have full immersion....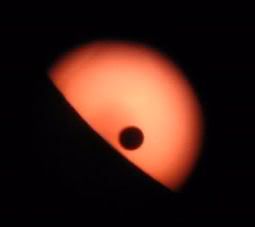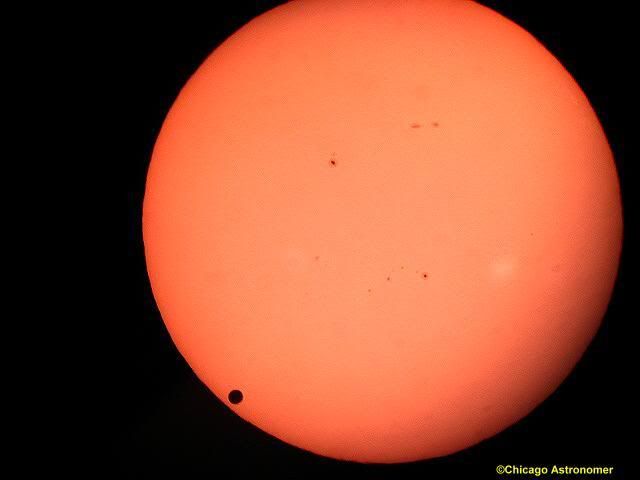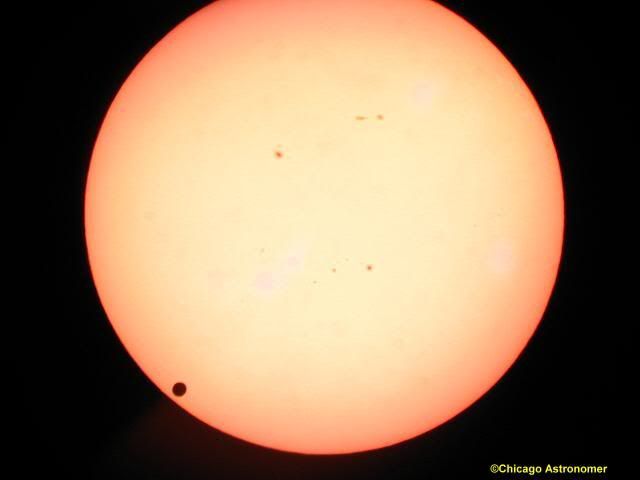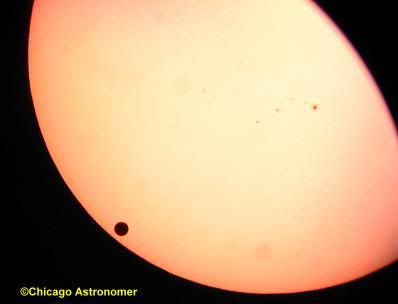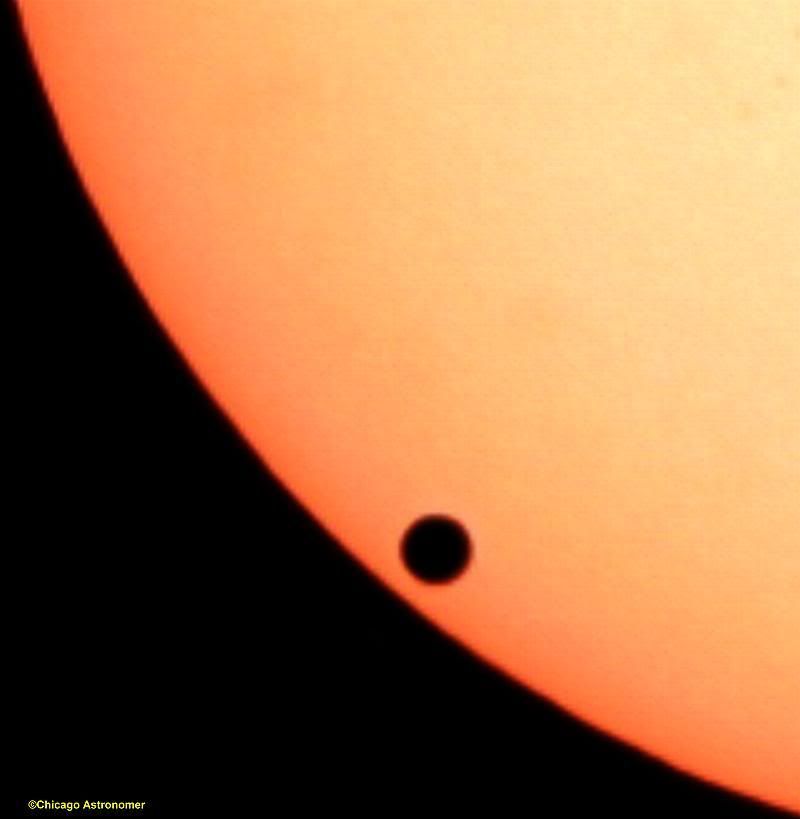 I really like the video that the Canon took...
I wished I had the time to properly set-up the C11 to track. This 13 minute vid was boiled down from about 30 minutes, capturing the highlights and some ambiance quickly thrown in...letting the last 5 minutes run unedited to catch the 2nd contact event...

This was indeed too cool and I wished I could stay till sunset, but with full immersion of the Venusian disk it was practically over for me. I pushed it a bit more, staying longer than I planned...and then started to break down. Then...my lousy neighbor needed access to his garage and I needed to drop everything and move the van from his way...
With the equipment just piled back in the garage, nilly willy, I was off - back to the hospital. But, I brought along my 20x70 binos, crudely covered the objectives with the Seymour solar filters - so at least I could still follow along while waiting to leave...
Our hospital room faced west thankfully and with good view. Maria at this time, arrived to assist in the discharge and travel back to home in the ambulance, but we took some moments to enjoy the event...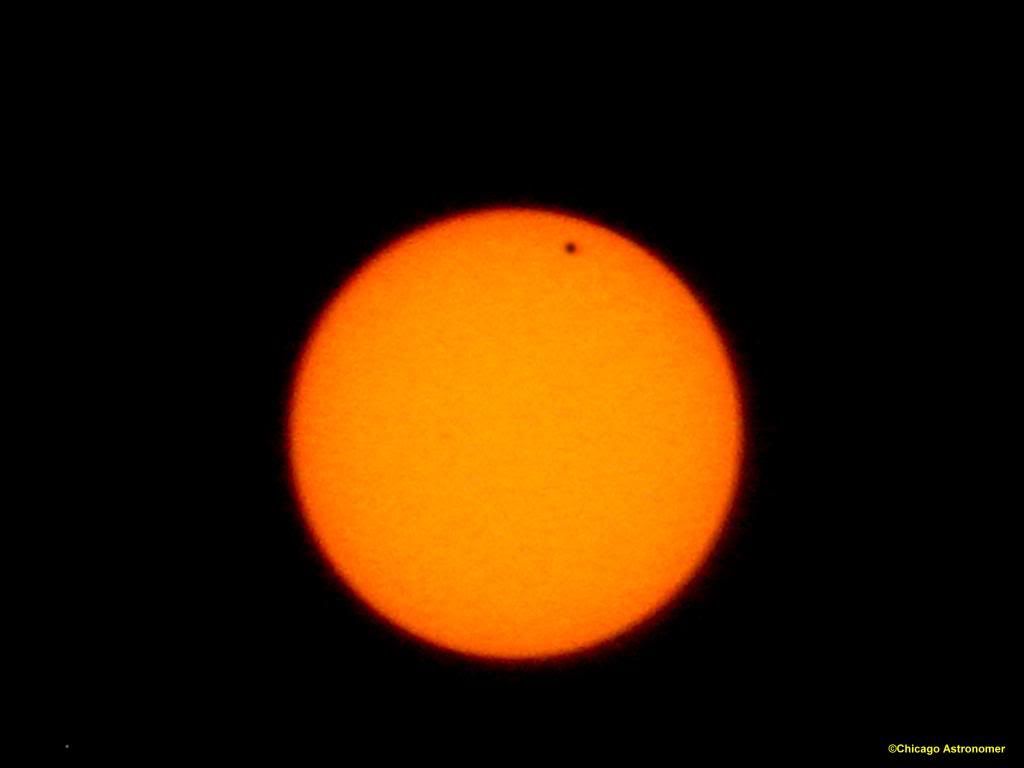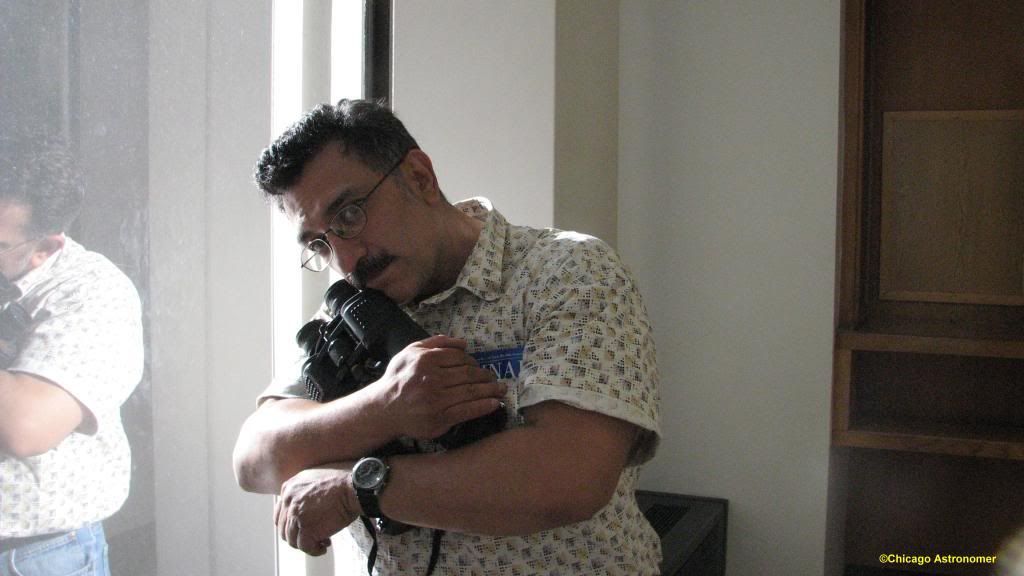 So beat.
With that, my participation of this 2012 Venusian Transit was over, as now we bid goodbye to our stay and to the nursing staff, who were all very nice to me and accommodating.
I am glad that I took that chance and stole away for an hour or so to share in this spectacular event - even solo...which might even have been better and allowed me to catch the first and second contact events all to myself. Everything worked out well, even with this last minute detour of plans. I am happy to contribute to the observation accounts, along side with my fellow Chicago Astronomers, who were thinking of me and who I had hoped to have joined.
With little time for other activities, taking care of Mom round the clock, it took a week to post this narrative and pics/vid. I enjoyed reading the accounts of Chicago Astronomers and their experiences, especially C.A. Paulie, who made this his priority for so long...

Ain't Astronomy just the best...!?!