Post by Paulie pchris00 on May 10, 2012 16:10:18 GMT -6
A sunny day exactly four weeks before the last transit of Venus of the 21st century seemed like a good time to have a test solar session. Hillary and I were around the area of Central Park Plaza in Valparaiso in the afternoon, so I set up at the park. I didn't expect to be crazy busy showing off the Sun, but just by being in a public setting would force me to deal with the curious public, and do a little promotion for the coming Venus transit.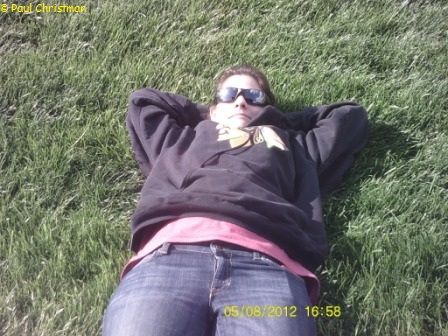 Hillary enjoying the Sun in her way.
Instead of setting up by the sidewalk at the north end of the park like I usually do for planetary and lunar observing, I set up my telescopes in front of the amphitheater at the south end. That would give me a better angle on the Sun for a few hours. Over the next couple of hours, I found out some things that will help me on the big day, and more importantly, keep me from spending money unnecessarily.
For months now, my plan was to show the Venus transit on either my laptop, or some other video screen. While I think this is still an idea to be explored for the Moon, Jupiter, and Saturn, I don't think it will work to full effect on the Sun. I was planning on buying the Orion video/USB eyepiece for about $100, but now I think I can put that purchase off until a later date. I have a Meade webcam type camera that I've used with some success for group observing, and decided to find out how it would fare viewing the Sun before springing for Orion video eyepiece.
There were a couple of problems. First, to save the battery on my laptop when it's not plugged in, I have my monitor settings to dim the screen while running on battery power. This made it very difficult to see the screen at all. I changed the settings to full screen brightness, but it compromises battery life, which could be critical during the more than three hours that it might have to run during the transit. Also, even with the Baader film solar filter cutting out 99.99% of the incoming sunlight, it was still overwhelming the sensor. Maybe the Orion video eyepiece will perform better, but I have enough doubt, and more pressing needs to spend that $100 on to hold off on that idea for now. Finally, the field of view on the Meade webcam is so small (about 6mm focal length) that even if I had clearly seen sunspot activity, I don't think it would translate well to a mass audience.
The next best option would be to run an ordinary webcam to my laptop. This carries with it most of the drawbacks of the Meade camera, with the only real benefit a timestamp embedded in the video. I have a couple of webcams on hand, so why not give it a shot anyway? Never mind that I have never had good results even when viewing the Moon. I didn't do much of a test Tuesday, so I think I'll give it another shot soon. I'm not hopeful, though.
So two of my prospective methods for mass viewing of the transit are very much in doubt, along with two of my options for imaging. I'll be concentrating my efforts for mass viewing on building a Sun funnel (or maybe two). That still leaves me needing a method for imaging. Like it or not, my point and shoot digital camera is going to be the default on transit day. When I first made my limited aperture solar filter for my 4.5" Newtonian last November, I immediately tried imaging the Sun with my Vivitar camera. The results were terrible, not even recognizable as the Sun. In the couple of times that I've tried capturing the Sun with my full 6" solar filter for my Dob, the results are more encouraging. It looks like the biggest obstacle is finding the proper focus. Sunspot regions are recognizable compared to SDO images of around the same time, but out of focus. This is obviously still a problem, but possibly a manageable problem. I'll do the best I can, and if I fail to get good images of the Venus transit, well, I won't be the first astronomer who encountered difficulty capturing my first (and last) transit.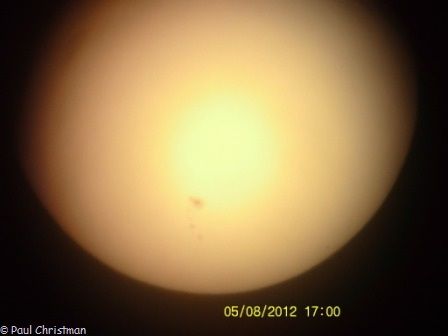 Active Region 11476, 6" Dob, 25mm EP, yellow filter, Vivitar camera.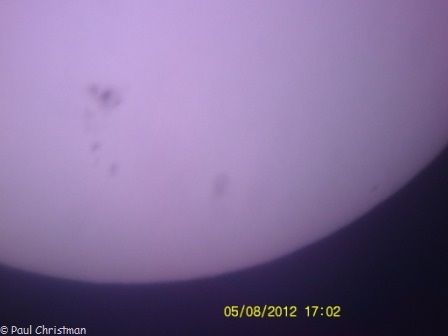 No colored filter, 9mm EP.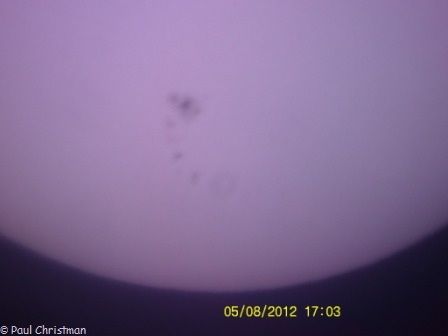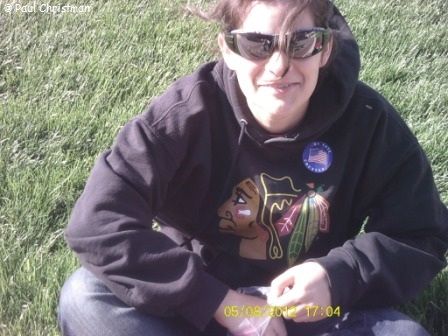 Hillary eating pistachios from the candy store across the street.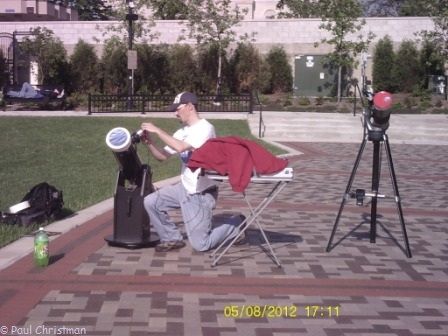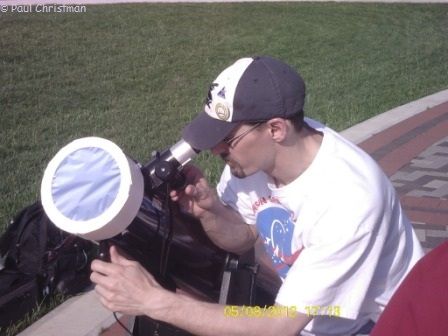 I pulled my hoodie over the laptop screen to help shield it from the Sun.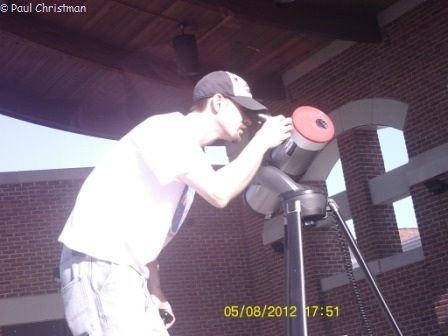 Later I moved up to the amphitheater stage to take advantage of the shadow, but left the telescopes in sunlight.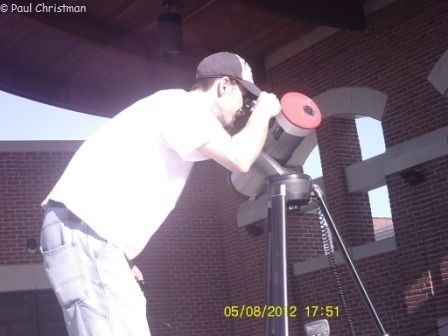 I think the looks on my face in these pics says a lot...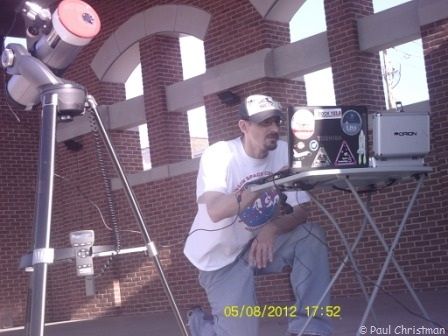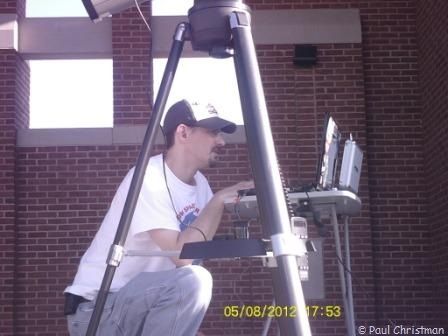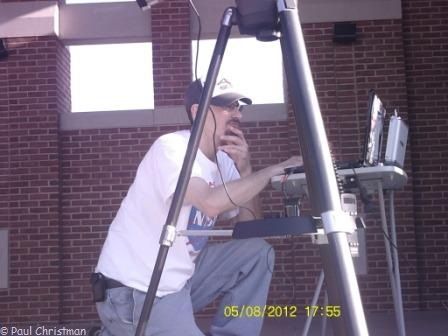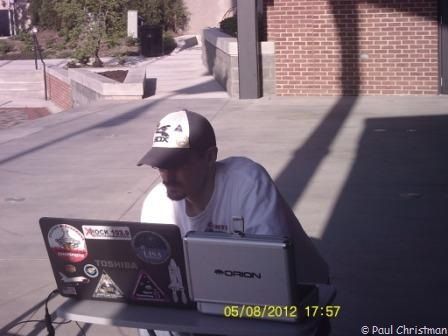 Trying to image with my 4.5" Newt. The visual image looked good, but it won't do images at all. This might be a visual observing only scope for the transit.
Setting up at the park might have been a good thing, especially on Election Day. The park is across the street from the Porter County government center. I could see reporters and photographers heading to the county building as the polls closed, and one of them recognized me. Andy, a photographer for the Post-Tribune, has seen me over the years at Valparaiso University's observatory open house nights. Andy and his son are very interested in astronomy, so he came over and talked for awhile. I sent him off with a folder full of solar goodies, and possible plans for a star party in his neighborhood on the north side of Valpo.
This session didn't go as well as I hoped, but it's better to find out now, and adjust my plans to what I know I can do. There was a stiff breeze for most of the session, complicating things, but also good. When I've been at Conway Observatory during the day, it is usually windy out in the open fields. On the bright side, sunspot group AR 11476 was one of the most impressive groups I've ever seen. I'll try to get a few more practice sessions in during the next four weeks, including at least one true mock transit, focusing my attention on imaging during the critical "contact" times.