Post by Chicago Astronomer Joe on Feb 13, 2006 14:12:55 GMT -6
Was John Glenn's Mercury Friendship 7 flight planned for only three orbits and not seven as has been told?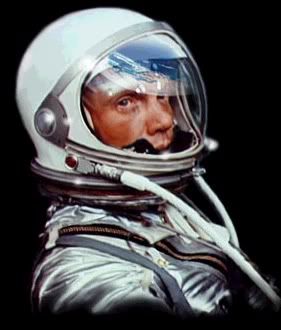 Space history undoubtedly has many more of these apocryphal stories that are too good to check. One is the oft-repeated claim that John Glenn was going to fly for seven orbits around the Earth until he experienced problems with his heat shield. At that point, Glenn's mission was cut short to three orbits and he was told to reenter.
The story has appeared in at least one book. William Burrows wrote about it in his engaging 1998 history This New Ocean. On page 340 Burrows states "He [Glenn] had been told before his Friendship 7 thundered over the Atlantic that he would get at least seven orbits." On page 341, in the midst of describing the suspected heat shield problem, Burrows wrote: "Seven orbits were now out of the question." Burrows cites the NASA book This New Ocean, which recounts the flight, but doesn't actually contain the error.
The John Glenn error has been repeated in a number of other places. A quick Lexis/Nexis search of news stories during John Glenn's 1998 space shuttle flight turned up a number of examples. The NewsHour with Jim Lehrer reported that "mechanical problems cut short" Glenn's Mercury flight. The ABC news show 20/20 also got it wrong when Hugh Downs said that "five hours after liftoff, Glenn's flight was cut short." Newsday also reported that the flight was "cut short." An Associated Press article about the Cincinnati Testing Laboratories, which developed the heat shield for Glenn's capsule, stated that Glenn was "completing the second of a planned seven orbits" when ground controllers detected a problem with Glenn's heat shield and "decided to shorten the flight to three orbits." A feature article in the Kansas City Star also reported that the plan had been for seven orbits, cut short to only three.
What is the origin of this story? One suspects that it comes from the movie version of The Right Stuff and the oft-repeated bit of dialogue from mission control that Glenn was "go—at least seven orbits." As he starts his third orbit, Glenn is told to begin his retrofire sequence and come down. He asks "Only three orbits?" and is told yes, only three orbits. The movie clearly implies that Glenn's mission was cut short from seven orbits to only three.
It turns out that Tom Wolfe's book The Right Stuff had the story correct. On page 332 Wolfe states "they gave him the go for his third and final orbit…"
Now one could actually use logic to deduce that Glenn was never scheduled for seven orbits. After all, he landed in the Atlantic Ocean after launching at 9:47 am on February 20, 1962 from Cape Canaveral. Each orbit lasted approximately 90 minutes, meaning that if his flight was originally planned for seven orbits it would have lasted about ten and a half hours, or until after eight pm at night, well after dark. That did not make sense. Would NASA really want to try and recover an astronaut on a dark ocean? Logic alone strongly implies that the flight was not planned for seven orbits.
Story here:
www.thespacereview.com/article/550/1
=============
Interesting at his NASA Bio that he resigned from the Manned Spacecraft center in 1964, why so soon? And it does state the he completes a "Successful" three orbit mission. If he was a go for seven orbits, then the objective/mission fell short... #confuse#
Bio:
www.jsc.nasa.gov/Bios/htmlbios/glenn-j.html