Post by Chicago Astronomer Joe on Nov 18, 2011 0:11:10 GMT -6
Adler After Dark

17 November 2011
The third Thursday means time to set up telescopes for our Adler Planetarium guests for our monthly evening activities.
I arrived at about 7:00pm and scopes were already out by the south entrance of the Adler, some Dobs and two SCTs. Temps were cold, (20's), and I felt enough scopes were out to serve our needs.
Adler facilitator Tom was working a faulty 10" LX200, one that I avoid due to collimation and performance issues, but it was already in service. When he left, I took control over it. I raised it up high. I feel that a telescope should be revered as an instrument to the heavens and visitors should reach up to it..and to the stars. It's the alter to the cosmos and should be treated as such. Some may think it should be as low as possible. That's what we got Dobs for and all about presentation.
So anyway, I set a red light on top and targeted Jupiter...as many other of the scopes were doing. Removing the lame 25mm 1.25" eyepiece, I popped in a 12.5mm...taking advantage of the aperture. This scope really blows, as terrible coma and massive mirror shift hindered views, but when centered and stable, the 12.5mm brought out great banding and surface features nicely. Views here at my station were the best of the planet.
But since every one else was targeting Jupiter, no sense in doing the same, so I slewed over to the Double Cluster in Perseus, just bringing them both in in the 32mm I used. Could have used the 40mm, but no idea where it went to.
This was also the first use of my new Toshiba Android Tablet. I used it to show our guests what they were viewing...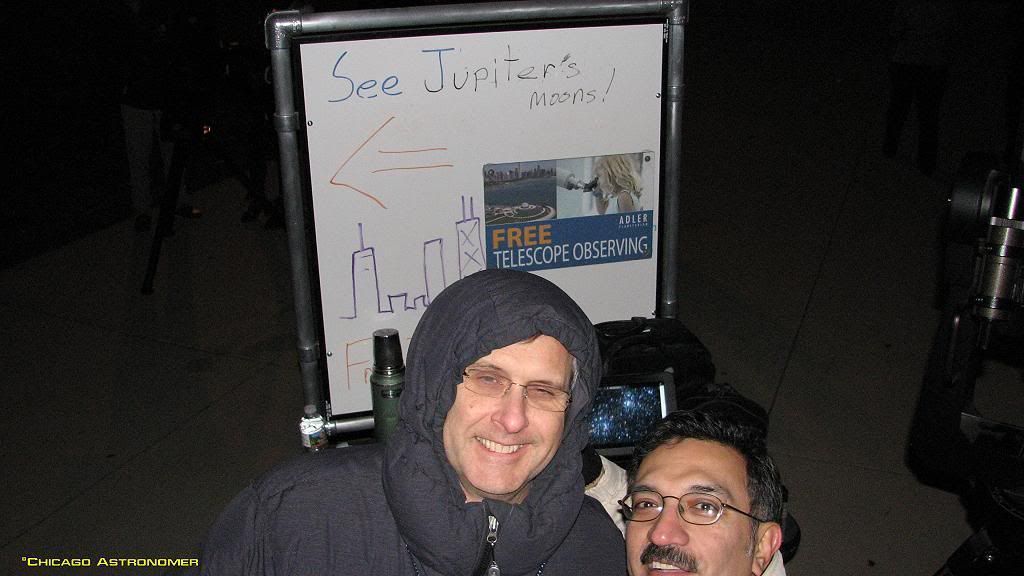 Here, above my head and with Adler Telescope facilitator Steve, is the tablet, displaying the double cluster. (More in-depth details on the tablet in another post.)
I had mixed reactions from the clusters. Some really thought it was incredible, while others felt..."Meh". I did enjoy chatting with those who were really interested in astronomy and encouraged them to visit the
Chicago Astronomer
and join in on our star parties.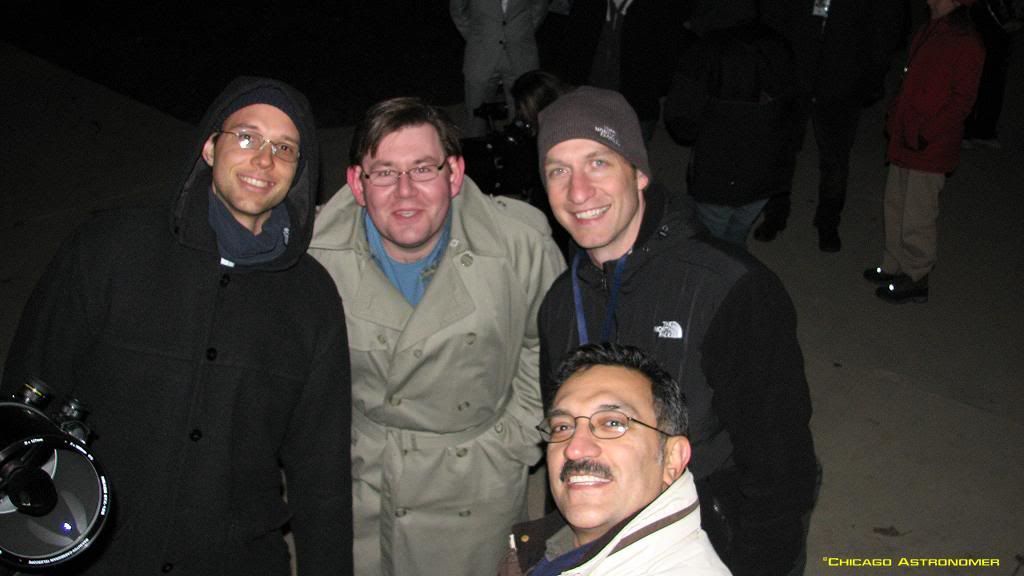 Three straight hours in the cold started to take it's toll on me, as legs hurt and feet got cold. But we braved it till 10:00 pm and served about 200 guests.
On to the December AAD.