Post by Chicago Astronomer Joe on Nov 13, 2010 21:18:09 GMT -6
90mm Meade FinderScope for the C11 SCT Beast
The C11 Celestron SCT normally came with a straight through 9x50 finderscope. It comes with a quick release dove-tail mount and does a decent job and I use it often...
But I have the 60mm Meade Shorty-tube AZ Series refractor that I not only used for my old 4.5" reflector, but attached it to C11 with my own homemade dovetail attachment. I enjoy it's wide low-powered field and the ability to swap out 1.25" eyepieces - including reticles. I also use it in conjunction with the 9x50 and the Rigel finders and have quite successfully attached the camera to it for low powered imaging.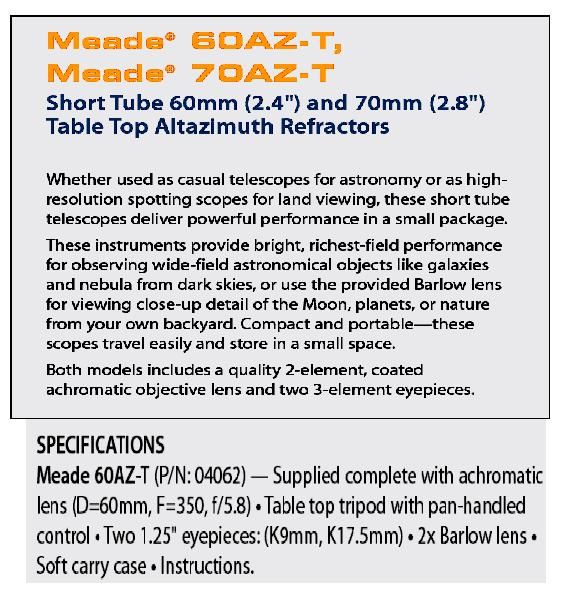 As astronomers tend to do, I visit Ebay every once in awhile and see what's out there at a good price. I could easily drop serious cash there, but have come across very good deals - including this....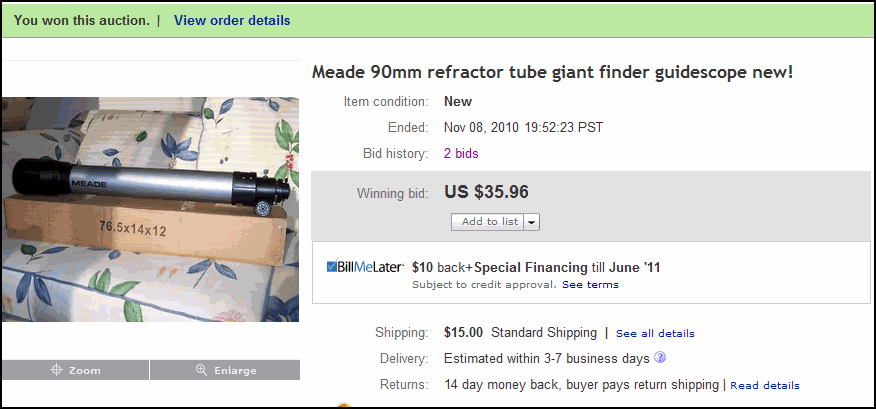 A decent looking 90mm Meade OTA...might make a nice finderscope.
BRAND NEW! Meade 90mm F8.8 or 800MM focal length Silver color achromatic refractor tube assembly with dust caps. This has a 1.25" focuser that can be changed to a 2" focuser with the proper adapter. This is an achromatic high quality Meade coated objective lens so it gives sharp almost false color free images up to 225X. This makes a fantastic giant finder. With a 32mm eyepiece you get 24x or with a 40mm you get 20x. perfect for a giant finder, but you also get the power of a great guidescope. it can handle easily 60x per inch as do fine telescopes. It is clear to 225x so it is very capable as a guidescope too!

This tube is lightweight, under 4 lbs so you won't weigh down your scope. It is about 32" long. The best thing is the price! Buy it right now for only $34.95 and a very reasonable shipping.! You might pay that for a 50MM finder! But this is a finder/guidescope tube and 90MM! all you need to do is add a 1.25" diagonal and 1.25" eyepiece
I outbid another interested individual...and followed the last few minutes of open bidding while at a Chicago Astronomer star party via my Smartphone Ebay app....expecting a last moment bid snipe.
I won...very cool!
It's apparent that the tube is off some packaged Scope & Mount...and a bit of research came up with a Meade
DS-2090AT-TC 90mm.
A close match is this...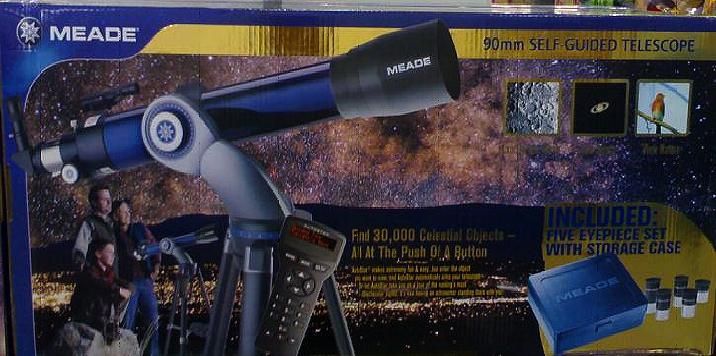 Meade DS-2090 Refractor Telescope with 4mm Plossl upgrade.
DS-2090, with 90mm aperture, 800mm focal length with f/8.8 focal ratio, and equipped with SmartFinder, not an "official" product of meade, $299.
SPECIFICATIONS:
Clear Aperture: 90mm
Optical Design: Refractor
Focal Length: 800mm f/8.8
Resolving Power: 1.3 arc sec
Max Power: 300X
I think it just might make a decent finderscope, replacing the 60mm, (which I'll add to the C5). I have some rings layin' about that just might fit, but will need to make some sort of base to attach to the C11 OTA.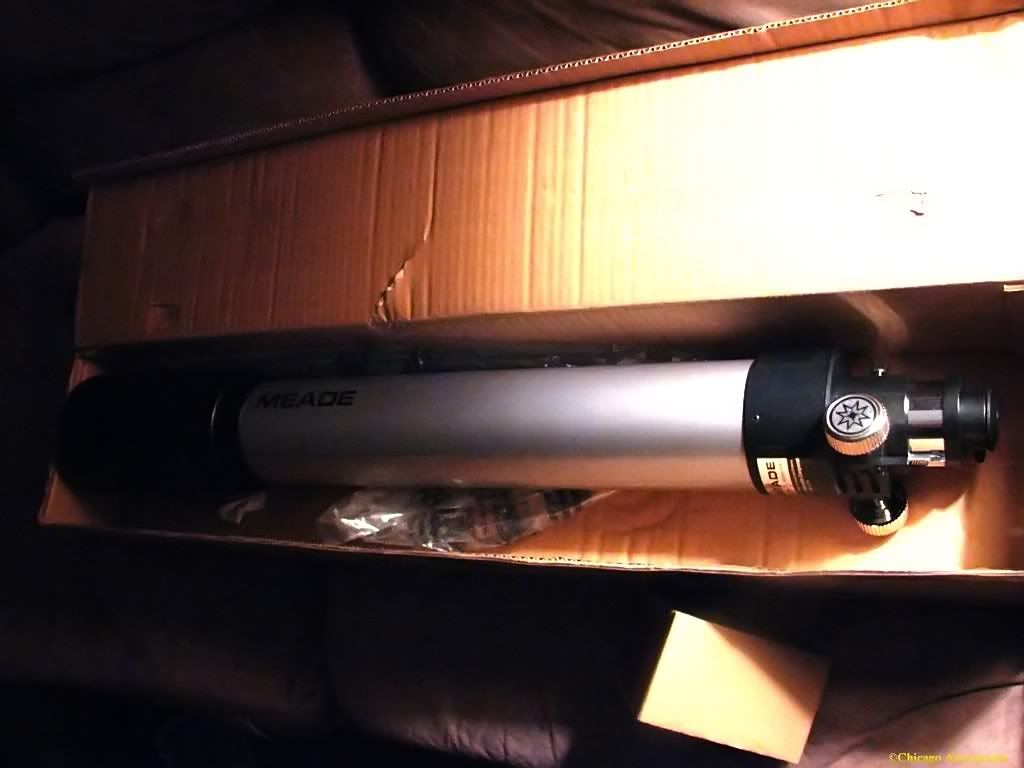 It arrived this weekend via Fedex and for $35.00...it looks decent....the Dew Shield is very deep - which is good, as the dew shield on the 60mm allowed the objective to mist up too easily. This could be a suitable Grab-and-Go scope on it's own merit, as it's very light and I could attach it to my unused Alt-Az mount that holds the 4.5" reflector. I haven't been able to test it yet, but Sunday I'll mess with it and see if it'll work as a finderscope.
More on the addition as the project develops.