Post by Chicago Astronomer Joe on Apr 22, 2007 23:11:55 GMT -6
Solar Observing on Astronomy Day
21 April 2007
A warm and bright sunny day greeted us for Astronomy Day 2007 at the Adler Planetarium. I was set up to join Ron and new guy Jack on the terrace for some solar projection with the mighty Nikon refractor, but I was intercepted and requested to run the Doane Observatory for the public this day.
So off I went.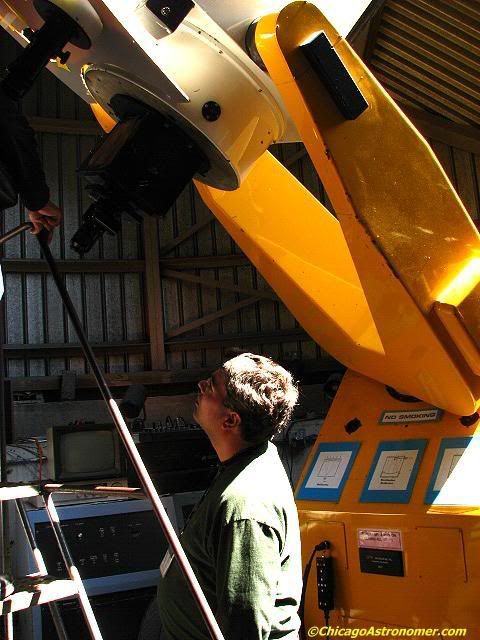 Fred was already set up and handling the visitors with great ease and other Adler volunteers were assigned to assist and guide the visitors to the observatory.
With the Coronado Telescope already trained on the Sun, Fred and I answered questions and invited the visitors to climb the ladder and take a peek at the prominences. No sunspot activity to observe, but the prominences activity was fair and a few were easily observed along the limb of the Sun.
While Fred was guiding visitors on what they were looking at at the eyepiece, I briefed the visitors who were waiting their turn on the ladder in what to expect and look for, fielding questions and in interacting with the guests. It's quite facinating that people I have not met before have mentioned they knew of me...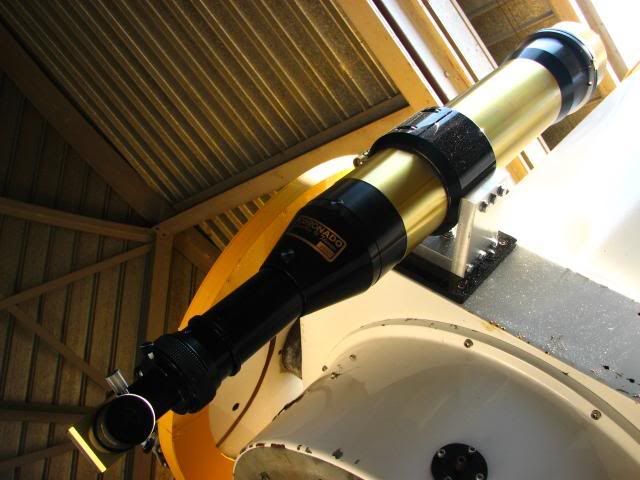 This H-Alpha light Coronado scope is quite a nice one. Attached and delicately balanced on the 21 Inch SCT, it displays the solar flares, sunspots, faculae, phlages, granulation and prominences quite well. One can kick up the magnification quite a bit, and actually watch the flares change shape over a small amount of time.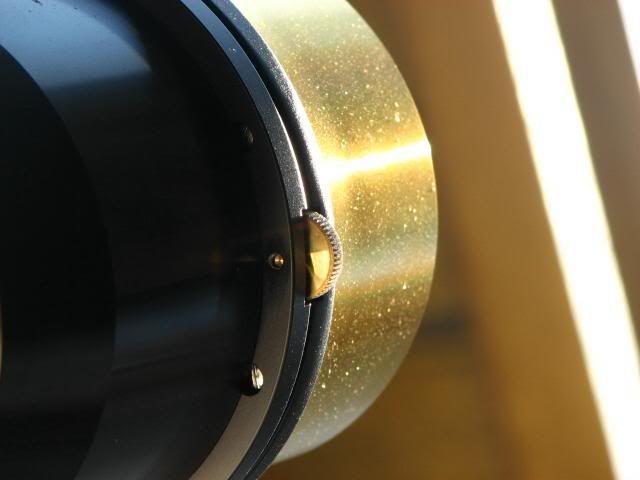 There is a small knurled knob at the front of the scope that allows the observer to slightly skew the wavelength of solar light coming through. In this manner, one can bring into focus various parts of the solar structure.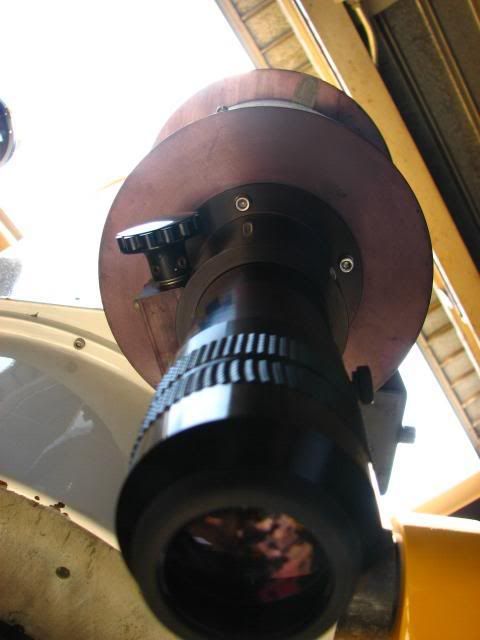 We employed the 6 inch refractor with a 2" eyepiece, also attached to the SCT, with a white light full aperture filter. With no sunspot activity for quite a while now, all that was seen was a bright white sphere. But it was good for comparison with the Coronado.
I took my break in the Adler itself and got a bite to eat. On the way back, the Doane in full operation and turret facing the Sun made a nice photo op. It was in fact cooler in the observatory than the outside temperature.
We concluded our public observing session at 4:00 pm and started to shut down the observatory. People still were arriving to take a peek, but regrettably had to turn them away. Making sure we powered down and secured everything, Fred and I congratulated ourselves on a good session.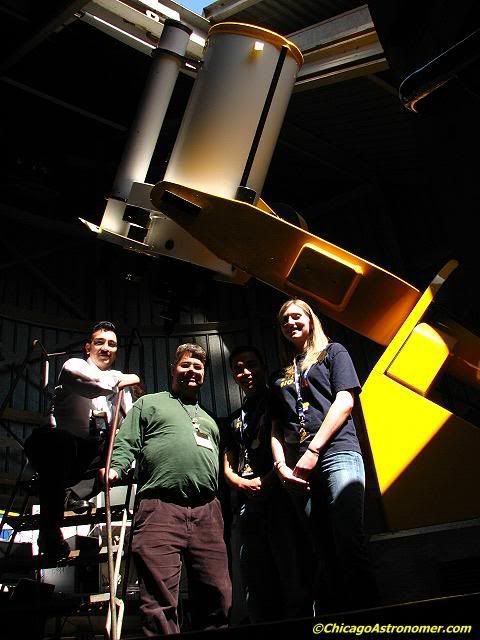 From left to right the day's crew: Me, Fred and Adler volunteers Narin and Amy
Can't wait to start night time observing sessions!... ;D