Post by Chicago Astronomer Joe on Oct 3, 2010 6:29:19 GMT -6
The Launch Abort System Rocket to be displayed outside of the Adler

October 4-7 2010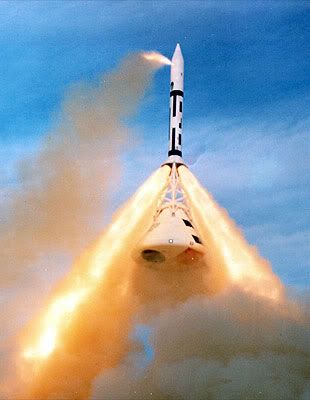 NASA's Escape launch rocket or other wise known as the "Launch Abort System" or L.A.S., from the now canceled Constellation program, will be displayed outside of the Adler Planetarium starting Tuesday the 4th of October till Thursday the 7th - to celebrate World Space Week.
The 45-foot-long Launch Abort System (LAS) rocket mock-up will be set-up by the Sundial, just north of the Adler and officials will be present to discuss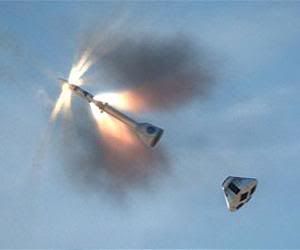 From NASA:
A full-scale mock-up of the Orion launch abort system (LAS) is heading back across the country. The nearly 45-foot-long mock-up, known as the LAS pathfinder, is hitting the road on a large flatbed trailer to travel from the U.S. Army's White Sands Missile Range in New Mexico to NASA's Kennedy Space Center in Florida.

At White Sands, the LAS pathfinder was used to help prepare for the successful Pad Abort 1 (PA-1) flight test, which occurred May 6, 2010.

Ground crews used the pathfinder to practice lifting and stacking the launch abort system on the launch pad, to help ready the crew in handling the actual flight test hardware that launched. It will be used similarly at Kennedy to prepare for other Orion spacecraft operations.

On its journey to Florida, the spacecraft hardware will make stops at various museums and science centers so the public can learn more about Orion and the launch abort system.

Technicians use the mock-up to test procedures that will be involved in preparing the actual hardware for the Pad Abort 1 flight test. Photo credit: U.S. Army White Sands Missile Range.

The planned stops included:

Sept. 28-29: Denver Museum of Nature & Science, Denver
Oct. 2: Orion High School, Orion, Ill.
Oct. 4-7: Adler Planetarium, Chicago
Oct. 9-14: Great Lakes Science Center, Cleveland
Oct. 16-17: The Franklin Institute, Philadelphia
Oct. 23: 2010 EarthFest, Sandy Bottom Nature Park, Hampton, Va.

www.nasa.gov/mission_pages/constellation/orion/las_to_ksc.html

Here is a cool vid rendering animation on the testing of the escape rocket..
Better than the real thing...
Details at the Adler link..
www.adlerplanetarium.org/experience/events
We will try to do a observation session during these display evenings and have the rocket as our backdrop.
(Reminder: We will have a session Monday, the 4th of October by the Adler at 7:00 pm).
The Adler site says 5th of October, but NASA says 4th. Catch this...well worth it.