Post by Chicago Astronomer Joe on Aug 11, 2010 1:41:44 GMT -6
Perseids

August 2010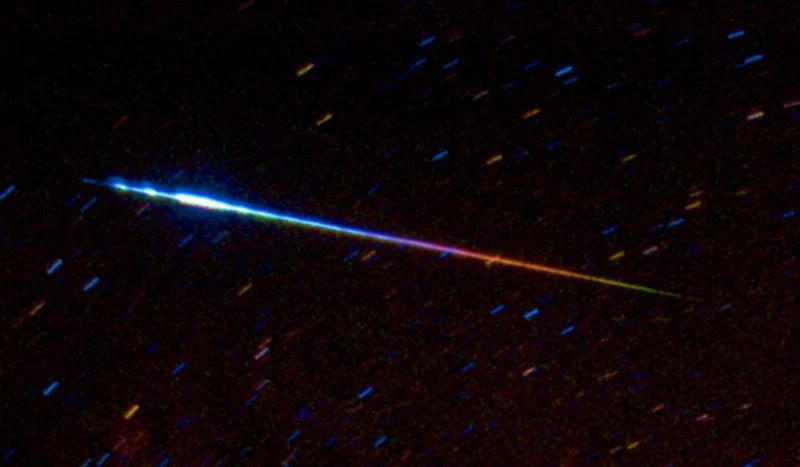 This year, the Perseid meteor shower promises to be a good show for meteor spotters. Already, many have spotted bright meteor trails - days ahead of the peak - and with the Moon out of our skies, will only get better.
We will intersect the debris trail of Comet Swift-Tuttle on the evening of the 12th and early morning of the 13th of August 2010.
The radiant of the Perseids will be to the Northeast, which is good for Chicago Astronomers, since that puts it over the less light polluted area over Lake Michigan...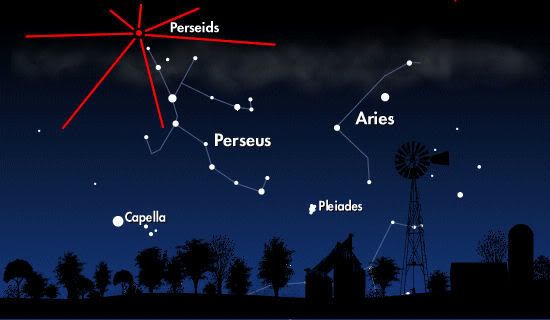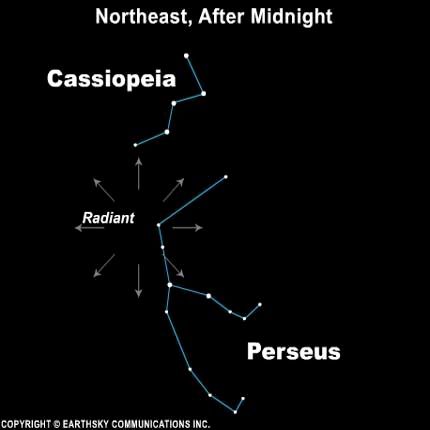 Although the radiant is coming from the Perseus area, meteor trails can occur anywhere in the sky. It is recommended to bring a reclining lawn chair or blanket and look straight up, using your entire peripheral vision to catch a meteor flash and streak. No optical equipment necessary to observe the meteors...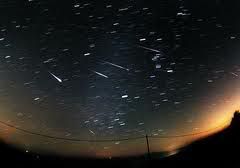 And...
With the heavy rains of this summer, the mosquitoes are vicious this year and bug repellent is highly recommended.
Where to view the Perseids -
Anywhere there is an open wide patch of sky.
Of course, the darker the skies, the easier it will be to catch the fainter meteors...up to 50 or more per hour. But even in Chicago's heavily light polluted skies, many brighter meteors can still be observed quite easily.
The Chicago Astronomers will spend the night/early morning observing the meteor shower and conducting some telescopic observations at our private Chicago Astronomer Research Site (C.A.R.S), by the lakefront. Attendance by invite.

The weather is uncertain at this point. Some forcasting is calling for partly cloudy skies, some are calling for showers....it's a crap shoot at this point. But eitherway, we will be out.
Bring a radio, some beverages & the bug spray...and enjoy this year's meteor shower event.
---------------------
Also...
the Chicago Astronomical Society is sponsoring a free Persied observation night at a dark site:
Perseid Shower Party and a Reminder!

Reminder: Don't forget AstroFest Sept. 10-12. Registration deadline Aug. 20th. See www.chicagoastro.org for details.
One----
It's meteor shower time...
You're Invited! Bring your friends!
CAS Perseid Party
at Enjoy Flight Park, Clifton/Chebanse, IL
~free for all~
August 11th (raindate Aug 12)
7 PM till Dawn
Bring a chair; even better an outdoor chaise.
Bring a timepiece & pencil if you want to record your observations for the Amer Meteor Society.
Bring a telescope, binocs or picnic foods if you want.
Stay as long as you want... some will stay till dawn if clouds/weather is not an issue.

~RSVP not necessary but helpful~ contact audrey@starpals.org

sunset 7:57... plan to get there before sunset if possible... especially if you are unfamiliar with the area.

American Meteor Society's excellent resource for the 2010 Perseid Meteor Shower : www.amsmeteors.org/showers.html

Directions and Coordinates

Address
3236 N. 700 e rd. Chebanse, IL in-Google-maps

Coordinates
N40°58.57' W88°00.087'

Directions from:
Chicago, IL 73.2 mi – about 1 hour 17 mins
Follow I-94 E 9.8 mi
Slight right at I-57 S 56.5 mi
Take exit 302 0.2 mi
Right at Chebanse Rd 121 ft
Right onto W 1st S St 0.5 mi
Turn left at 3400 N 4.4 mi
Turn left at 700 East Rd 1.1 mi
3236 N 700 East Rd


Champaign, IL 68 mi
I-74 W toward Bloomington 2.1 mi
Take the exit onto I-57 N 55.7 mi
Take exit 293 Ashkum/Pontiac 0.3 mi
Turn left at Co Rd 2600 1.8 mi
Turn right at East Rd 7.0 mi
3236 N 700 East Rd
Highly recommended if you are up for a drive to dark sky country....