Post by Chicago Astronomer Joe on Jun 9, 2010 9:11:11 GMT -6
A Brand new comet making it's way through our Solar System
Comet McNaught (C/2009 R1)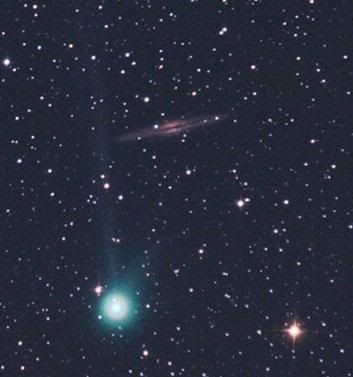 I waited until now to post this, as many new comets are quite dim and just faint fuzzballs. But this one has some great potential and it's brightened to 6th magnitude and forecast to a slick 2nd mag by mid-June.
Spaceweather says:

Comet McNaught can be found low in the northeastern sky before dawn gliding through the constellation Perseus. It is brightening as it approaches Earth for a 1.13 AU close encounter on June 15th and 16th. Currently, the comet is at the threshold of naked eye visibility (6th magnitude) and could become as bright as the stars of the Big Dipper (2nd magnitude) before the end of the month. Because this is the comet's first visit to the inner solar system, predictions of future brightness are necessarily uncertain; amateur astronomers should be alert for the unexpected.

...And from Sky & Telescope:

Update June 9: It's brightening! Comet C/2009 R1 (McNaught) was observed at 3:30 this morning through 12×60 binoculars from Boston's inner suburbs. The comet was well above the horizon before the sky got perceptibly lighter, and the thin crescent Moon provided no interference.

The comet was very easy to spot, forming an attractive tight triangle with the open cluster Messier 34 below and the star 14 Persei left of M34. All three were roughly equal in brightness. This puts the comet around magnitude 5.5, which means it should be visible naked-eye in a dark sky.

The comet's head was fairly small, no more than 10′ across, and quite intense. No tail was visible. However, a very long, thin gas tail is showing up well in deep images
This will make a great target in the C11 beast for the Chicago Astronomers and if clear this weekend, will make a session out of it.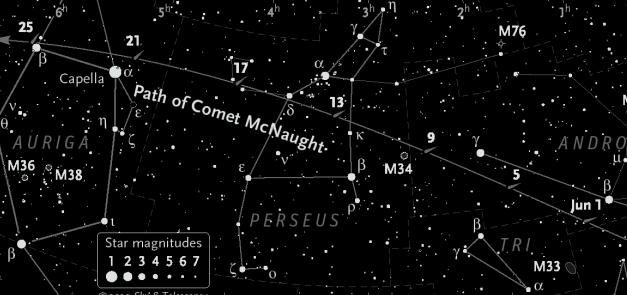 www.skyandtelescope.com/observing/highlights/94277259.html
Some are observing it now with modest telescopes, as small as 5" reflectors and binoculars.
It's been awhile since we had a bright comet, Holmes I think it was in '08 and this promises to be a good one. Not like the "Great Comets of Halley & Kohoutek from my youth...total duds...
More as details come in.