Post by Chicago Astronomer Joe on Jun 17, 2006 2:18:32 GMT -6
Republicans Vote down NOAA Whistle Blower prtection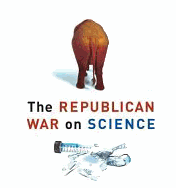 From the "BadAstronomer":...
Brad Miller looking into science suppression in government-funded agencies. Miller went farther this week, introducing an amendment to a bill that would basically prevent the government from punishing whistle-blowers who want to report any suppression of scientific findings that were made using government funding. The bill was to formally recognize the National Oceanic and Atmospheric Administration (NOAA) as a government agency, and was being considered by the House Science Committee. Several amendments were proposed, including Miller's.
If someone in the NOAA feels that science is somehow being suppressed, the government can in no way make any moves to stop this person from pursuing recourse. This seems like a good idea to me, especially since the government has been suppressing scientific findings for some time now, and more allegations of it surface on a weekly basis. In fact, there have been issues with the NOAA specifically about the government suppressing global warming findings.
So in an agency devoted to discussing the science of the ocean and the atmosphere, it strikes me as a good thing to add to a bill an amendment to stop suppression of that science. Wouldn't you think so, too?
The Republicans on the House Science Committee disagree. The amendment was rejected, 17-13.

Every no vote was from a Republican. Every yes vote was from a Democrat.
Why would Republicans vote down a measure to make sure that science was carried out in a free and open manner?
Rep. Boehlert, the chairman of the committee, gave an opinion on why he thought the amendment should be rejected. He gave two main reasons: one is that any whistle-blower should not rely on legislation for their freedom to act, it should be taken care of internally, inside the NOAA; and the second was that "No one at NOAA has been accused of 'tampering' with scientific research or 'censoring' findings – a vague term, in any event – or disseminating information known to be false. Yet those are the formal offenses created by this amendment."
How can it hurt to have laws in place to make sure people aren't coerced? After all, it would be nice if no one murdered anyone else, but that ain't the real world. We have laws for a reason. A pre-emptive one, especially in an atmosphere where so many scientists are afraid to speak up, would do wonders for those of us in the reality-based world.
And scientists are afraid. I have heard many, many stories about people who are "walking on egg shells" (note: those were Boehlerts own words) at their own place of work because there is an atmosphere that dissension will get you in trouble.
More here:
tinyurl.com/zu9eq
===============
It's terrible that this legislation went down party lines. Boneheads...