Post by Chicago Astronomer Joe on Apr 7, 2010 4:11:58 GMT -6
First time ever: Four Women in Space
STS-131 & ISS Expedition 23
[/b][/color][/center]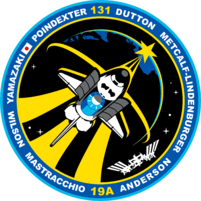 A first for manned space travel.
There are now four women off Earth and now orbiting at over 14,000 MPH. Three of seven astronauts on Discovery are women and one on the International Space Station: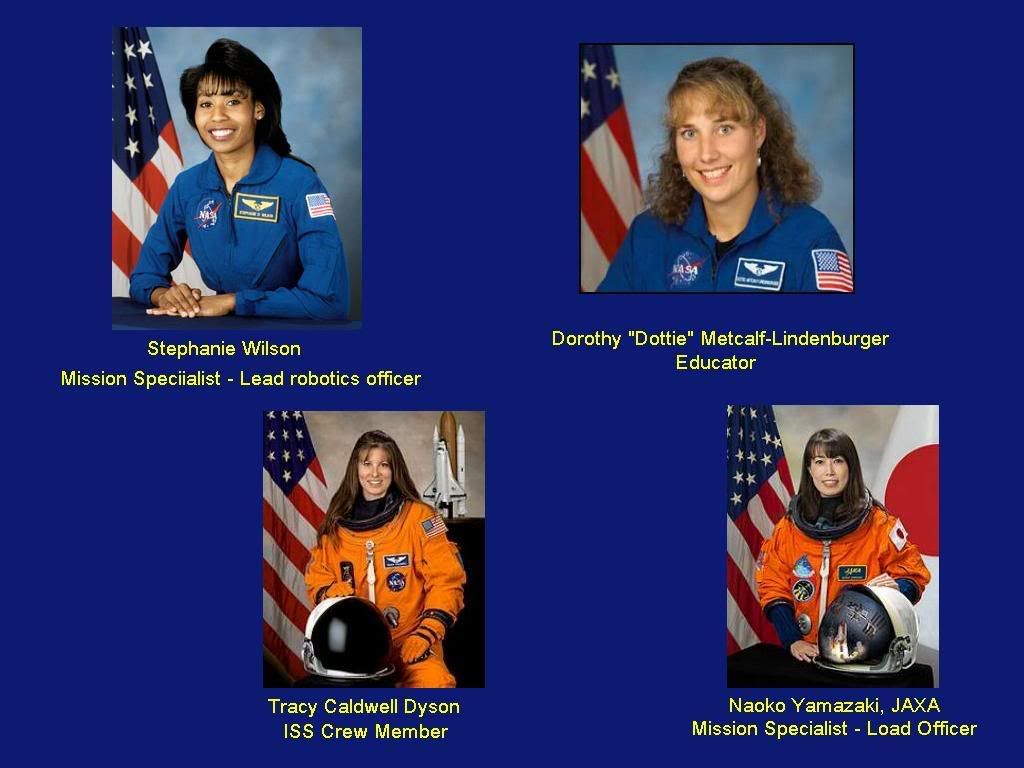 From the BBC:
Naoko Yamazaki
In Japan she is being called the Mum Astronaut.
Naoko Yamazaki is the second Japanese woman in space but it's her family life that is getting attention back home.
The space engineer's husband gave up his job with a software company to look after their seven-year old daughter Yuki, allowing his wife to pursue her ambitions.
Japanese television has been showing Taichi Yamazaki washing rice and doing the laundry, unfamiliar tasks for Japanese men.
From Space.com -
Stephanie Wilson
Wilson is an aerospace engineer from Boston, Mass. She became the second African-American woman to fly in space during her first spaceflight in 2006. Discovery's current flight is her third trip to space.
From Space.com -
Dorothy Metcalf-Lindenburger
Metcalf-Lindenburger, 34, is making her first career spaceflight on Discovery, but the drive to reach space has been with her since high school, when she attended Space Camp in Huntsville, Ala., while in ninth grade. She plans to film some educational videos about the role of robotics in space.
From Space.com -
Tracy Caldwell Dyson
Caldwell Dyson has had a different road to space than her three shuttle comrades. She launched to the space station Friday on a Russian-built Soyuz spacecraft alongside two Russian cosmonauts. A former chemist and electrician, Caldwell Dyson is on her second spaceflight, though this one is a six-month trek as a flight engineer on the station's Expedition 23 crew.
The three female astronauts aboard Discovery will spend about 13 days in space before the shuttle is due to return to Earth on April 18. Three spacewalks are planned during the flight, which is one of NASA's last few remaining shuttle missions before the space agency retires its three-orbiter fleet later this year.
---------------
STS-131 Crew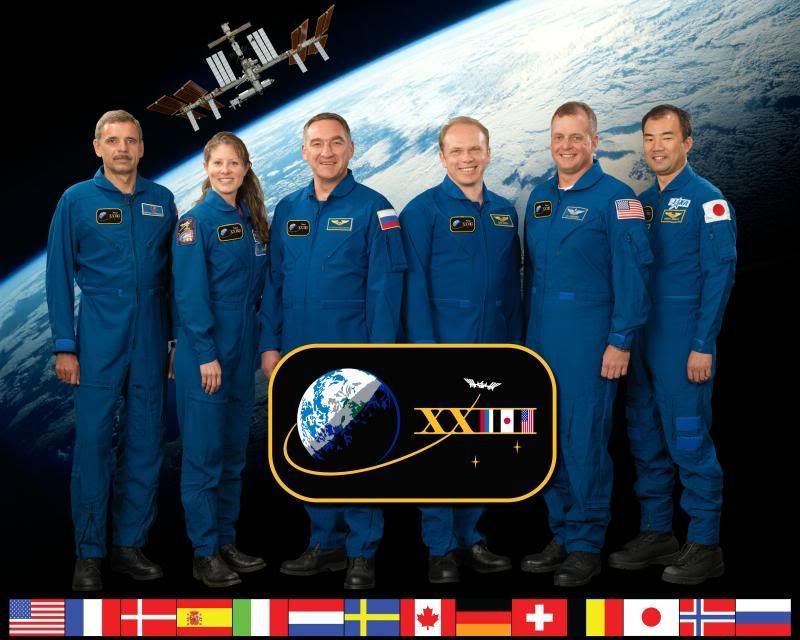 Expedition 23 ISS Crew
--------------------
Excellent and quite cool. But with 13 men & women in orbit.... I wonder what the toilet seat protocol will be...