Post by Chicago Astronomer Joe on Feb 3, 2006 16:40:16 GMT -6
NASA inspector accused of ignoring safety violations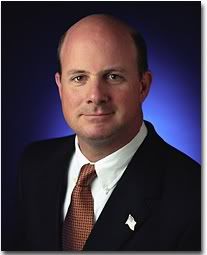 Behold, the face of evil - NASA General Inspector Richard Cobb
A federal agency is investigating allegations that the inspector general for the US space agency ignored safety violations in the space shuttle program and retaliated against whistle blowers, a US newspaper reported on Friday.

The probe, based on numerous complaints from space agency employees and former employees, is examining accusations that NASA Inspector General Robert Cobb undermined safety efforts and stifled or ignored concerns about a malfunctioning self-destruct procedure during a 2002 space shuttle launch, the Washington Post reported.
He allegedly squelched attempts to learn why funding to improve deteriorating launch pads and other shuttle infrastructure was canceled prior to the February 2003 Columbia disaster, the paper reported, citing documents submitted to investigators and interviews with current and former NASA employees.
Cobb was also accused of allegedly disregarding his mandate to prevent waste and fraud, punishing staff members who raised questions and suppressing internal investigations of wrongdoing at the National Aeronautics and Space Administration (NASA), the Post wrote.
Cobb was appointed to his post at NASA by President George W. Bush in 2002 after serving as an ethics lawyer for a year in the office of the White House General Counsel, the paper said.
Cobb told the Post he would "cooperate fully" with the investigation but would not discuss the allegations. "I am proud of, stand behind and am accountable for the work of the IG (Inspector General)," he said.
Those who worked under Cobb alleged that he had halted investigations, suppressed audits and shaped his office's efforts "to avoid embarrassing the agency or its leadership," the paper wrote.
The investigation comes amid lingering concerns about the safety and utility of NASA's space shuttle flights, with critics charging the agency has mismanaged the shuttle program.
Full story here:
www.physorg.com/news10513.html
Cobb's NASA Bio here:
www.hq.nasa.gov/office/oig/hq/inspector_general.html
========
I hate, I mean really hate dudes like this...
I've dealt with the type and sleep better after they were ..."adjusted", and so pleased another bully is shoved back.
#Thumbsdown#