Post by Chicago Astronomer Joe on Mar 1, 2010 8:10:55 GMT -6
First Macro Photography Images

Sodium Chloride - ( NaCl )

01 March 2010
Winter skies are not kind to astronomers.
If it's not cloudy night after night...it's so d**ned bitterly cold - that observations are put on hold for weeks at a time. I must have taken the C5 out for just a handful of times this '09/'10 winter season...much less the C11.
But, there is another dimension - and that is inner space.
I have often spent evenings gazing at microscopic objects and fascinated on what I saw. As we astronomers use our telescopes to look outward at objects light years away and in size, it's also as interesting to peer inward and observe minute structures and life forms.
(I used to garden a lot when I was younger, but since I examined soil under the microscope and observing the critters in huge abundance squirm about...I don't anymore. And wear gloves whenever I handle dirt...yuk.... )
I never was able to capture images these objects in the past, but as I have assembled imaging set-ups for capturing celestial targets on my telescopes, I just transferred the same to the microscopes I have. They are nothing fancy and far from professional, but they do a half decent job in showing me inner space and the wonders that exist in that world.
To help calibrate and get accustomed to this type of photography, I took some experimental shots of plain ordinary salt on a slow early morning. Using a reversed telephoto 80mm/200mm attached to my Canon Powershot S3 and later zoomed in 12x, we start our inner space journey...
Lens is attached to a Canon S3 adapter with electrical tape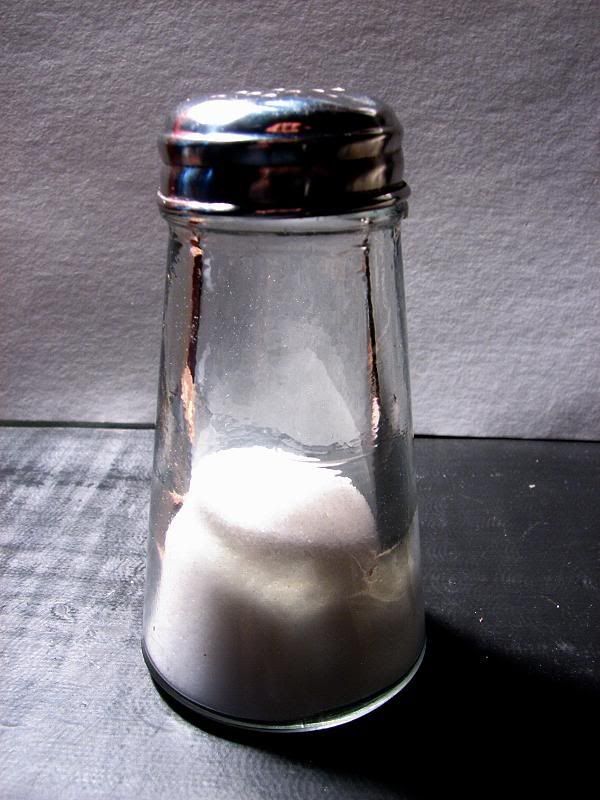 The source of the Iodized salt. Seems that I fill this shaker a lot. I do love my salt... ;D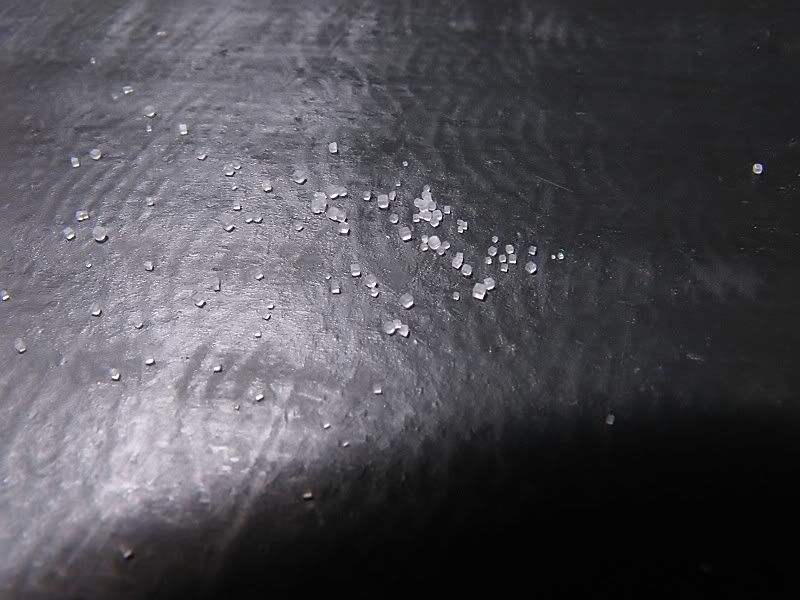 Sprinkled from a salt shaker on the back of a mouse pad, alreadly, one can discern the cubes of every salt crystal.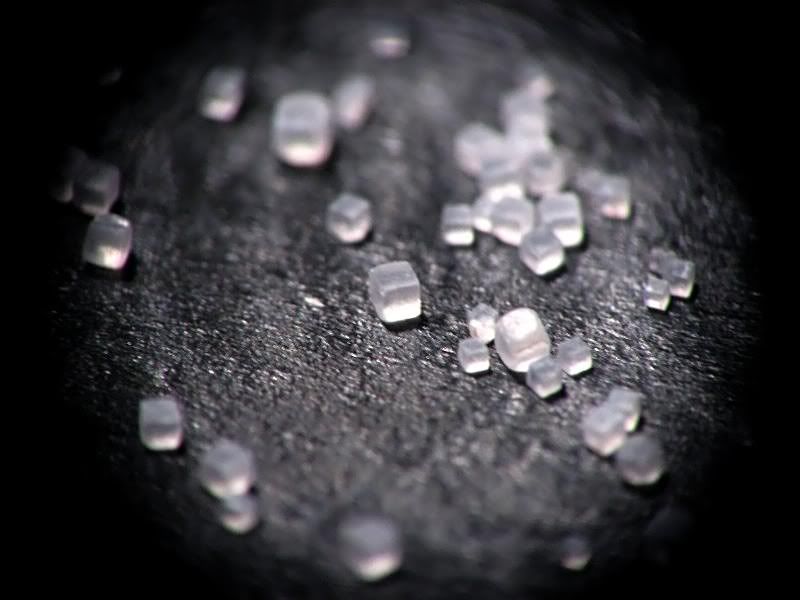 Zooming in closer, the personalities of the cubes are more evident.
I pick out a nice lookin' sodium crystal with sharp sides and one that likes to be photographed.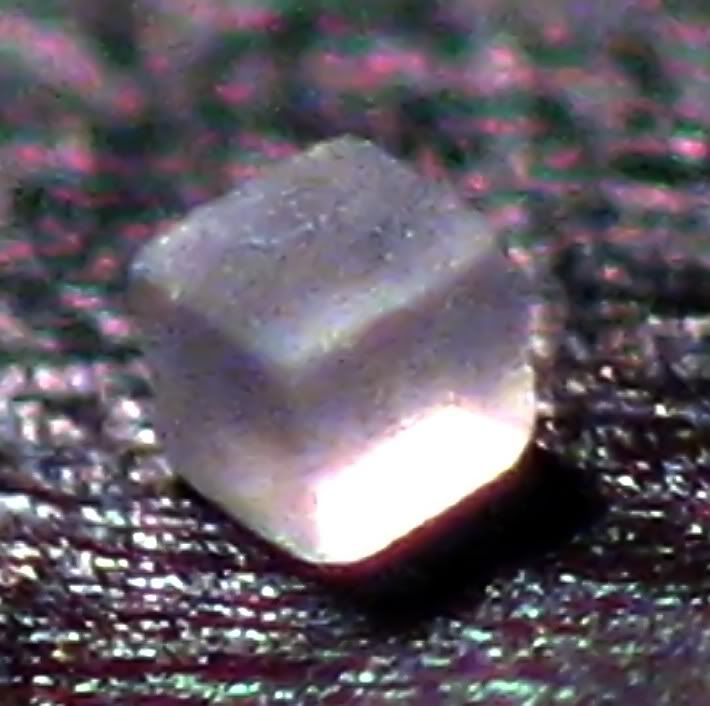 How fascinating that salt crystals naturally form with equilateral and uniform sides - all on their own.
I have reached the limit of the camera and zoom lens here, so I attach the camera to the microscope and continue.
These were the microscopes I used when I taught Earth science to grade school kids a few years back and the instruments did a good job in revealing hidden secrets. I will be using the center scope for this session.
The images start to get muddy, depth of field hard to control and the salt crystals start to polarize the light, which was coming from below the slide...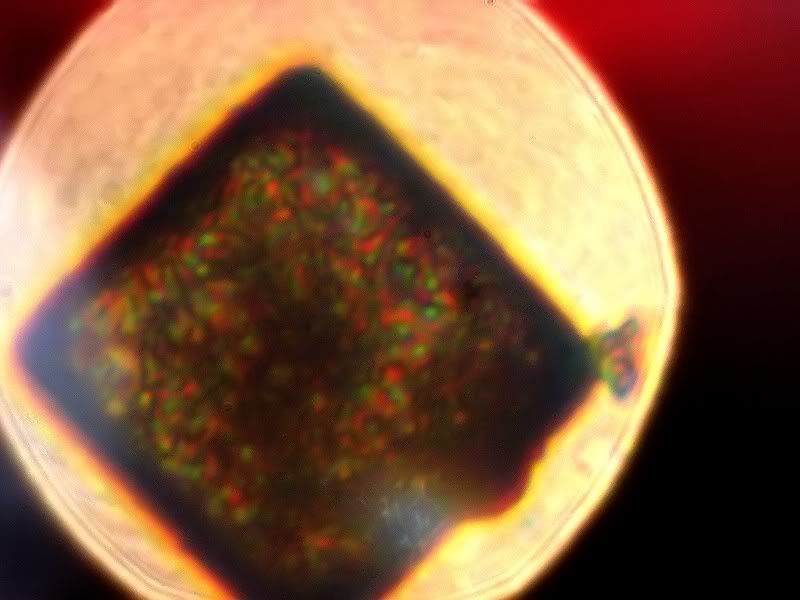 Starting out with as a low magnification I can get, this cube shows straight lines and some cells of some sort hanging on to a corner...eew...

)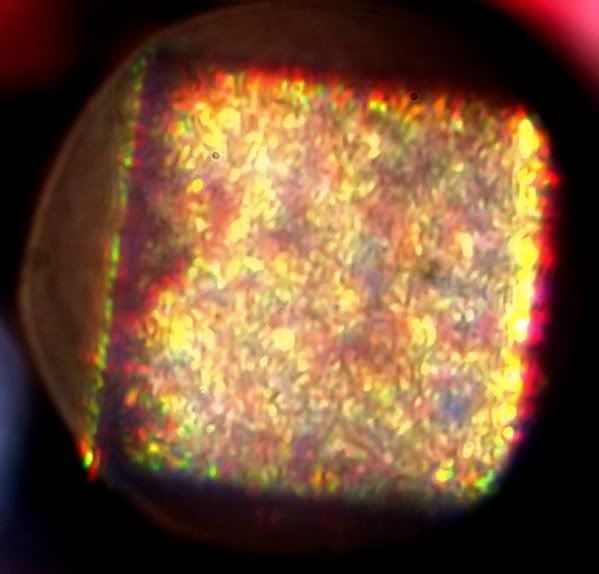 Fine focusing was difficult, as the cube now has sheer drop off cliffs with the high magnification.
I attempted to close the f-stop some, catching one cube bumping into another.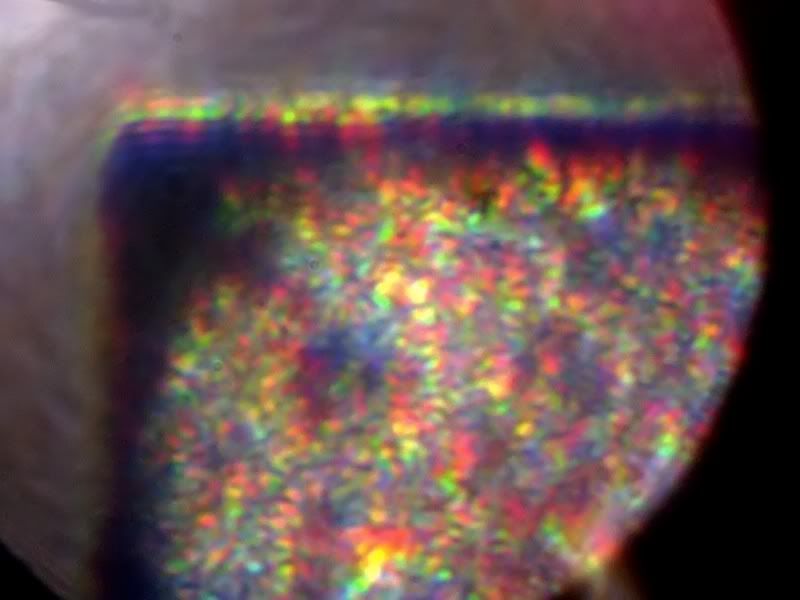 In this last shot, the cube demonstrates the varying density within the cube by the different colors that were allowed to pass through...almost doppler-like.
Physics are the same everywhere.
I hope to refine the imaging, with the goal of capturing squirming critters soon...