Post by Chicago Astronomer Joe on Aug 20, 2009 0:57:58 GMT -6
Replacement S3 Lens Adapter and Rubber Hood
When I first got the Canon Powershot S3, I got the accessories separately: Two Lens adapters, Rubber Hood, UV & polarizer Filters etc... I was happy with the new accessories for three years...(The S3 still is snapping away happily, but I have noticed a slight sensor de-sensitivity.) I use this camera for everything, work, play, movies, astronomy...everything. When this one wears out, I shall get the S5. Great camera and very versatile.
I got the two Lens adapters and related stuff from a reliable source the first time around, but the rubber hood started to detach from the seams. Wanting to replace it quickly, (as I had a astro conference to cover), I went to a big name camera store for a quick fix....but found they had no 58mm hoods in stock...incredible...
At around this same time, a friend of mine lost my primary lens adapter, UV filter and hood assembly I had her hold for me at a party...(never again!)
So, although I still had one lens adapter remaining, I like to have two...one for everyday use with UV filter and the other with the polarizer filter for outdoor shots. No fumbling with filters...just snap off and on.
(
I really need three adapters, as one should be dedicated for the camera/telescope T-Mount I use for astrophotography
:
astronomer.proboards.com/index.cgi?board=ps3&action=display&thread=1286
)
I was prepared to reorder the lens adapter from the same place on-line - hopefully for the same price of $12.00 again.
(All documented here:
astronomer.proboards.com/index.cgi?board=ps3&action=display&thread=1287
)
But looking around, I came across this adapter by Opteka from Amazon:
At $4.95 and $2.77 shipping ($7.72 total)...I was sold!
It arrived in a week...and I really like it, better than the one I purchased years before. This one fits solidly on to the S3 with no rattle or movement...as if it belonged to the camera.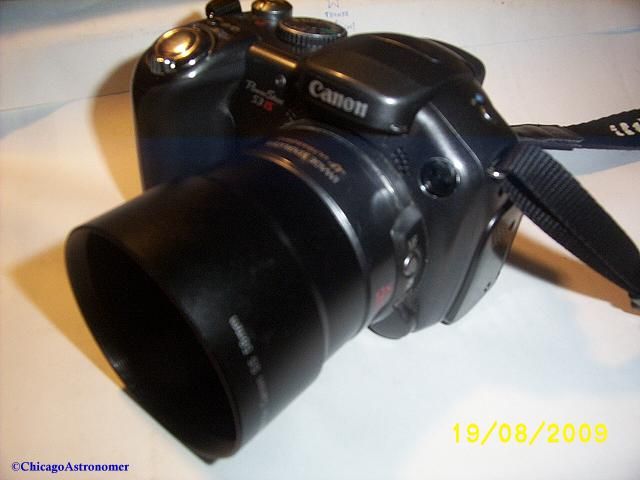 Unlike the Over priced actual Canon Lens adapter, this one is solid metal...and not cheap plastic. My first one was metal as well, but this one is superior...even tho it's stamped for the S5. (I read the reviews and they were all positive, assured that it fit the S3 and they loved this adapter. Those who didn't like it, have no business with this type of camera. Point & shoot babe...)
---------------------
On to the Rubber Hood...
I desired a beefier foldable lens hood. Not only for it's actual practical use of blocking out lens flare, but it looks cool on the camera. Lot of expensive hoods out there, but I kept looking. Amazon was the source again on this one:
The reviews were good and it was a thick piece of foldable rubber. The Zeikos ZE-LH58 58mm Soft Rubber Lens Hood was to be had at...
$6.50...delivered!
Done!!!!
It arrived in a week, (in fact all three items: the hood, the lens adapter & the Magmount ballhead all arrived together.)
astronomer.proboards.com/index.cgi?action=display&board=ps3&thread=2564&page=1
I dig it.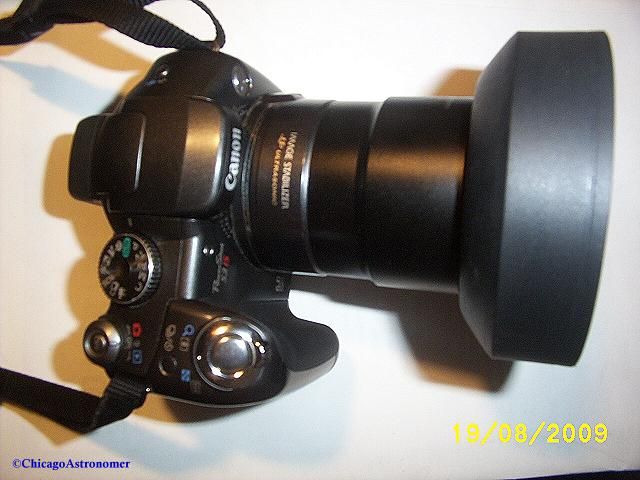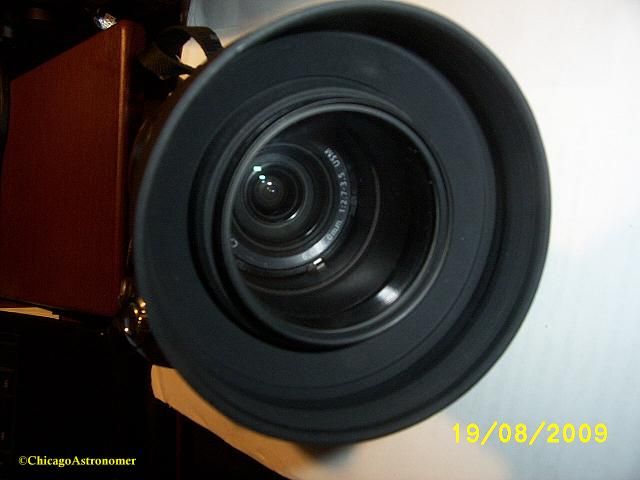 It's a big solid hunk of rubber and folds unto itself nicely.
Threading into the lens adapter without binding, there are threads on the outside as well, where I attached a UV filter permanently to protect the camera's optics.
The hood folds in three positions: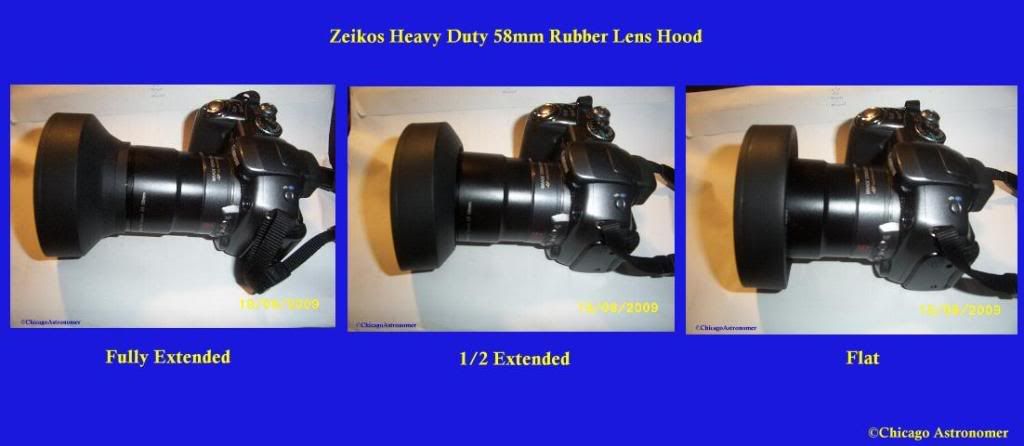 At the flat and 1/2 extended positions, it's fine, but at the fully extended position, there is a slight bit of vignetting - not anything obscene, just the corners are slightly blocked. No big and easily cut out in post processing, but at the 1/2 position, it's just fine.
I highly recommend these two items for us S3/S5 Canon Powershot users.