Post by Chicago Astronomer Joe on Jul 23, 2009 0:37:58 GMT -6
Chicago Astronomer Joe and Buzz Aldrin Meet
An evening with the Astronauts in Chicago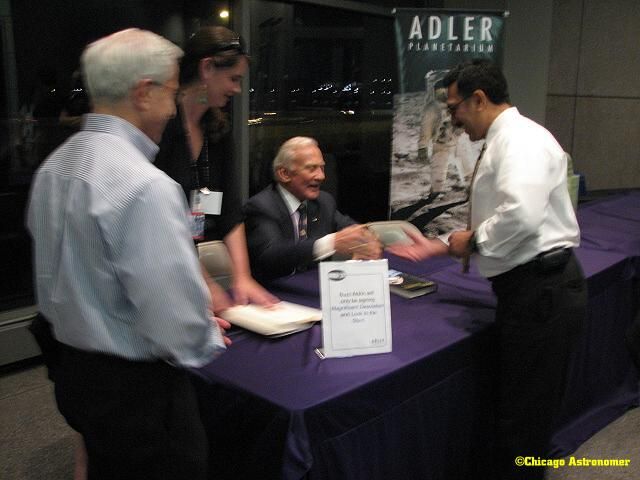 For the 40th Anniversary, The Adler Planetarium scheduled a month long litany of activities. One of the scheduled events was a talk with Astronauts James Lovell and Buzz Aldrin.
Held at the Thorne Auditorium at the Chicago lakefront campus of Northwestern University, the stage was set up for an hour with two men of space and moderated by "Rocketman" author - Craig Nelson - (Interview with Craig Nelson coming shortly.)
The lines were long and the event sold out a long time ago....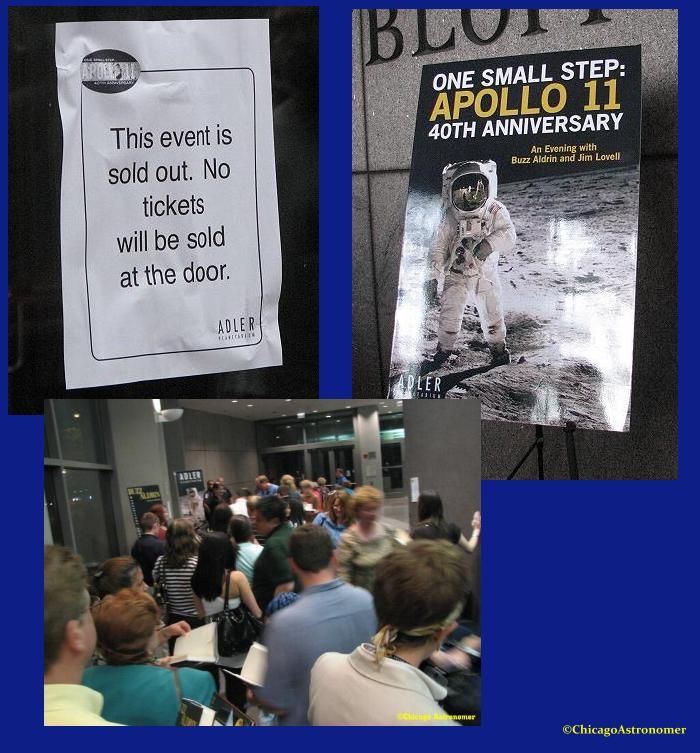 There were many friends to greet and take pics with - and I regret not having a pic with them all...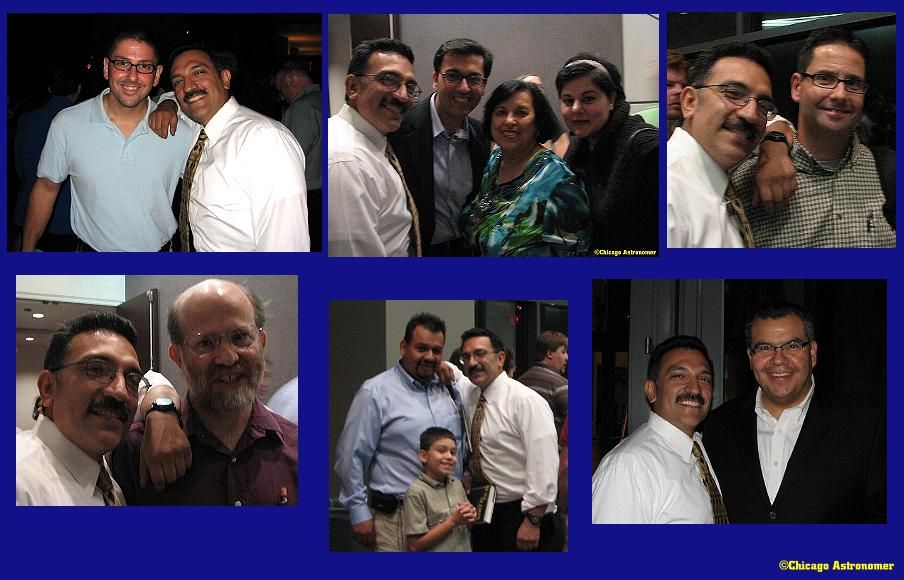 Looking for a good camera angle...I settled in my seat with an empty seat directly in front...sweet. In the meantime while waiting, I asked fellow Adler Telescope Facilitator John to grab my rod and take a long shot...
Shown are: Adler facilitator Carmen, Myself, John's son Michael and John
The auditorium was at near full capacity, all desiring to listen to the two Gemini & Apollo astronauts - who shared a mission together on Gemini 12 in 1966 - with Lovell piloting and Aldrin making three space walks.
NASA
*We have the Gemini 12 Space Capsule displayed at The Adler Planetarium and the accounts of it's arrival can be found here:

Arrival: astronomer.proboards.com/index.cgi?board=geminixii&action=display&thread=1869

Capsule settles in: astronomer.proboards.com/index.cgi?board=geminixii&action=display&thread=1870

Capsule Interior: astronomer.proboards.com/index.cgi?board=geminixii&action=display&thread=1872
The stage was set with three chairs, water on the table and with the ghostly video of Buzz & Neil in their EVA on the Moon...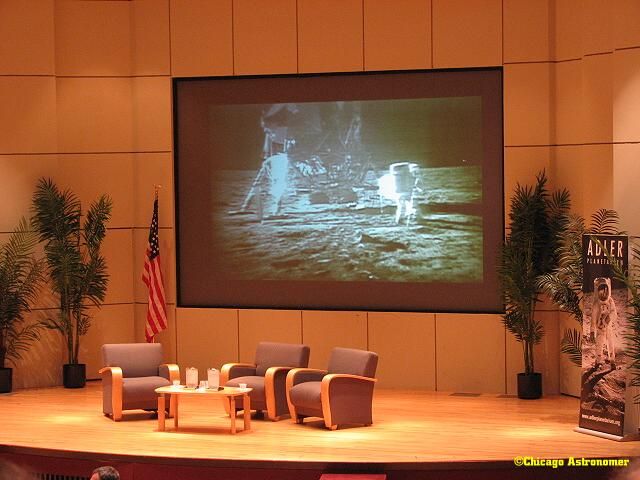 Lights dimmed and our moderator for the night, Craig Nelson took his seat and gave a short opening statement...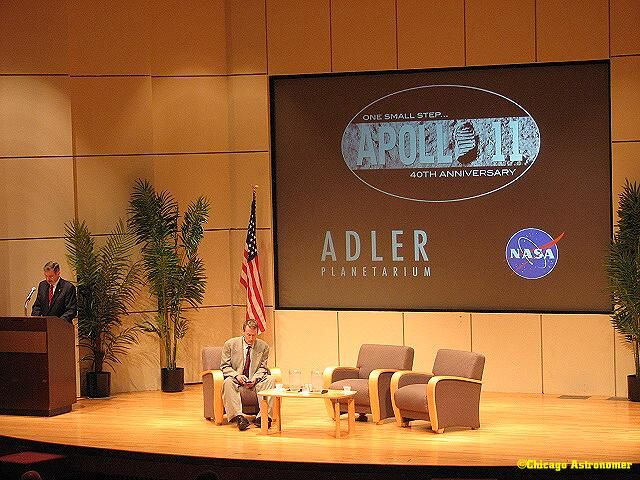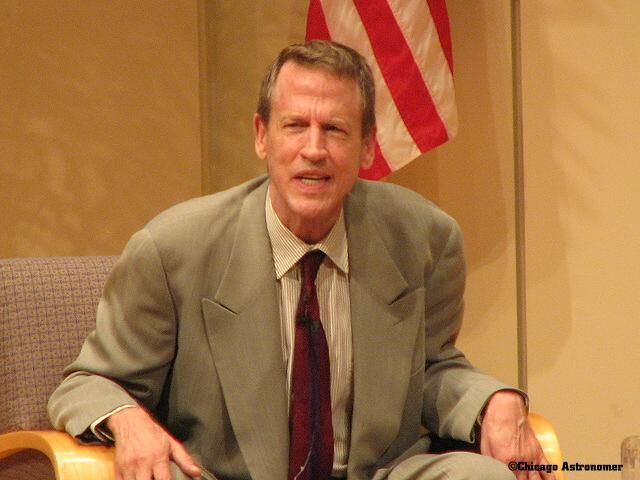 With that, Buzz Aldrin was introduced to great applause...followed soon after by James Lovell to an equal welcome and thus began an evening with the astronauts...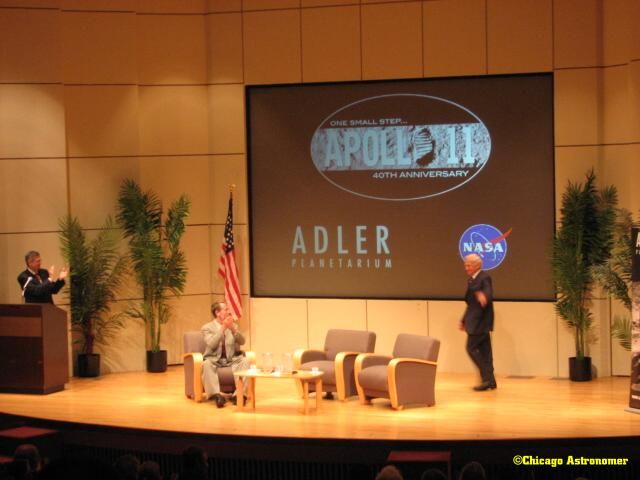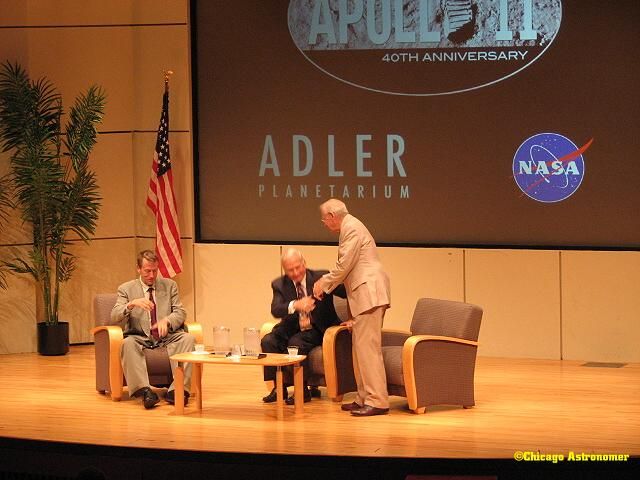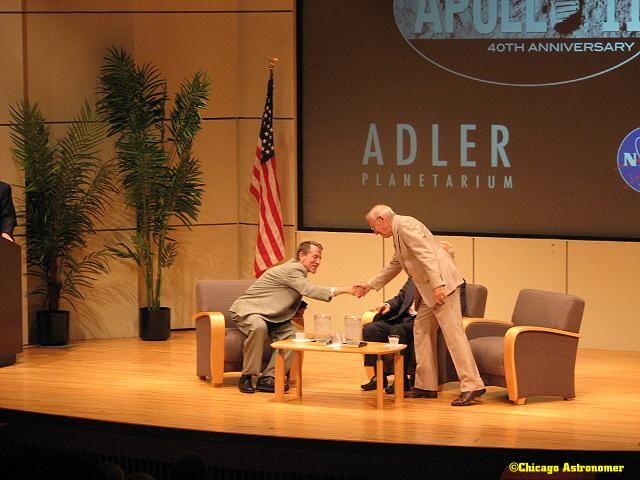 Nelson asked the two American heroes about their experiences as astronauts. Referring to Lovell as the originator of his nickname of "Dr. Rendezvous", Buzz talked about his experience as a test pilot and knowledge of orbital mechanics...and how later NASA allowed "inferior" non-test pilots into the program - to the laughter of the audience.
Aldrin talked about his friendship with Astronaut Ed White and how White's first space walk being quite difficult - using the hand maneuvering gun/thruster...and if not held directly in front would spin you around like a top. White's experience made future spacewalks easier, which included hand & footholds not included in the first Gemini EVA missions. And being that White was a very tall person, it was difficult for him to get back in the spacecraft...as he had to really scrunch down in order for crew member James McDivitt to close the hatch...(which was also redesigned after this mission to lock with a ratcheting arm.)
Moderator Nelson made mention that pad 34-A, (where White, Grissom and Chaffee perished in Apollo 1), has been left to the elements - to crumble away.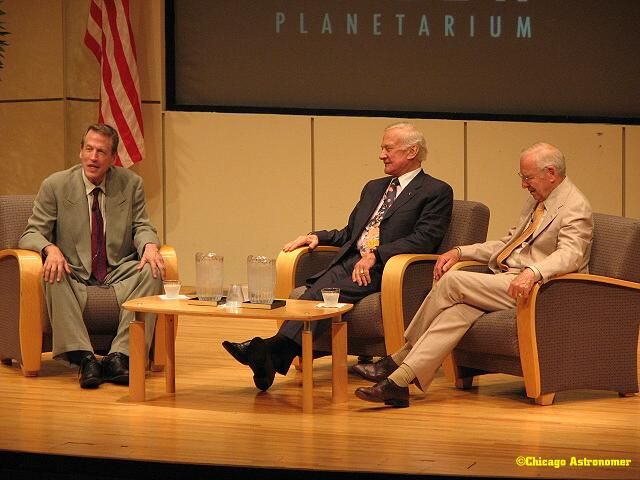 He also brought up the fact that the Gemini craft had no escape tower, but instead ejector seats...pointed towards the ground. The two astronauts on stage looked stunned at such a statement with the audience laughing in response. Capt. Lovell interjected stating that the propellant on board the Titan was hypergolic fuel - when mixed together would ignite and the fumes were very corrosive. With the crew sitting in a "V" position to one another, the ejector handle was between each of their legs - covered against accidental activation. But if the astronauts elected to eject, they would most certainly parachute down into the flames and deadly fumes of the malfunctioned booster. He also said that they forgot all about the ejection seats once the mission got underway. And, he added "it's not a good idea to eject ones self in space".
Aldrin talked about the first Russian space-walker - Alexei Leonov, where he had to depressurize his spacesuit to get back in and how bulky the suit was to move about in. Aldrin enjoyed his spacewalks immensely and thanked Lovell for taking such great pics of him out of the space craft. "If one did not move erratically and took your time moving around, things were fine. Lovell interjected with "It's only when you move fast in the zero gravity of space that you encounter unexpected problems - like the space craft moving away from you when you push against it - invoking Newtons Third law of motion". "And this is when you start to get tired and perspire. But as long as you have a foothold, you could move around quite easily" Aldrin added while demonstrating upper body motion. Lovell mentioned that during underwater practice, it provided a close sensation of a space walk - "especially with heavy weights holding you down!" Aldrin gave an expression of recollection dislike - and the audience laughed. Lovell continued that while he was piloting the Gemini 12 space craft and Aldrin did his spacewalks - he told Buzz to change the oil while he was out there.
Story in process - Continued shortly....