Post by Chicago Astronomer Joe on Feb 16, 2006 13:51:12 GMT -6
A Giant Lightning Storm At Saturn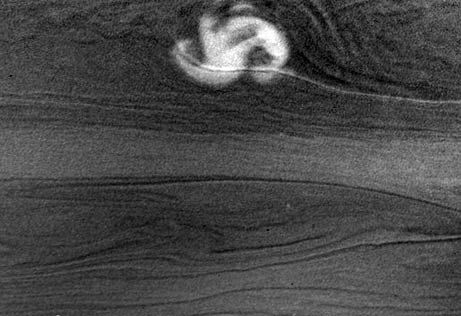 Wed, 15 Feb 2006 - Scientists are tracking a gigantic electrical storm raging on the surface of Saturn. This storm is the size of the United States, and the most powerful of its type ever seen. The origin of these storms is unknown, but researchers think it might have something to do with Saturn's warm interior. Cassini is expected to get much closer to Saturn in the next few weeks, so scientists will get a much better view
Imagine an electrical storm larger than the continental United States in which the lightning bolts are more than 1,000 times stronger than conventional lightning, and you'll have a good idea of the lightning storm -- the strongest of its kind ever seen -- that University of Iowa space scientists and their colleagues currently are tracking at Saturn with the Cassini spacecraft.
The unusually powerful storm stretches some 2,175 miles (3,500 kilometers) from north to south. It's located in a region of Saturn dubbed Storm Alley because of its high atmospheric activity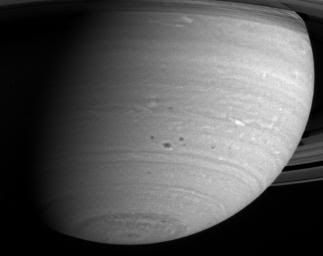 UI Professor Donald Gurnett, principal investigator for the Radio and Plasma Wave Science investigation (RPWS), along with UI researchers William Kurth and Georg Fischer, have been tracking the storm since Jan. 23.
"It is clear that this is the strongest lightning activity that we've seen yet with Cassini since it has arrived at Saturn. In fact, the flash rate even exceeds the rate observed by Voyager 1 back in 1980 and the intensities are at least as large, if not larger," Gurnett says. "Since Cassini was over the night side of Saturn and in a difficult position to image clouds, amateur astronomers were asked if they had seen evidence of a storm cloud recently. Backyard astronomers confirmed the storm.
Scientists have not yet seen actual lighting flashes. They may be buried too deep in the storm's thick clouds, or they simply might not have occurred during the ten-second exposure Cassini uses to capture storm images.
Full story here at Universe Today:
www.universetoday.com/am/publish/giant_saturn_storm.html?1522006
and at National Geographic.com:
news.nationalgeographic.com/news/2006/02/0216_060216_saturn_storm.html
And catch Space sounds from the University of Iowa at:
www-pw.physics.uiowa.edu/space-audio/
========
The perfect storm?...