Post by Chicago Astronomer Joe on Nov 4, 2005 16:41:11 GMT -6
Adler to receive the Gemini 12 Capsule soon
Preparations are being made to ready the Gemini Xll space craft for a visit to the Adler Planetarium in January 2006.
The following news story relates to the preps: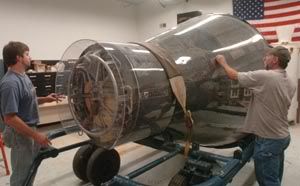 Cosmosphere prepares to restore its third Gemini capsule
In addition to traveling thousands of miles through space, three of the nine small black spacecraft in the Gemini program have traveled to Hutchinson.
This week, the Gemini XII craft arrived at the Kansas Cosmosphere and Space Center's restoration complex in the former Spaceworks building in southwest Hutchinson.
Gemini XII had been on display at the Goddard Space Flight Center in Maryland, encased in a simple Plexiglas case.
Owned by the Smithsonian, it's en route to the Adler Planetarium in Chicago, after the Cosmosphere's restoration team cleans and refurbishes the craft that made its maiden - and only - voyage to space 39 years ago.
The first step will be removing the cover and taking an inventory of the spacecraft's parts and condition, said Jim Remar, vice president of museum operations for the Cosmosphere. Once that takes place, they'll be able to tell what kind of work needs to be done.
"This is pretty much the condition it was when it became the Smithsonian's property in the late 1970s," Remar said. "It really hasn't been touched since then."
Aside from some corrosion on the body and a little wear and deterioration visible on the interior, the vehicle appears to be in good shape, said Dale Capps, the Cosmosphere's exhibit and restoration manager.
Gemini XII carried astronauts Jim Lovell and Edwin "Buzz" Aldrin into Earth's orbit in November 1966 on a three-day mission that tested new and successful techniques for working in space. Aldrin and Lovell also practiced docking their craft with an Agena rocket, later used in Apollo missions to the moon.
It's the second craft that Lovell flew that the Cosmosphere has restored, Remar noted. Lovell is expected to accompany a delegation from the Chicago planetarium to Hutchinson in a few weeks to look over the vehicle and discuss how it will be displayed.
Full story here:
www.hutchnews.com/news/local/stories/Gemini110305.html
=====
Great having Lovell's space craft here in Chicago. If you haven't seen the Grissom capsule yet at the Adler, you must!...