Post by Chicago Astronomer Joe on Apr 11, 2006 22:19:29 GMT -6
Gemini XII Grand Arrival at the Adler Planetarium
The day promised to be a good one for the delivery of the Gemini XII space craft capsule. Bright sunshine, good cameras, and access to media parking. As I pulled up into my parking spot, I saw what I came to document in the glaring sun. On top of a semi covered flatbed truck...there it was...a symbol of American space history. Not in books or on the web...but actually a scant few feet from me.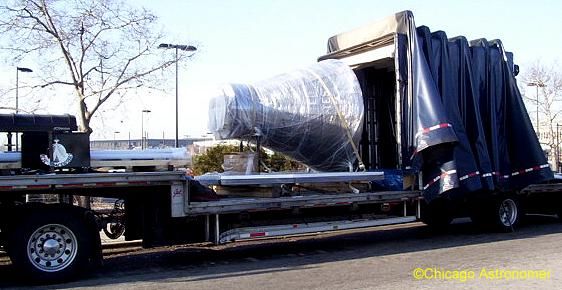 With cameras in hand I approached the object with in trepidation and feeling out the boundaries. Other media representatives were already photographing the capsule and I joined in. Positioning is the name of the game, and I scouted out the best angles.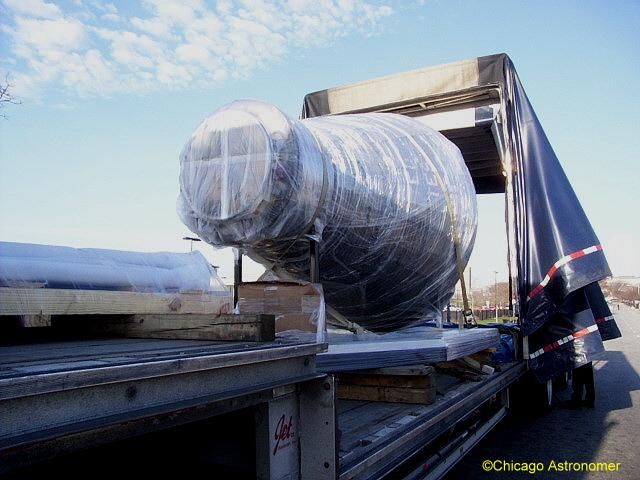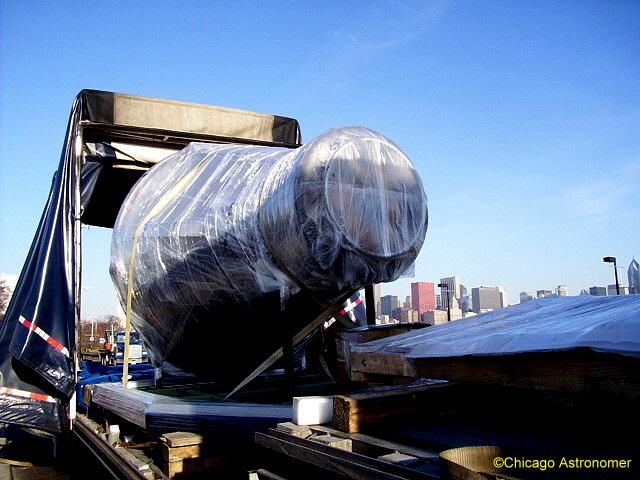 This is the second time a capsule would be making it's way into the planetarium. Last year the same procedure was executed for the Gus Grissom Capsule. The crane charged to hoist the capsule and direct it into the doors of the Adler was ready to go.
There are some things that one must do without harming anything or anyone. And as an astronomer, I had to touch it...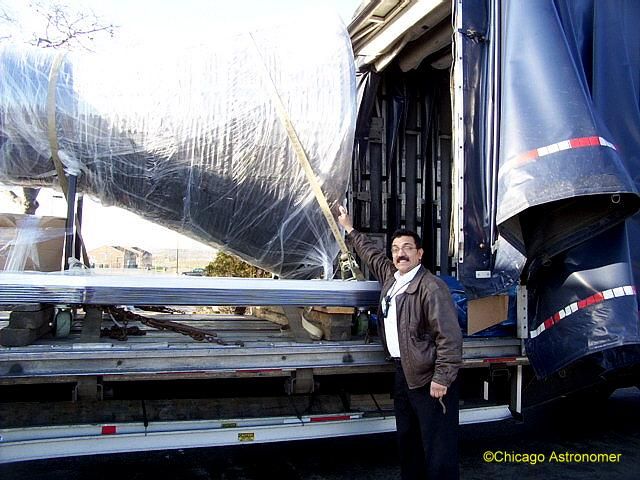 Still wrapped in it's protective covering, the heat shield felt rough, almost like unsmoothed concrete. It feels really solid and up close it's not big at all... smaller than a VW bug! It's amazing that two people spent days in this small foot locker box.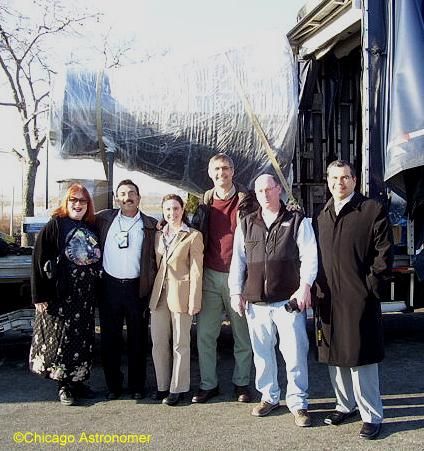 I like group shots, and I invited my fellow Telescope Operators to join in. Pictured from left to right: Sherri, Myself, Linda, Steve, Jeff and Marty Castro - Adler Board Member and long time associate of mine.
Then, the time arrived to demount the capsule and ease it down onto the ground. A fork lift gingerly slid it's tines under the cradle that the capsule sat on and freed it from it's hold.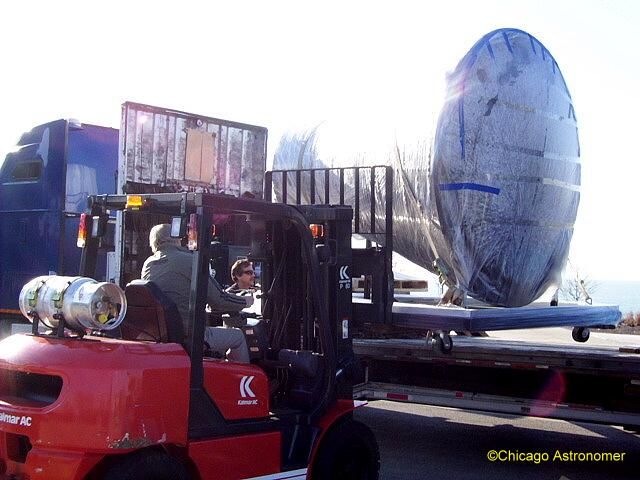 The forklift then slowly rolled it to the hoisting staging area... the crew ready to attach it to the crane.
Here one can plainly see the re-entry scortch markings on the heat shield. It looks off-center to me, but perhaps that's the angle of re-entry that is reflected.
Also, notice equidistant holes on the heat sheild. I understand that these were cut out and made into small giveaway samples to dignitaries and other NASA individuals over the years.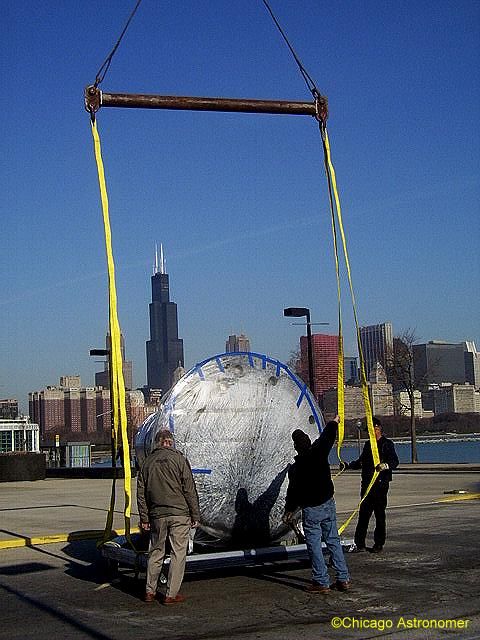 And inperceivably at first, the capsule ever so slowly raised up from the ground...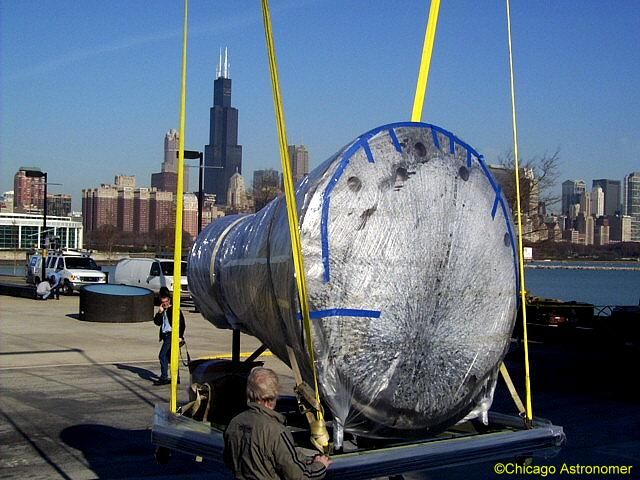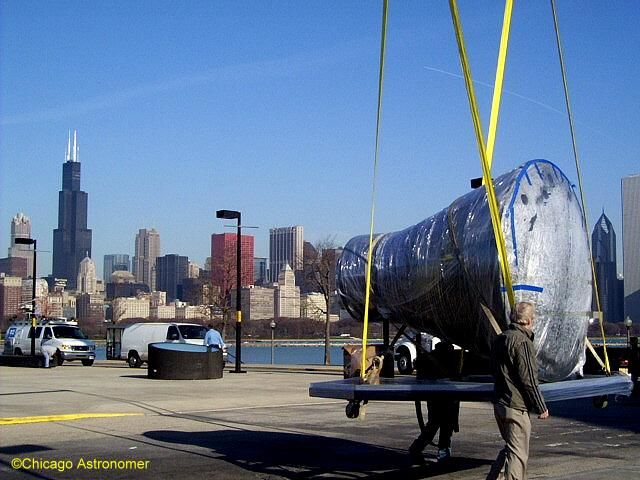 Off it went overhead to the doors of the Planetarium, (which had been removed), in where the crew would roll it in with brute force.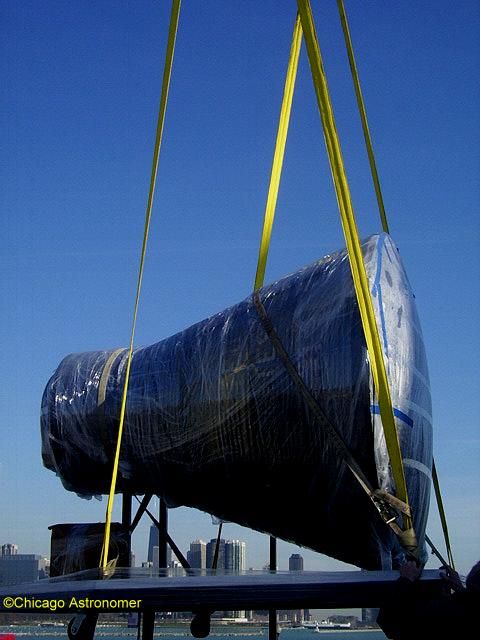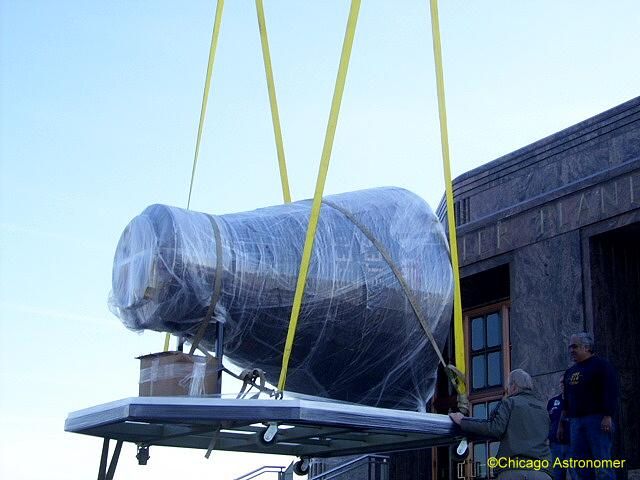 Now, we were all jocking for position to get the angles. Some started to move into the Adler, and after a some more shots, so did I.
Continued in the next thread...
Gemini XII Eases in.....