Post by Chicago Astronomer Joe on Mar 11, 2005 1:20:26 GMT -6
NASA at it again...Plans to cease Voyagers Operations...
Now, what kind of retro and basically retarded thinking are the people at NASA processing?
I hear a report that due to budget shortfall of Four million, that the Voyagers will be abandoned and left to go on their travels alone and their calls to home ignored.
-----------------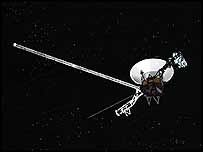 Nasa's twin Voyager probes may have to close down in October to save money, the US space agency has said.
Launched in 1977, Voyagers One and Two are now more than 14 billion and 11 billion km from Earth, respectively.
They are on their final mission to locate the boundary between the Sun's domain and interstellar space.
But the agency's Earth-Sun System division has had to cut its budget for next year from $74m to $53m, meaning that some projects will be abandoned.
Although the Voyager probes are thought to have another 15 years of life left in them, they are very expensive to run, costing Nasa about $4.2m a year for operations and data analysis.
Other missions like Ulysses, which was launched in 1990 to explore the Sun's polar regions, might also have to be abandoned after the end of the fiscal year in October.
Although the decision is not yet final, some Nasa scientists are preparing themselves for the worst. Voyager project scientist Edward Stone of the California Institute of Technology told Nature magazine: "We are currently developing a plan for shutdown."
More here from the BBC:
news.bbc.co.uk/1/hi/sci/tech/4338245.stm
and from SpaceTravel.com:
www.space-travel.com/news/voyager1-05a.html
Lennard Fisk, a University of Michigan space scientist who chairs the National Academy of Sciences Space Studies Board and is a former head of NASA space science, as saying the cuts were "an extremely foolish thing to do".
Voyager, he says, is entering one of the most interesting scientific phases of its long life as its particle detectors approach the edge of the Solar System. "It doesn't make sense? to turn off Ulysses just as the Sun comes to the end of a 22-year magnetic cycle.
-----------------
Voyager is approaching the edge of the Heliosphere still sending back data to Earth, but because of incompetence or just plain stupidity, the honchos there rather cover their ears and ignore undiscovered data.
NASA is wrong and needs an enema...