Post by Chicago Astronomer Joe on Mar 1, 2007 20:15:53 GMT -6
Peruvian citadel is site of earliest ancient solar observatory in the Americas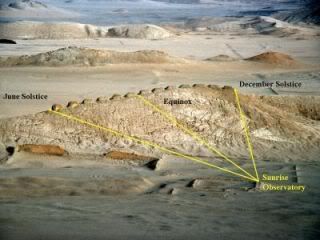 Recorded accounts from the 16th century A.D. detail practices of state-regulated sun worship during Inca times, and related social and cosmological beliefs. These speak of towers being used to mark the rising or setting position of the sun at certain times in the year, but no trace of the towers has ever been found. This paper reports the earliest structures that support those writings.
The fortified stone temple at Chankillo. Credit: Courtesy of Peru's National Aerophotographic Service (SAN)
At Chankillo, not only were there towers marking the sun's position throughout the year, but they remain in place, and the site was constructed much earlier – in approximately the 4th century B.C.
"Archaeological research in Peru is constantly pushing back the origins of civilization in the Americas," said Ivan Ghezzi, a graduate student in the department of Anthropology at Yale University and lead author of the paper. "In this case, the 2,300 year old solar observatory at Chankillo is the earliest such structure identified and unlike all other sites contains alignments that cover the entire solar year. It predates the European conquests by 1,800 years and even precedes, by about 500 years, the monuments of similar purpose constructed by the Mayans in Central America."
Chankillo is a large ceremonial center covering several square kilometers in the costal Peruvian desert. It was better known in the past for a heavily fortified hilltop structure with massive walls, restricted gates, and parapets. For many years, there has been a controversy as to whether this part of Chankillo was a fort or a ceremonial center. But the purpose of a 300meter long line of Thirteen Towers lying along a small hill nearby had remained a mystery..
The new evidence now identifies it as a solar observatory. When viewed from two specially constructed observing points, the thirteen towers are strikingly visible on the horizon, resembling large prehistoric teeth. Around the observing points are spaces where artifacts indicate that ritual gatherings were held.
Source:
www.physorg.com/news91988735.html
============