Post by Chicago Astronomer Joe on Aug 28, 2005 19:51:02 GMT -6
John and Arvind Birthday Gathering
- 27 August 2005 -
Both John and Arvind have Birthdays close to each other, so we crew at the Adler thought it fun to celebrate both now. Rajasi worked on it, and so we met at Goose Island on the North Side of Chicago.
We had a cool time, learning more about each other, and having laughs. John of course, entertained us with his unlimited source of comic references. Too funny... ;D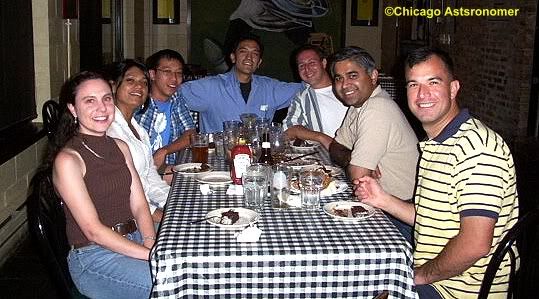 Here we are, in all our glory. From left to right: Linda, Rajasi, Bill, myself, John, Arvind and Alfred.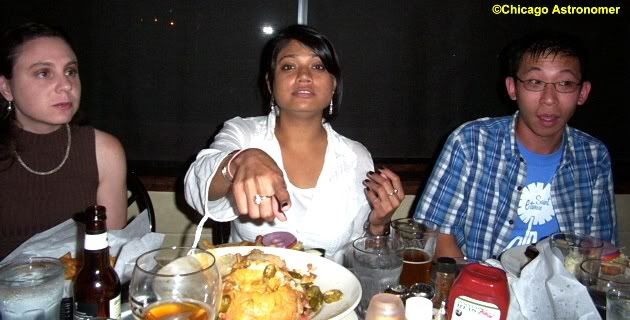 We learned a lot about Rajasi, The "Gothic Astronomer" this evening. She's quite the movie critic and here's she's denouncing something.
The Goose Island facilities provided us with a birthday cake and the two were serenaded with the birthday song from our table and another table of strangers.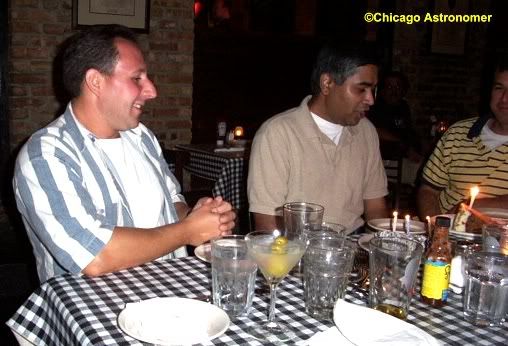 Here John and Arvind gaze upon the candles representing yet another year. As you see, my Martini was getting warm.
After they kicked us out of the joint, some of us decided that the night was still too young and agreed to an impromptu session at Chicago Astronomer Urban site #2.
I arrived before anyone else at the site, and layed on my hood, binoculars in hand, scanning the summer triangle. I always try to catch M57 in binos, but never can. Bill arrived soon after and I assisted in setting up his equipment.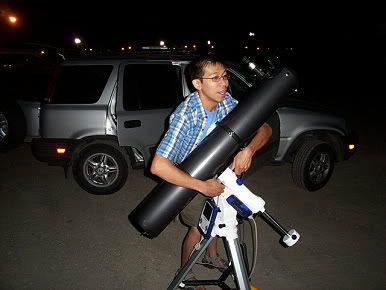 Here, Bill adjusts his Vixen mount coupled with a 6" Newtonian. Either that, or I just interrupted something touching and beautiful.
Bill and his cool Vixen goto screen started our session. It took sometime getting the coordinates the way the instruction wanted us to, and I still don't understand it, but later on we just worked the scope like always, guiding it with the Vixen pan screen.
John got somewhat disorientated getting to the site, as it is rather hidden, but we finally all got to together and enjoyed a pleasant early morning session in the cool air of late summer.
We picked up Andromeda, M57, M11, M2, Subaru, Mars and the Moon this evening.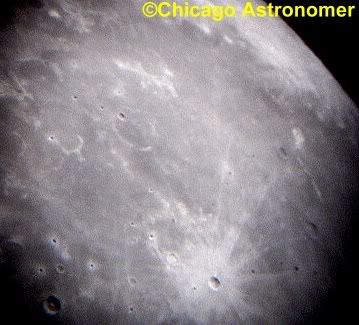 I took a quick shot of the Moon thru Bill's Scope. I need better camera equipment.
My challenged camera doesn't have a timer option, so I did the arms-length-camera-shoot of the Three Amigo Astronomers at the end of our session.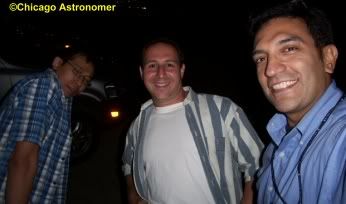 Here Bill, John and I share a shot, in the shadow of the Sears Tower and waning Moon.
It was now getting close to 3:00 am, and energy started to wane, and we called it a night. It was quite a fun evening with the entire Adler/Chicago Astronomer crew.
A fun crew to have spent the evening with...and a Happy Birthday to John and Arvind!...