Post by Chicago Astronomer Joe on Mar 27, 2006 17:33:29 GMT -6
Chicago Astronomers Jude and Rajasi's Birthday Get together

#bday#

March 25, 2006
It is always nice to spend time with people who share your interests, and even better when you like the individuals. Somehow, we Chicago Astronomers/Adler crew started to celebrate our birthdays as a group activity. Usually combined birthdays of two or so months jointly. This time around, it was Rajasi's and Jude's turn.
We went to a Dave and Busters in the Gold Coast of Chicago. I never been there, so it was an adventure for me as well.
John, Liz and I were the first ones to arrive and saw no familiar faces in the crowd so we waited. They started to trickle in...much like a weak meteor shower. Our good pal Hiram made an appearance and I'm happy that he joined in with us.
We were seated in very cramped accommodations at first, barely able to squeeze in and out of our seats...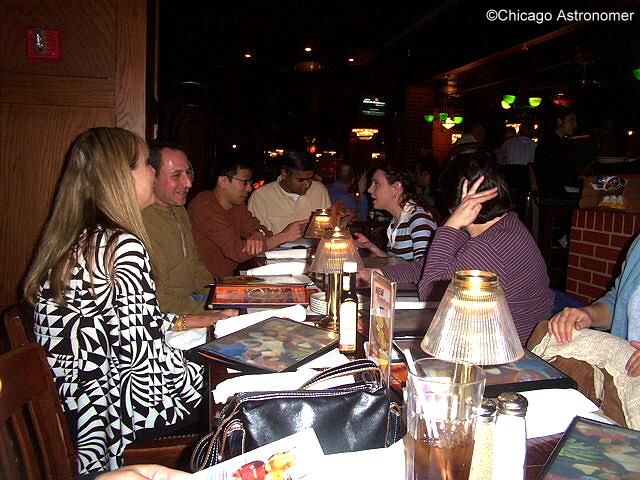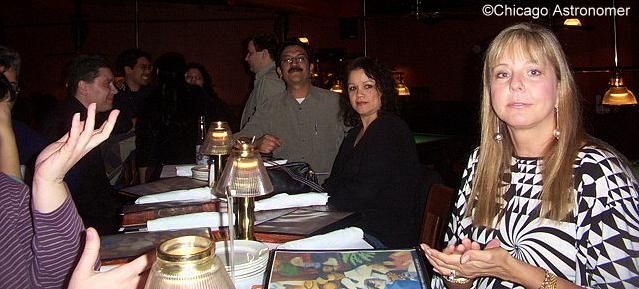 But Linda and others managed to get us a large table, which I later learned was a pool table morphed into a dining table. (Reminded me of the Beverly Hillbillies a bit when they used the cue sticks as pot passers and the holes as cup holders).
Now, we all know I enjoy a good gin martini, but this time around I thought I would deviate from the norm, and got me a Aquamarine Martini...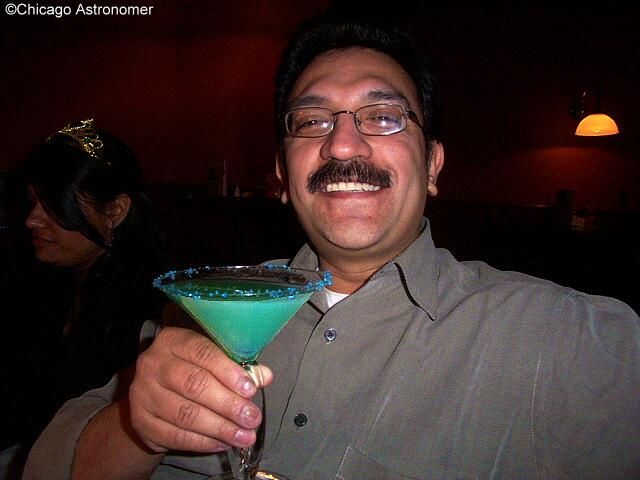 Yum!
I thought I would make the photo rounds amongst my fellow astronomers, wanting to interfere with ongoing conversations and force my way in...
Here Hiram, Arvind and Bill tolerate my intrusion
Coming between Fred and his wife Joyce. This is the serious Fred shot.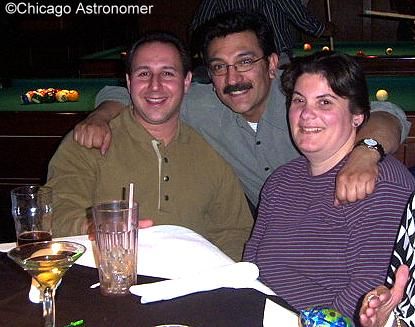 John and Carmen interrupted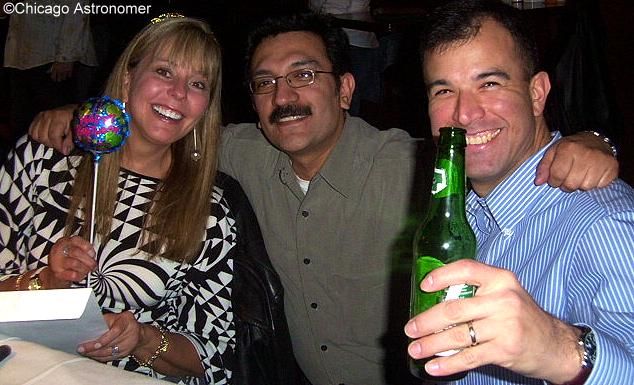 Birthday girl Jude and Alfred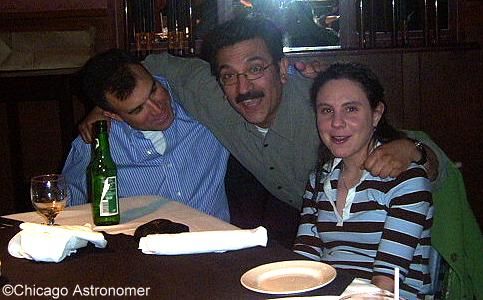 Alfred and his wife Linda. (Here when Alfred swung his arm over, he knocked Linda on the head with his hand...I heard a nice thud...or was it a clunk? Either way...it was really quite cool!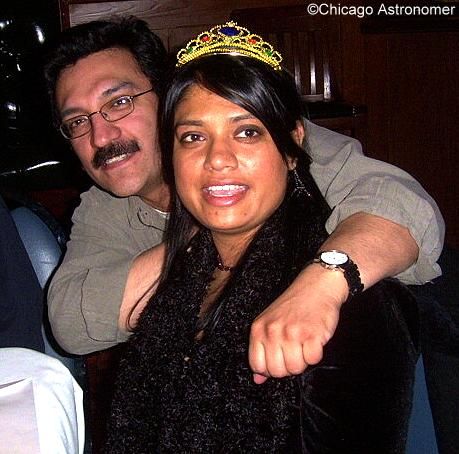 And finally....a birthday hug for Rajasi...The Gothic Astronomer.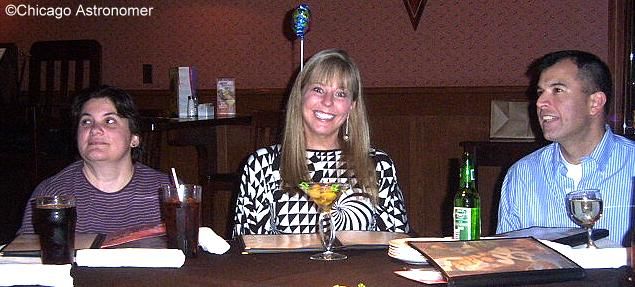 Judes bright smile and pleasant personality shows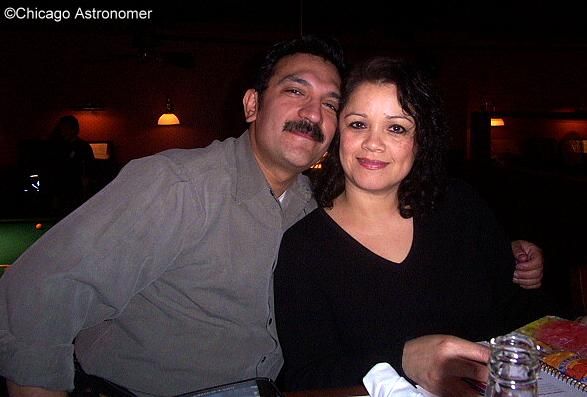 Here we have myself and my sweetie, Liz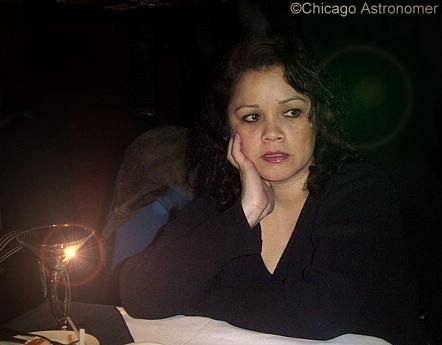 While I was working the room, I took this nice shot of Liz, chatting with Hiram, who is off camera to the right.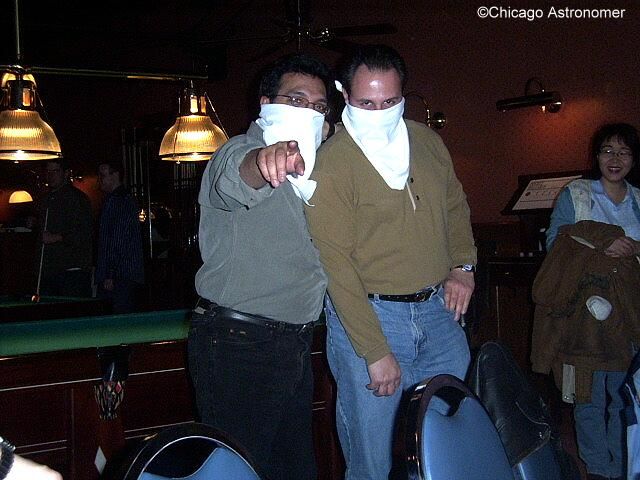 If astronomy goes sour for any of us, we could always be telescope banditos..taking what we want. Dew Caps?...We don't need any stinking Dew Caps!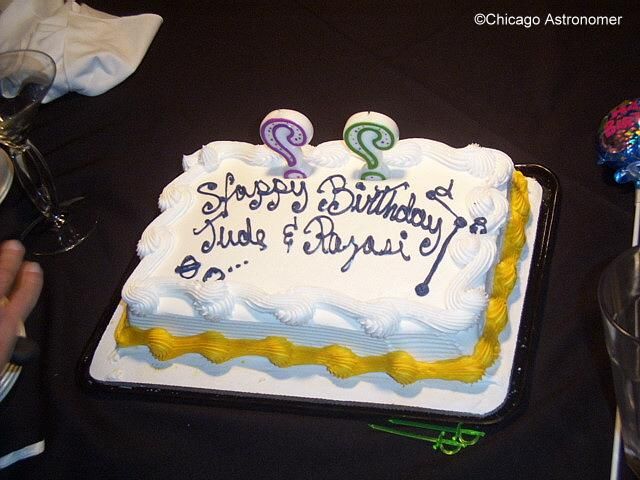 Here is the rather cool birthday cake for the girls. If you notice, there are planets, (Saturn and Jupiter..I see some Jovian Satellites there), and the constellation of Aries the Ram. We thank Linda and Arvind for handling all the cake details...

I volunteered to handle the group birthday card, but I didn't want to get a run of the mill one, so I put my computer skills to work and personalized three cards for the birthday girls. (Alisun is the Volunteer Coordinator for us at the Adler, but could not attend this evening.)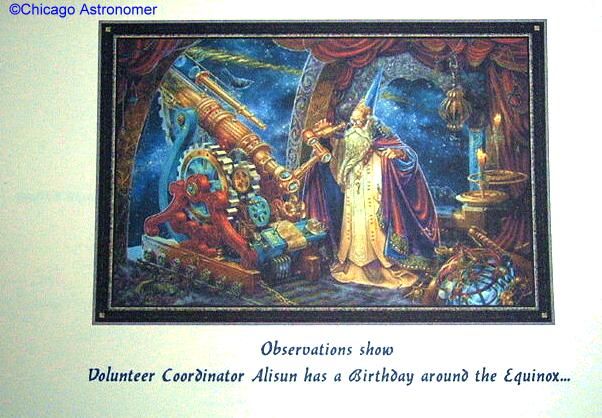 Cover
Dig the telescope the wizard/astronomer is using. What kind of mount you think it is...A dob?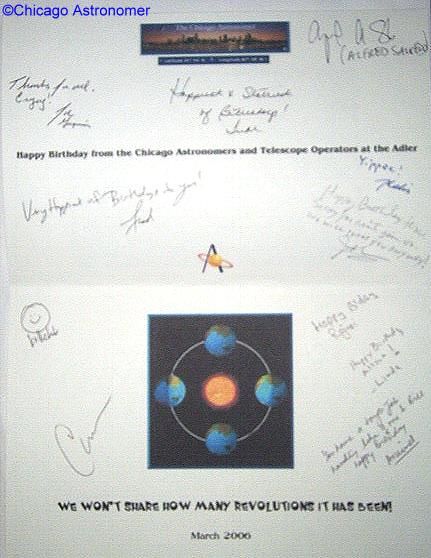 Inside signature area

Rear Disclaimer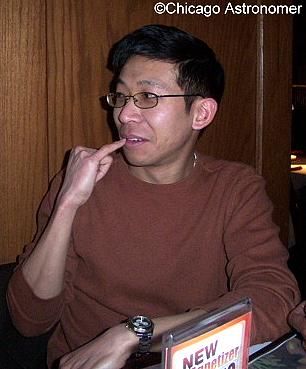 To instill cold fear among his fellow astronomer buddies and pronounce dominance, Bill attempts a little Dr. Evil gesture. Kinda worked.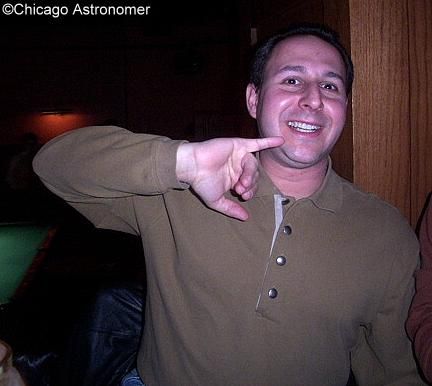 On the other hand, John does more with bravado! Worked too well! It's just too natural...and I worry for him.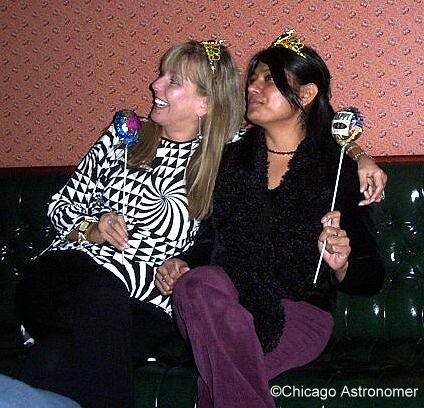 Here Birthday girls hold high court above their subjects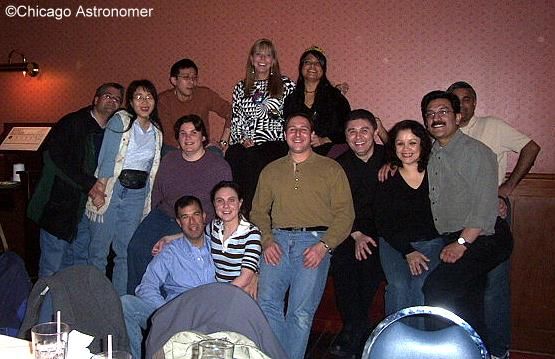 Here are the assembled crack Chicago Astronomers, but it seems that I am eclipsing Arvind a bit. And catch Fred's learning tower act.
After dinner we took in a few games of pocket billiards. Carmen was quite the pool shark, but my girlfriend Liz stunned us all with her playing. (Hmmm...I'm gonna have to re-evaluate this some... #wha#)
It was a very nice time celebrating the birthdays of Jude and Rajasi. Two very nice, considerate and fun people to have as fellow astronomers and friends. And I certainly had a great time with good people. I thank John for picking Liz and I up and dropping us off. Carpooling was such a better idea.
For more pics of the evening, please also check out Arvind's photo collection at his on-line album here:
tinyurl.com/f2rl3
Lots of good pics there taken with his compact and powerful camera.
Respectfully Submitted,
Chicago Astronomer Joe
Administrator