Post by Chicago Astronomer - Astro Joe on Aug 6, 2005 3:06:31 GMT -6
Public Viewing Session at the Adler
- 05 August 2005 -
The upcoming evening looked like a good one. Pleasant temperatures, clear skies and good people working the event.
I got there about 6:30 pm, and the scopes were already being set up. The H-Alpha, 8" Dob and 4" refractor were prepared for a nights viewing. I projected the sun's image using a yellow filter, while the others used aperture filters and direct viewing for prominences. I used my solar diagram from sky and telescope clearly explaining the sunspots, flares and prominences for these types of events, as it explains the phenomenon quite well.
Before we got seriously into the session, I grabbed the group as usual for a shot...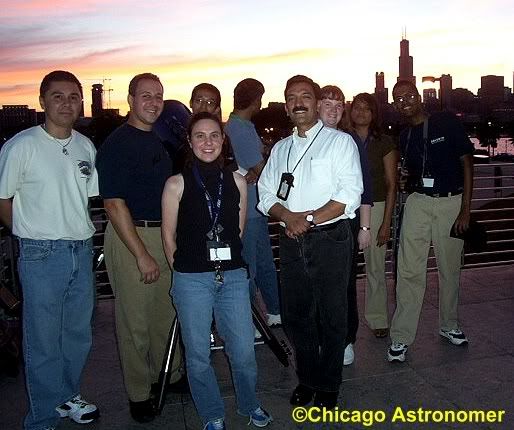 Here from left to right: C.A. Hiram, C.A./Adler John, C.A./ Adler Bill, C.A./Adler Linda, C.A./Adler Arvind, C.A./Adler Myself, Adler Vanessa, C.A./Adler Rajasi and Adler Balu. I think we have a good group here and quite humbled by their collective experience and astronomical skill.
And so the session began...
As the sun went down, I dragged out the 10 SCT and focused on Venus and Jupiter. The public really enjoys observing these two planets, especially catching the moons of Jupiter, and Venus for it's brightness. For those who were really interested, I kicked up the mag to a 10mm to really bring out the detail on Jupiter.
All Adler Telescope Operators were busy integrating with the public, showing them this and explaining that. A couple brought their own 60mm scopes for proper guidance in using them, and I saw John and Linda setting them on the right path for their astronomical enjoyment.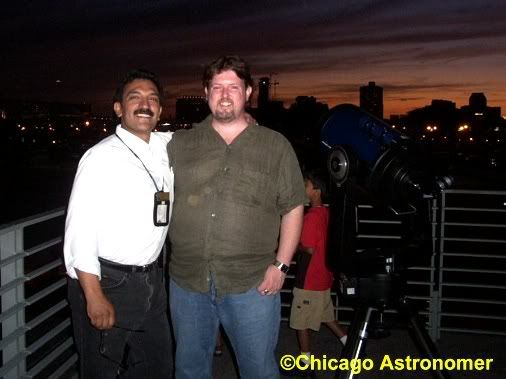 Our good pal and new Chicago Astronomer member Martyn joined in on the fun. Here we are sneaking a shot in between visitors. I wish I could have spent more time with Hiram, Martyn, and new interested potential member Eddie, but the crowds were sometimes overwhelming. I would sneak a couple of moments to chat with them, but had to return to the SCT.
Tiring of Jupiter, and as it was setting too fast into the muck, I focused in on the binary of the Big Dipper, Vega and M57...(My fav). People lined up to catch these, and enjoyed the ghostly apparition of the Ring Nebula.
We also caught two satellites this evening. One bright and the other near the end of our observation session. It was high overhead at zenith, perhaps a mag 3 and when it entered the Earth's shadow travelling from south to north...disappeared, a bright meteor zipped right passed the area...quite cool, and we all applauded the event!
C.A. Rocketman/Grady says with all assurance that it was the Iridium 25 satellite that we all saw. Amazing even thru the muck of Chicago's skies, we can still see satellites zooming overhead.
By this time, 10:00 pm, it was time to close up shop and send people on their way. We all had a good time sharing views of Chicago skies with the masses, and it was a good one for me as well. Afterward, John and I went to Goose Island for Martini's and beer for laughs and sharing of experiences...astronomical and other.
It was a good night all around and greatly anticipate our next event.
Respectfully submitted,
Joe Guzmán
Telescope Interpreter
Adler Planetarium