Post by Chicago Astronomer - Astro Joe on Jan 7, 2006 18:53:58 GMT -6
Far Out Friday Public Observation Session
The skies were not friendly for star gazing this evening, with heavy overcast and brisk winds greeting our telescopes. So as we usually do, we set up the scopes inside and aim toward the Chicago skyline, demonstrating various scopes and discussing optics.
A good crew was on hand to assist the public with questions and curiosity. It wasn't a great rush from the public to view thru the scopes, which allowed me to work on other matters.
I am working on converting the classic Nikon refractor to using 2" eyepieces. I held together pieces loosely earlier and the views were crisp, sharp and good field of view. I will use the 2" right angle from the H-Alpha scope to use on the refractor when the solar scope is not in use. And since I will primarily use the refractor during the evening there should be no conflict.
So after making measurements on the components, I directed my concentration to an older laptop computer that was languishing in the Telescope storage area. It's a Mac, and I not being too familiar with Macs, I thought I would get acquainted and master the machine. Bill and I came across this machine while organizing the scope peripherals recently, and I after examining the contents, found it had Starry Night Pro 3.1. We can use this to augment our public viewing sessions to examine objects we are focusing on in the scopes, or when the skies are cloudy to show them what the objects might look like.
So I spent some time playing with the laptop, and others wanted to examine the computer as well. They enjoyed the program and I think it will join our arsenal of tools. (Later on, I desire to bring in a PC machine, in where we can easily import, alter, update files and programs using thumbdrives and cd's. I like Cartes De Ciel, Celesta and HNSky myself. Very robust and packed with details.)
But during this self-indulgence, my fellow telescope operators continued to assist the public with answers and assistance. Some volunteered to work in the Doane Observatory, but it was quite cold as Arvind discovered.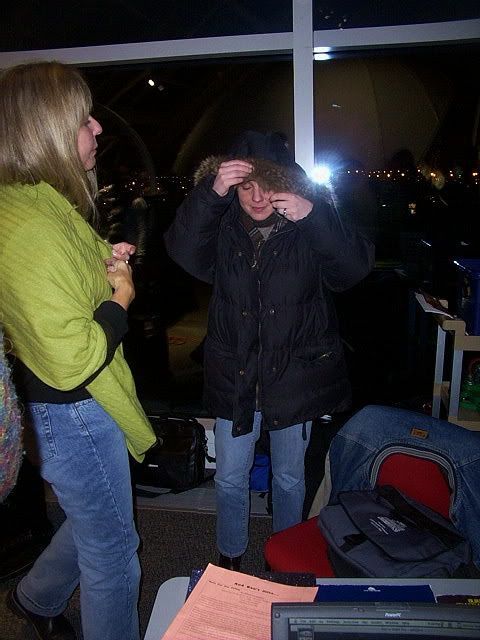 Here Jude watches on as Linda prepares to venture to the observatory in the cold.
A gentleman brought in a Galileo 3" reflector scope for assistance in proper usage. We all took turns in directing proper operation of the scope and he left a happier man.
Of course, as usual, we took our group shot before we departed...
Shown are: John and his son Michael, Bill, Fred, Rajasi, Linda, Steve, Me & Laptop, Arvind, Vladi, Jude and Steve.
It was a nice paced and easy evening for the crew at the Adler Friday, but as always it was fun.
Respectfully submitted,
Joe Guzman
Telescope Operator
Adler Planetarium