Post by Chicago Astronomer - Astro Joe on Nov 2, 2005 7:30:35 GMT -6
Mars Viewing Sessions at the Adler
The Adler had scheduled two nights for public Mars viewing for the 27th and 28th of October. We set up not on the South terrace, but along the south lawn walkway. Various other people with scopes not associated with the Adler also joined in with many types of scopes, some pretty big...but nary a refractor was to be found.
Recently, the Adler just got a classic Nikon 4" refractor, (circa 1960's), and I was anxious to put it thru it's paces. It is a beauty of a scope, with a very heavy EQ mount and counter weight, wooden legs - (Good for dampening), but it's only drawback is that is is fitted for .096 eyepieces. With some fiddling around, some foam insulation and electrical tape, I retrofitted temporarily a 90 degree 1.25 diagonal and started my observations with the scope.
I didn't take many pics of the event, as by the time I set up, all the others were already in session, and I did not wish to ruin dark adaptivity, but in the glare of the Chicago skyline...did it really matter?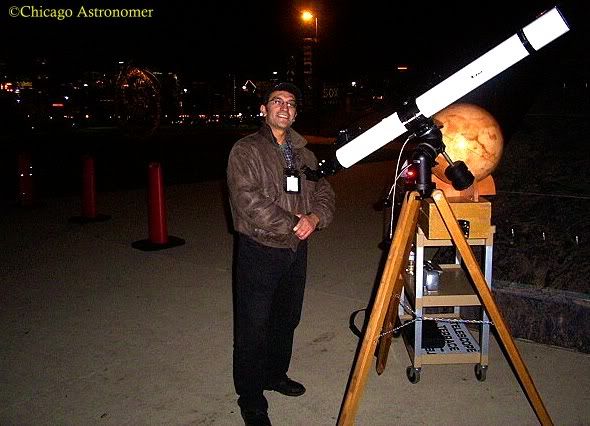 Here, I pose with the Great Nikon tube. Along with the evenings observational tools like the Mars globe, a red LED light shining on it, blinking red light at the aperture, diagrams of the close encounter and filters. Catch the "Go Sox" lights on the buildings...

I used an orange filter in a 7.9mm eyepiece that really brought out the color and surface features of the planet, where others just used direct viewing. Visitors peering thru my scope often commented on how more vibrant and exciting my views were in comparison to the others...even thru the large scopes in attendance. Stick with me I say!...

Tv cameras and photographers were on hand, and I don't know if we were on the media this night, but they seemed to like the Nikon scope, and as I was directly in front of the skyline, it made a good photo op.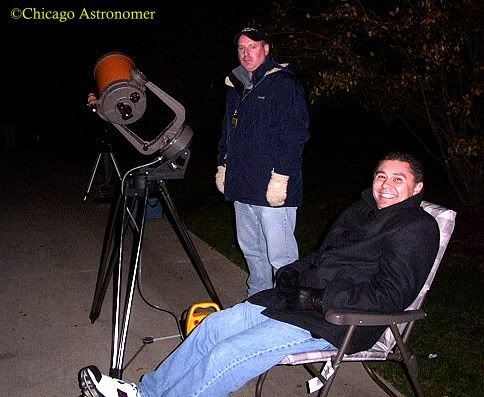 Our pal Hiram and Chicago Astronomer member came to join in on this cold and windy evening with his classic Screaming Orange Celestron. Pictured with Hiram, (Seated - very smart), is Jeff, fellow Adler Telescope Operator, (Standing).
Quite a lot of visitors made their way to the Adler on Friday despite the chilly weather. With the Mars globe on hand, I was able to show the Martian features to them and give names to the darker areas that they were observing. I think it made it more of a personal experience for them.
It was a fun two nights shivering and feet aching...and I would do it again... ;D
Respectfully submitted,
Joe Guzmán
Telescope Operator
Adler Planetarium