Post by Chicago Astronomer - Astro Joe on Nov 5, 2005 3:05:43 GMT -6
Far Out Friday
The 4th of November 2005 A.D.
I arrived at the Adler for our monthly public viewing sessions at around 8:00 pm, and found my fellow Telescope Operators already deep in public service on the South Terrace of the Adler.
I saw the familiar scopes is use, Dobs, SCT's and the 4" refractor, but not my favorite new Adler aquisition...the Nikon 3.25" refractor. I find this scope a pleasure to use, and in my opinion...shows crisp and clear views of the heavens...and better than some of the larger scopes we have. I went to the Telescope storage area and gladly brought out the beast.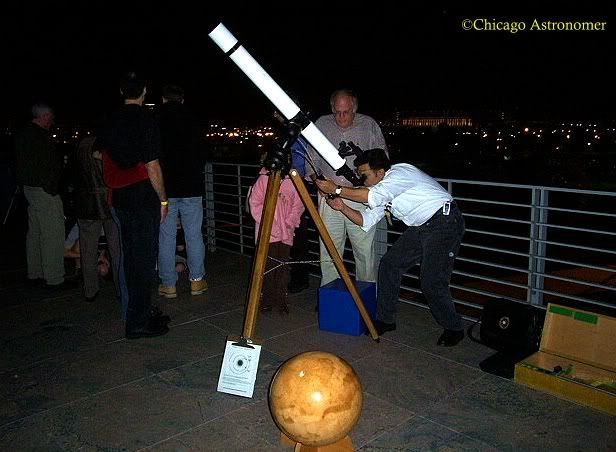 I set up on the far north section of the terrace in order to catch Mars peeking over the roofline of the Adler...popped in a wide field first to locate the planet...and then eased in a 7mm with orange filter. Now I was ready for business.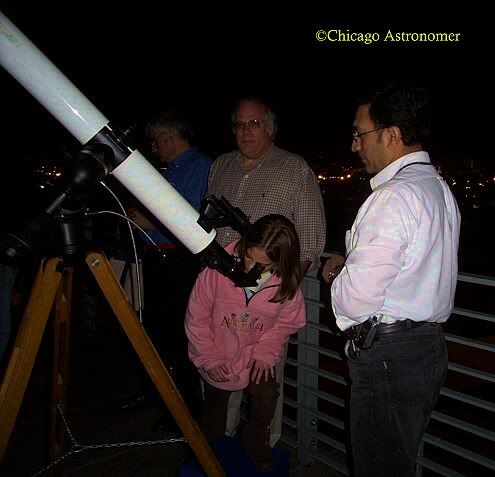 People would comment on how much better and vibrant the views were thru my refractor than with the others. I had the Mars globe with me to show the terrestrial markings and correlated the Sitris region from the eyepiece to the globe.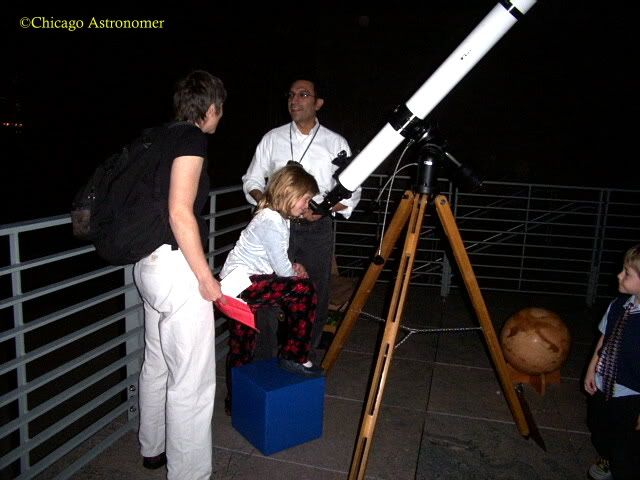 Arvind had his fill with Mars, and decided to target other objects. He is now our Uranus finder, and he proudly showed us the greenish-bluish planet. I'm surprised that an actual disk can be seen in the eyepiece in the 10" SCT.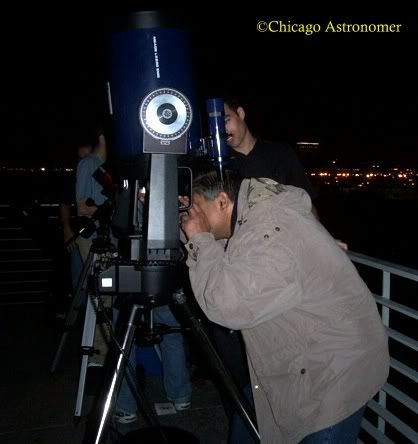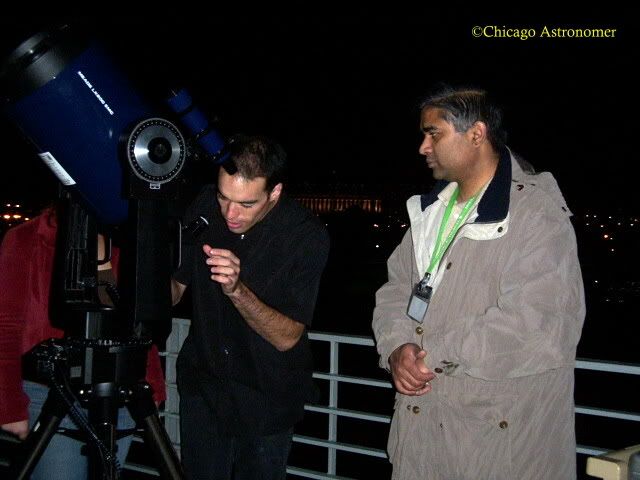 With the go-to, Arvind likes to pick out objects that we normally wouldn't go after. Next...Pluto or maybe even Xena!
John was there as well, explaining the night skies to the eager public on this warm November night. He was shown on NBC Channel 5 News this evening too! Autographs John?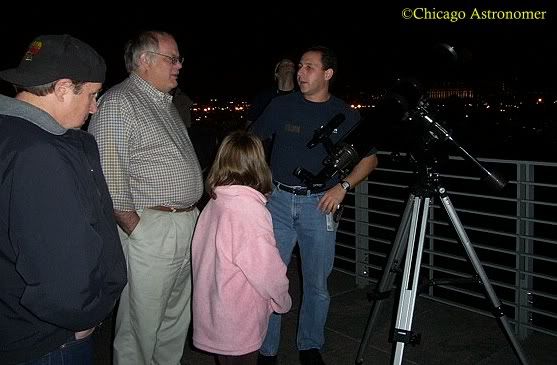 During the night, I overhear John guiding people to the
"Chicago Astronomer"
for more information and interactive astronomical offerings. There will be something extra for John in his Christmas stocking this year...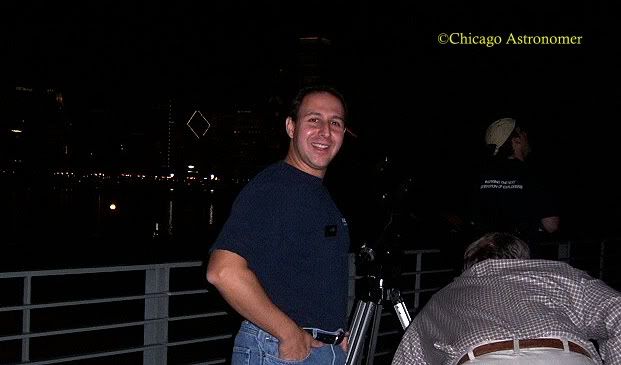 Here John poses an astronomers pose for us. Dig him in his tee-shirt...mocking the Chicago November weather.
I enjoyed this evenings session, as I met many good people and outside astronomers, some of who I hope join the Chicago Astronomer.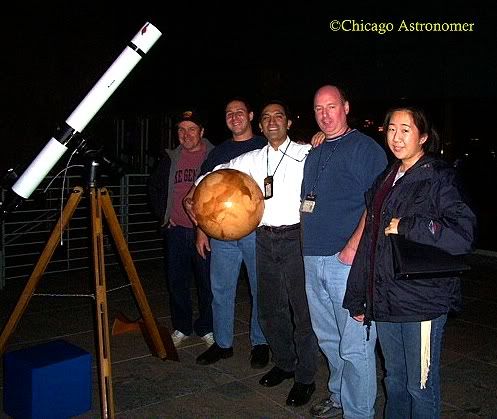 Here we take a group shot of some of the Telescope Operators this evening. From left to right; Joe*, John, Me, Jeff and Mia.
* I met Joe this evening from the Calumet Astronomical Society and found him to be quite friendly and enjoyable to chat with. He tells of superb dark skies in Indiana that I hope to visit soon...

We had many people show up this night, and many wanted to view Mars and talk about the Angry Red planet. We should have more sessions like this.
Respectfully submitted,
Joseph Guzmán
Telescope Operator
Adler Planetarium