Post by Chicago Astronomer - Astro Joe on Jul 8, 2005 0:48:18 GMT -6
Public Observation Session - 07 July 2005
I arrived at the Adler at around 5:00 pm, and the crew was already dragging out the scopes for a clear night of observation. A large group of crack Adler Telescope Operators were present this evening...which was quite cool. I just had to take a pic of this gathering of astronomers...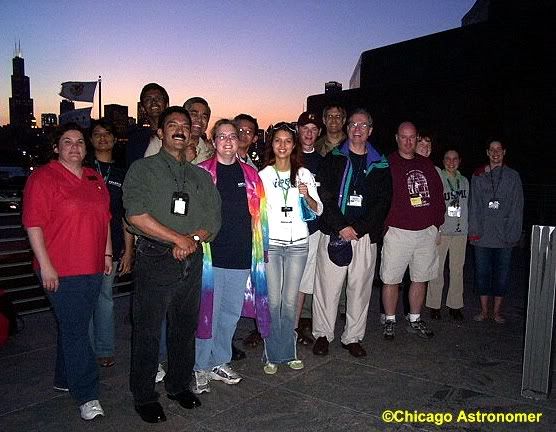 Pictured from left to right are: Carmen, Rajasi, Balu, Me, Arnved, Michelle, Bill, Vladi, Phil, Steve, Larry, Jeff, Vanessa , Linda and Allison.
Count 'em...15...yes, 15 Adler Telescope Operators...No waiting! And still more in the Doane Observatory! Public service number #1 at the Adler.
The evening was cool and pleasant, with nary a cloud in the sky, but transparency was not ideal. The crescent moon was scheduled to appear in our western skies and we made a effort to spot it. Michelle, (Adler Educator), spotted it first with Binoculars, but with the naked eye was impossible. A search began for Mercury as Venus shown brightly like a beacon. Linda and Rajasi spent some time in search of Mercury, and finally targeted it in the eyepiece of the 8" SCT.
Balu focused on Jupiter and I always like his personality and energy during our sessions.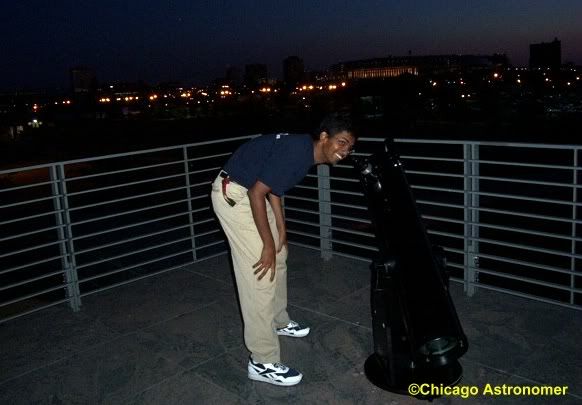 Here I ruin Balu's night vision. I'm sure he forgives me.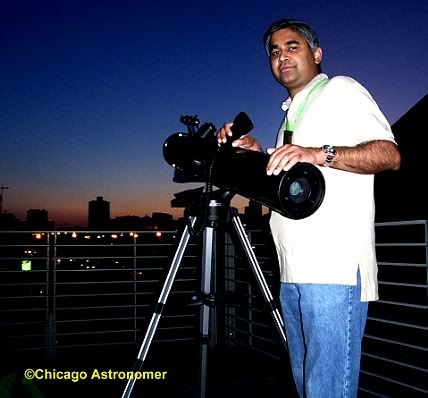 Arnved brought along his 4.5 electronic scope for use this evening. He should upgrade to 1 1/2 eyepieces tho, but even so, his scope provides good views.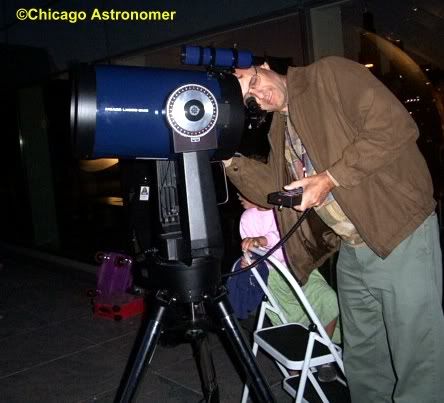 Steve and Larry brought out the goto 10" SCT, and tamed it to serve us this night. The beast put up a fight, but it was no match for Adler Astronomers. Here I ruin more night vision as Steve makes adjustments.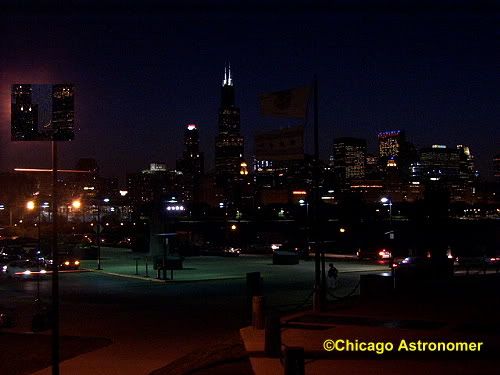 The Moon was now creeping toward the Chicago Skyline and soon to be lost. It slid past a building and reappeared along side of the Sears Tower. I took a pic of it, but as my digital camera isn't that light sensitive, this is the best I could get. The inset pic shows the crescent moon enlarged some. It was quite a pretty sight.
Other scopes slewed from Jupiter to Venus to the crescent moon. I decided to target M57 manually in the 8" SCT, and again quite easy to identify, but this night, due to the atmospheric haze, was not as clear as it was last week. Even with a nebula filter, it did not display well. Bill challenged me in viewing the Ring Nebula with the 4" refractor. I thought that 4" refractor brought out more contrast, but it was a bit brighter in the SCT.
This evening, three of our trainees passed their certification exam. They are Rajasi, Balu and Linda. Congratulations to all three and we welcome them into the fold. Now comes the hazing!...

With that, we packed everything away and headed out to the Doane observatory for some Comet Temple 1 watching. Direct viewing thru the eyepiece did not bring it into favorable observation, but with some CCD exposures, the comet made it's appearance...and quite nice too. It showed fuzzies and clearly discernible as Temple 1. We thank Adler Astronomer Larry for sharing a astrophoto session with us all. It's always fun and educational...

.
*(Amazing that mankind has reached the level of technological evolution that enables him to reach out and smack a rock millions of miles away. He has changed and altered the heavens at a whim.)
It was a nice night for sharing a session with our fellow Adler staff and public on this warm summer night. Soon, the bite of fall will envelope us all on the terrace...my favorite season!...

You still get the summer targets and the winter ones are peeking over for a tease.
Ain't astronomy fun!... ;D
Respectfully submitted,
Joe Guzmán
Telescope Interpreter
Adler Planetarium