Post by Chicago Astronomer Joe on Jul 2, 2005 1:28:16 GMT -6
Far Out Friday Public Viewing Activity - 01 July 2005
The day was rather cool, a refreshing change from the heat wave of this past week, and the clouds were forecast to depart by evening. We had a good contingincy of Adler Telescope operators for this session...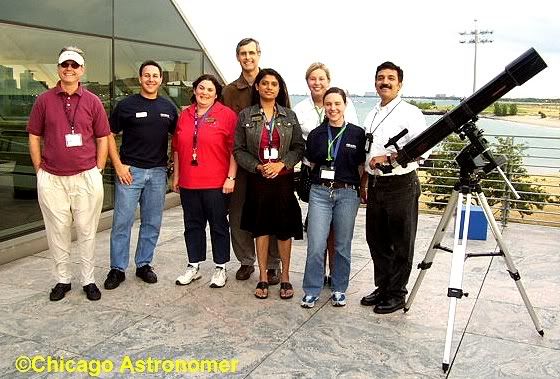 Shown are: Adler Astronomer Larry, and Telescope Operators - John, Carmen, Steve, Rajasi, Jude, Linda and Myself.
Various scopes were set out, and we did some solar observing since the sun was playing through the clouds. H-Alpha was set out, as well as the 8" SCT, 4" refractor and 8" Dob. We had good sunspot activity and numerous groupings to show the public. As always...I used the projection method with yellow filter.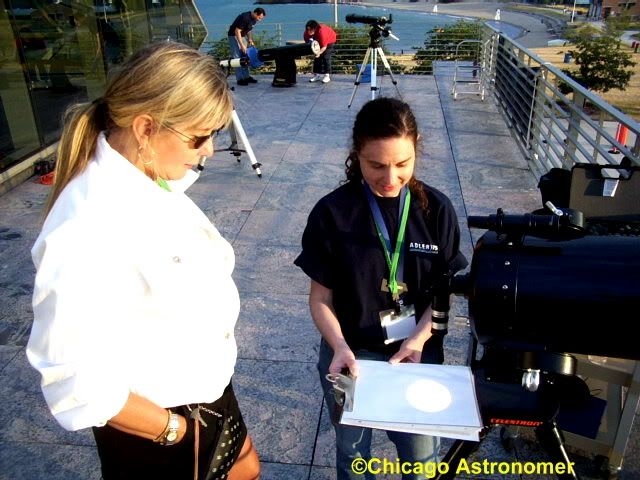 Here are Jude and Linda projecting the sun's image. In the background, one can observe John and Carmen doing serious astronomer stuff.
We enjoyed ourselves while waiting for the sun to go down, and we searched for the first appearance of Venus and Jupiter. Arnvid was prepared this evening and on a roll, as he had his charts and satellite tracking maps. He spotted Venus first, and along side was elusive Mercury. Saturn was no where to be found.
A gentleman stopped by with a great scope for us to assist with. It's a classic 8" SCT Celestron, with the familiar orange paint and solid iron base. We don't see these babies anymore.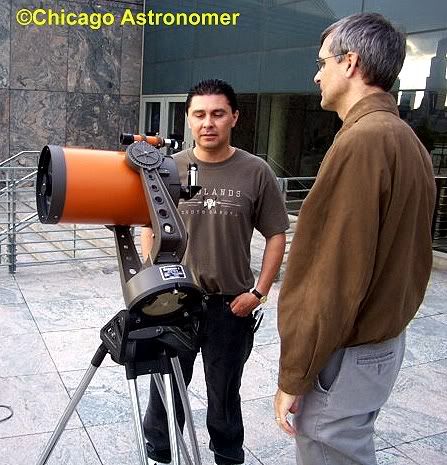 Here Steve assists in the proper usage of the scope. I won't attempt to spell his name, I'll wait until he registers here, but I must say I really liked his scope a lot. He said that his employer just gave it to him! Lucky guy...

*I received this note from the gentleman...
I came by this Celestron 8 Schmidt Casssegrain by way of my former boss who's mother in-law had it just sitting around the house her husband wasn't using it any more and didn't want it, so it kind of traveled around the family and no one could figure out
how to work it. Well my boss happened to tell me about the scope and i said ill take it if you dont want it well a couple of days later.

I have had this scope for about 5 years before i
could even start to have a chance to really work on it only till recently did i clean it up and start to seek advice and help to see if it was worth keeping and fixing it up. well thanks to Larry for showing me how to
collimate the mirror and steve and joe for all there knowledge and insight, the Celestron 8 is on its way back to working order.

Thanks to all the Guy's and Ladies that made me feel so welcome, i cant wait to go back ad hang out with you all

Thanks Hiram Roman


It was certainly our pleasure to assist Hiram, and that scope will give him years of pleasure. He must join us again sometime soon in a mini star party...

So as night fell, we all targeted Jupiter, and the four Jovian moons were lined up quite nicely in a row. I tutored Rajasi in her basic astronomical comprehension in preparation for her certification as a telescope Interpreter. She'll do fine.
Arnvid was preparing us for the appearance of the International space station, (ISS). He said his map showed it would appear just below Jupiter from a wsw direction. So we waited...and...there it was! Shining very bright, about a mag 2 star, it was quite exciting spotting it and following it across the sky! We looked at it in binoculars, and I could see not just a pin point of light, but it showed some oblong type of form...but no details. I attempted to capture it in the 8" sct...but it was moving much too fast to get a bead on it. Way to go Arnvid!
Tired of Jupiter, I commandeered the 8" SCT, (Thanks Linda), and searched for M57 - The ring nebula. Surprisingly, I found it rather quickly, and it showed it's ghostly form as a faint cotton-ball circle in the eyepiece. People were quite interested in viewing this object, and I would have wanted to do more on it, but it was now time to depart and we put the scopes away.
We were invited to accompany Adler Astronomer Larry to join him in the Doane observatory. This time we were going to look for Comet Temple 1. We targeted it in the eyepiece, but it was better in CCD than it was in direct viewing. It was cool to see the object that will receive a copper bullet to the gut in a couple of days.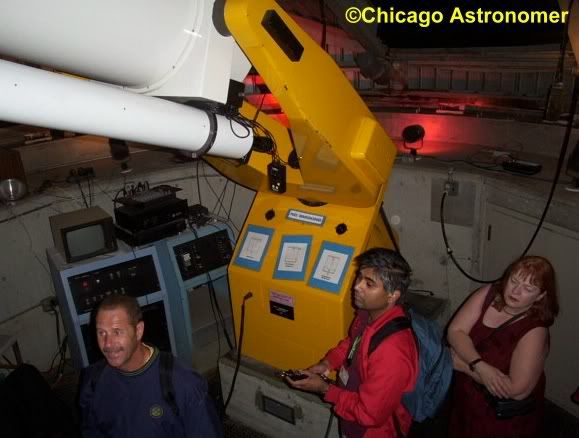 Here Arnvid manipulates the telscope to position in preparation for the nights viewing. You can see fellow telescope Operator Sherri to the right.
And with that, the night was over. It was a good night of public observation and telescope operator antics.
Respectfully submitted,
Joe Guzmán
Telescope Interpreter
Adler Planetarium