Post by Chicago Astronomer Joe on Dec 3, 2005 3:18:25 GMT -6
Far Out Friday Public Viewing Session - 02 December 2005
I arrived at the Adler at around 5:30 pm on a cold evening and an empty stomach. I made my way past the arriving boyscout troops, (getting ready for the overnight activities), and headed for the room with the eats.
Usual pals, buds and friends greeted me as I made a bee-line to the pizza boxes...which only had three slices left!
Animals my fellow telescope Operators are!!
I protectively grabbed my slices and sat down and chatted away with the crew. We got our assignments and headed on our ways to the different parts of the Adler with full bellies and the eagerness to share astronomy with the masses.
To my pleasant surprise, Chicago Astronomer Kalvis has joined our crack Adler crew as a telescope Operator! His expertise in astronomy will make a great addition to our crew...Excellent!!... ;D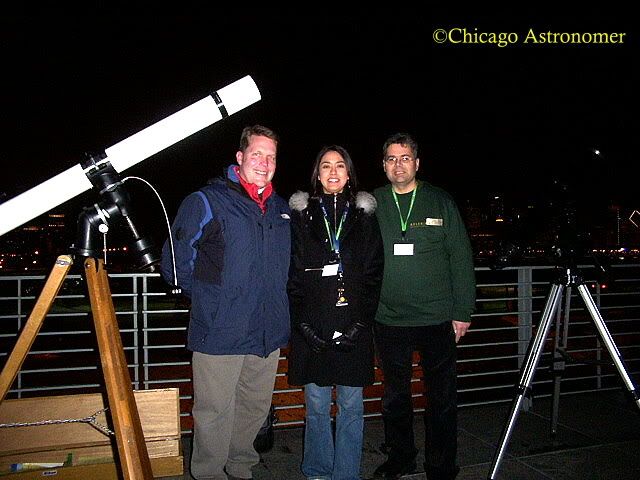 Here are new Adler Trainees Kalvis, Jennifer and Fred. Jennifer is our newest Chicago Astronomer member as well and hope Fred will join us too.
I set up my favorite classic scope, the 3.25" white refractor (shown above), to catch Mars rising over the Adler building. I always use a orange filter on my eyepieces to bring out the contrast and surface features of the planet. It also makes the planet more vivid and impresses the public. There was no way we were going to target the winter's objects this night with the cloud cover. Too bad, as this time of year we could pick out a dozen interesting and bright object to observe. Perhaps next month.
But this night was our first really cold public session since last winter, and I really did not dress up for the session. I got a bit chilled, but pushed on, with several trips inside to warm up and the warmth of fellow astronomers.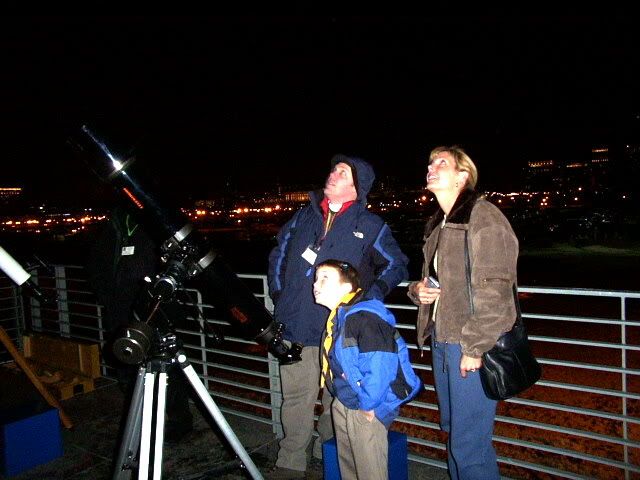 Here Kalvis is explaining the heavens to a visitor and her child.
The number of interested viewers were good, despite the cold. Mars played with us through the "sucker holes" in the ever increasing cloud cover. It did show good detail, but we were losing our battle with the blanket of clouds now obscuring our view. I brought my scope in and retired it for the session, after which I hung around from scope to scope and help to answer and field questions from the public. Jennifer and I went around the Planetarium, as I introduced her to various other volunteers and staff of the Adler. We also ventured out to the Doane Obervatory to visit and peer through the 20" SCT.
The evening was winding down now and we were putting away our scopes from the terrace, but...as always, I managed to get a group shot of the Telescope Operators before we disbanded: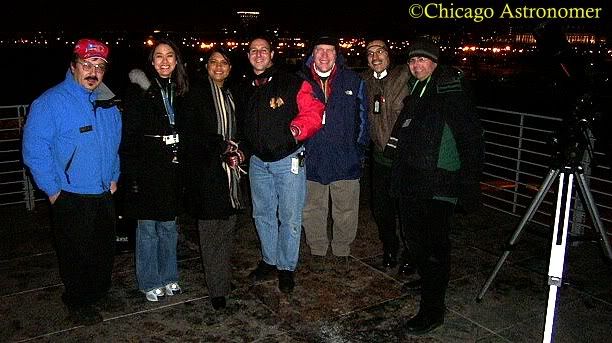 Here we have from left to right: Luis, Jennifer, Rajasi, John, Kalvis, Myself and Fred.
It was a nice and fun time, (as they always are), with the crew and enjoy the activities with them all.
Respectfully submitted
Joe Guzmán
Telescope Operator
Adler Planetarium