Post by Chicago Astronomer Joe on Jun 2, 2007 11:42:27 GMT -6
Far Out Friday Public Session
01 June 2007
The forecast for heavy rains and cloudy skies didn't hold much promise for a productive observation session at the Adler, but the event goes on regardless. We still bring out the scopes and interact with the visitors....even if we just show our magnificent skyline.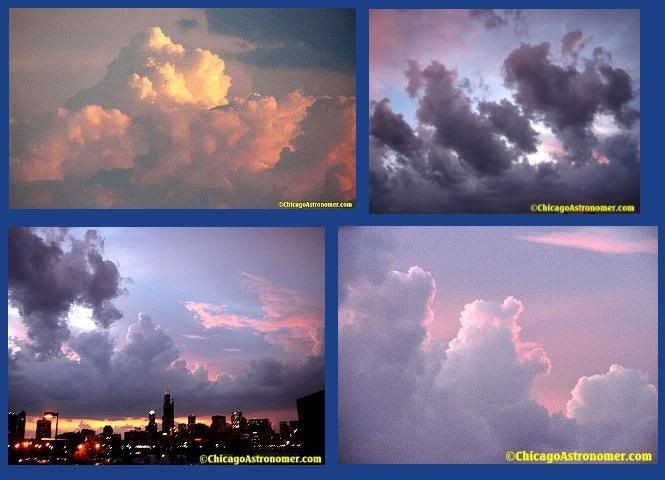 All about us were moisture laden clouds, catching the setting sun's rays painting a pretty picture. Visitors were light this evening, so it enabled me to take some nice shots of cloud formations and talk with guests, without permanently manning a scope.
John and Linda answered questions, demonstrated optics and assisted in putting together telescopes brought in by visitors, which we had more than usual.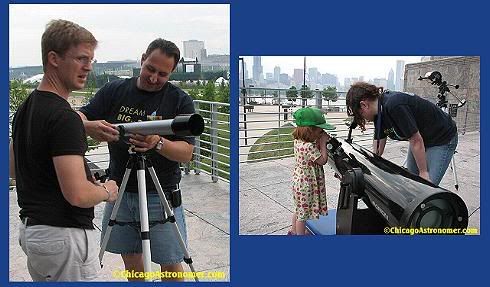 The sky started to darken, but the specter of storms were prevalent, and at times, the skies opened up with heavy rain. But Venus - (1st pic), fought back and in between rain torrents, peeked from behind sucker holes. We brought the scopes back out and all aimed our scopes to the cloud covered planet, which clearly showed it's phase.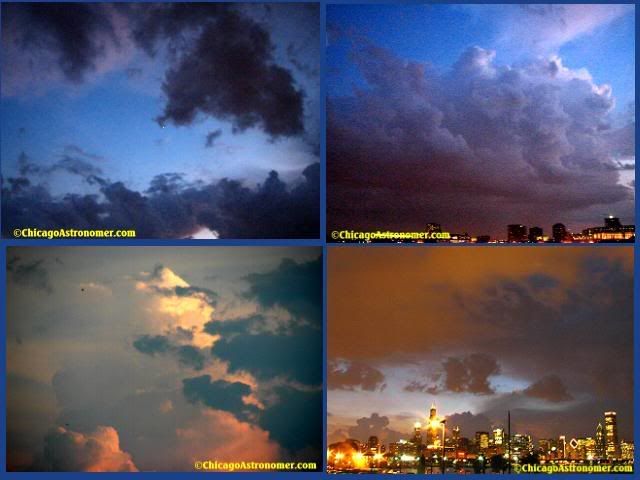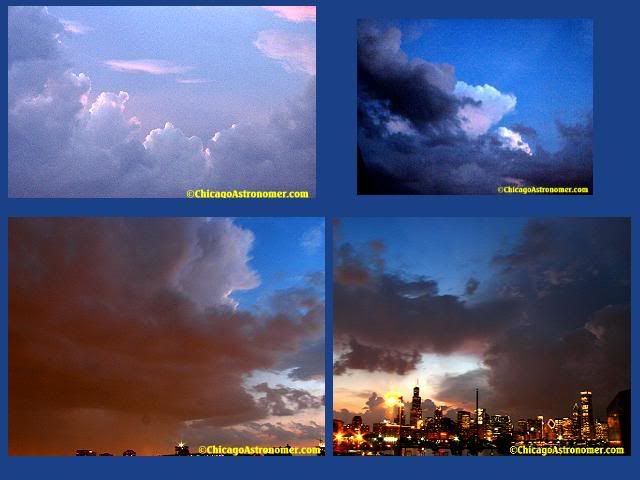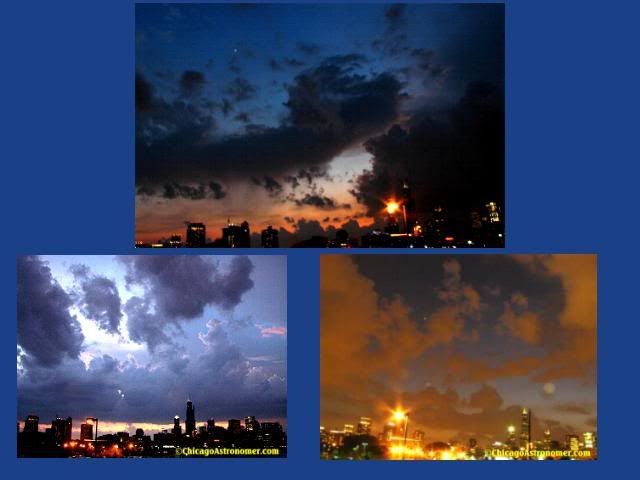 It was quite an observation session, with lightning, thunder and heavy rain all around us. I told fellow Adler Telescope Operator John that a telescope just might make a good enough lightning rod and that I will be a hands-off consultant this evening!...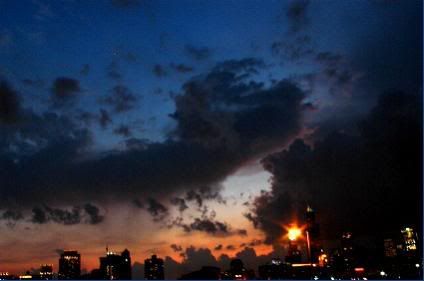 Here Venus is shining in the Chicago twilight, while in the near distance, a rain shaft approaching can clearly be observed.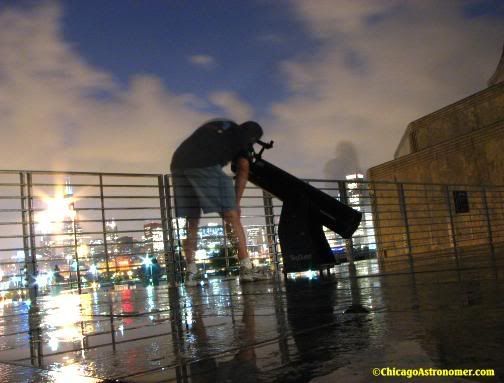 Linda and Jude spotted Saturn naked eye and we turned our scopes for this evening, (5" Mak and a 8" Dob), to it. I'm not a great fan of SCT/Maks, and this evening showed why. I think these types of scopes are too delicate and finicky. They go out of focus often with temperature changes and one has to keep refocusing thruout the session. Saturn was blurry and soft in the eyepiece, even with a low powered widefield 40mm. On the other hand, (even with the atmosphere loaded with moisture), the 8" Dob showed Saturn gloriously. Bright and well defined...even when I put in a 6mm eyepiece.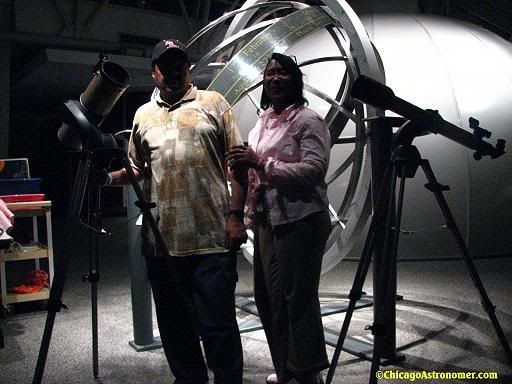 Two promising astronomy enthusiasts, (B.J & "Pinky"), came by to seek assistance in putting together and using their telescopes - a short 4.5" Newt and a 60mm refractor, both with motorized go-tos. I worked with them to assemble the tubes, collimate the optics and offered a short course in usage and operation. In no time both were finding their objects, including Venus and Saturn!..

It was now 10:00pm and time to close up shop. I did not bring out more sophisticated telescopes due to the weather, but we had fun with the two that were put to service.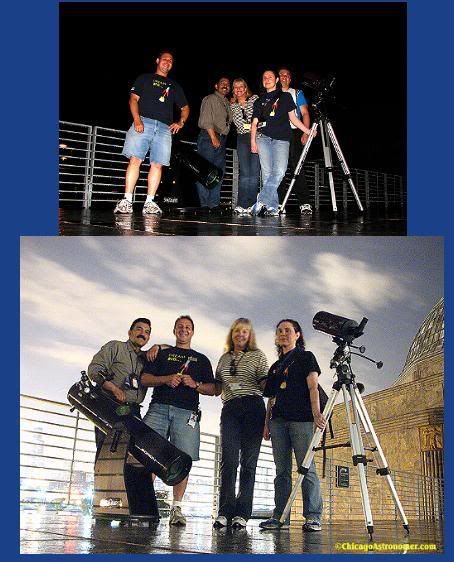 Here we have two pics. The first one was taken with a flash set to half and pictured are: John, Me, Jude, Linda and Hiram. Flash pics are too harsh and wash out detail.
I like this second better. It is a 10 sec exposure with no flash. Much more appealing and dramatic.
Although the weather was a factor in preventing a good session this evening, it also made for dramatic skies and cool refreshing breezes on the observation terrace. I did not mind the change at all.
Normally... this would be the end of this session narrative, but there's more.
___________________________
Afterwards, John and I hung about for awhile catching up on our lives, and I noticed that the Moon was trying to break thru clouds in the east. Grabbing my camera, I continued our chat, but snapped away at the unfolding presentation.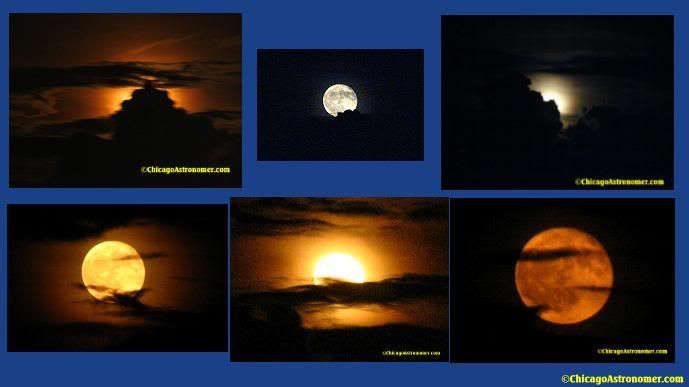 I think the first one looks almost atomic...