Post by Chicago Astronomer - Astro Joe on Jul 7, 2007 16:23:20 GMT -6
Far Out Friday Visitor Session
06 July 2007
This was a great day to share the night sky with Adler visitors. The forecast was for clear skies, but with high humidity.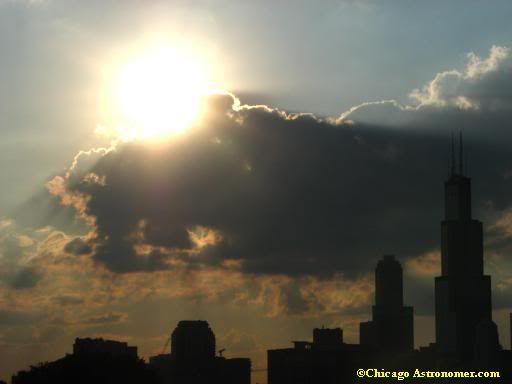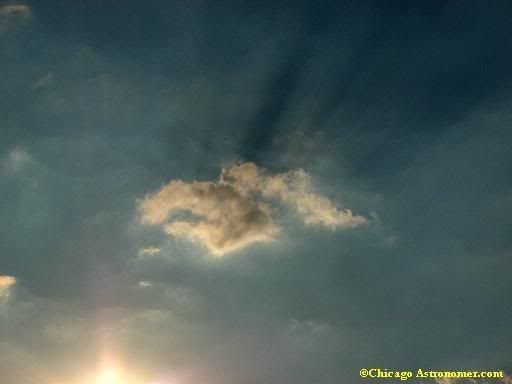 The high moisture content of the atmosphere was evident in these nice cloud shadow images.
A nice crowd was assembling early, but we took time to grab a shot before we got too busy later on...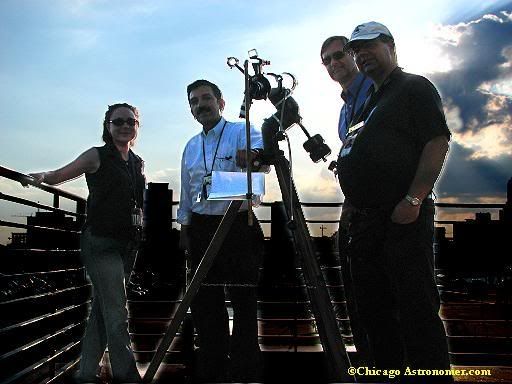 Shown are: Adler Telescope Operators: Linda, Myself, Steve & Fred
It was an end of an era this day. This was Adler Volunteer Coordinator Alisun DeKock's last day with us, as she is pursuing a position at a local museum in keeping with her studies.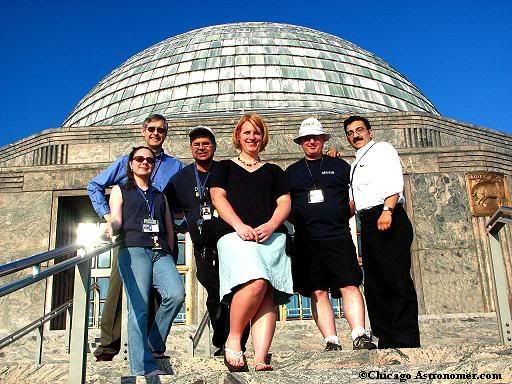 Shown: Linda, Steve, Fred, Alisun, Jeff & Myself
Alisun was the one that brought me on board to the Adler family, (with Steve Cosgrove's encouraging me to join - I was a independant radical astronomer...
).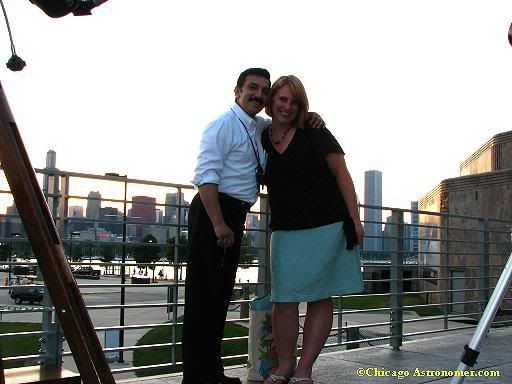 Alisun and I share a last photo and hug, but it won't be the last time we will see her, I'm sure. Good luck in your next adventure Alisun!
We were doing nice solar viewing on the terrance. Some with white light filter viewing and Fred manning the H-Alpha scope. Good promenances were easily visable.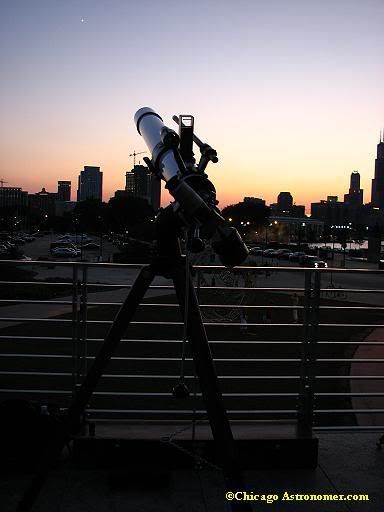 I worked my favorite scope, The Mighty Nikon, with solar projection and a small sunspot was visible near the solar limb this day. Here, Venus is starting to show, and with it, Saturn when the skies darken.
We made a good friend this day. Rob joined on in our session with his magnificent 5" Takahashi refractor. No stranger to amateur astronomy or the Adler, Rob was well versed in optics and telescopic viewing. His scope is a great astronomical instrument.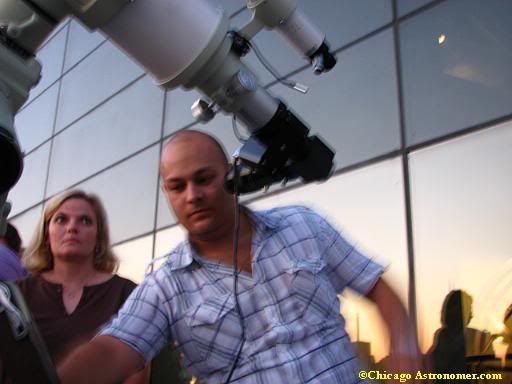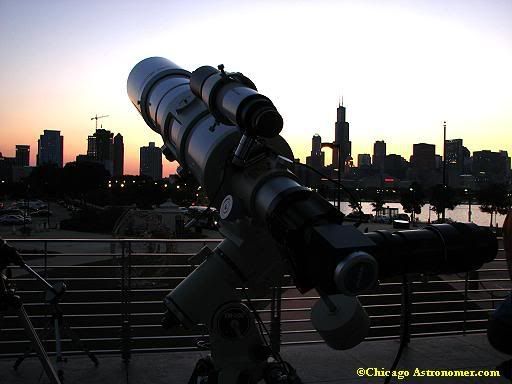 Motorised, CCD, go-to...it has it all! The views thru it were impressive, and as it's a refractor with exotic objective lenses, contrast superb. Saturn proved breathtaking. I wish I could have spent the evening peering thru the Takahashi, but we were all very busy.
*Note: Usually someone with such a sophisticated and expensive astronomical instrument carries about them a undesirable and egotistical attitude. A "I have a better scope than you" mentality. I have met a few like this at star parties, (who needs them), but Rob was down to Earth and unpretentious. I hope he joins in with the Chicago Astronomers as he was warmly invited.
We had scopes pointed all over the place. I found Saturn by scanning the nearby area close to Venus. Starting out with a 40mm wide-field to help locate the planet, the rings system was nice and sharp. Switching to a 12mm, the disk was dramatically larger, contrast good, but as the Nikon is all manual, I had to keep up with it thru the slo-mo controls.
Jupiter & Venus were also targeted in Dobs, Maks and refractors. A few people brought their own personal telescopes for guidance, and Steve being the expert was on it. Often a young child will grab onto the focuser with both hands and ruin the targeting. Back to the 40mm and start again. But it's ok.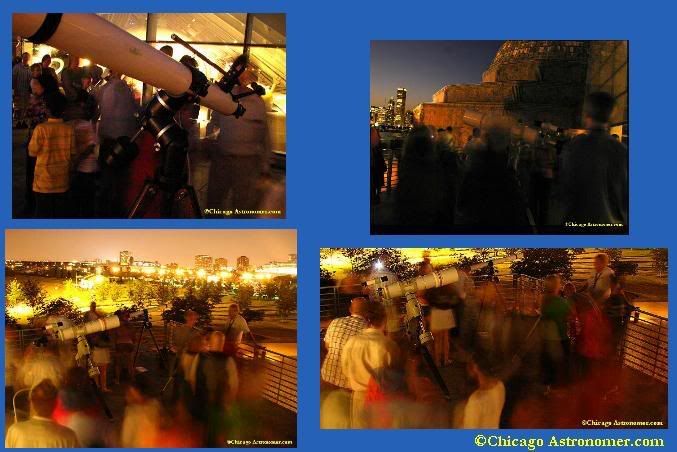 As the sky shows let out, the crowds assembled on the terrance to catch celestial wonders. Must have been hundreds throughout the evening. Everybody enjoys a good Saturn, but Jupiter's satellites and Venus's crescent were also good to view. Good discussions on the origin of sunspots, why inner planets have phases and the composition of Saturns's rings.
Some of the telescope crew took shifts to work the Doane Observatory. I stayed on deck with the Nikon, as I am rather protective of it.
- (SOMEBODY...left the Rigel star finder in the ON position and drained the battery!...
It was useless as a functional tool this evening and I was annoyed. If you must touch the Nikon when I'm not there, please take care of it...but I would rather you play with the many other telescopes in our storage area.) -
Answering questions, meeting new people and sharing the night sky was rewarding this evening. More FOF's should be like this...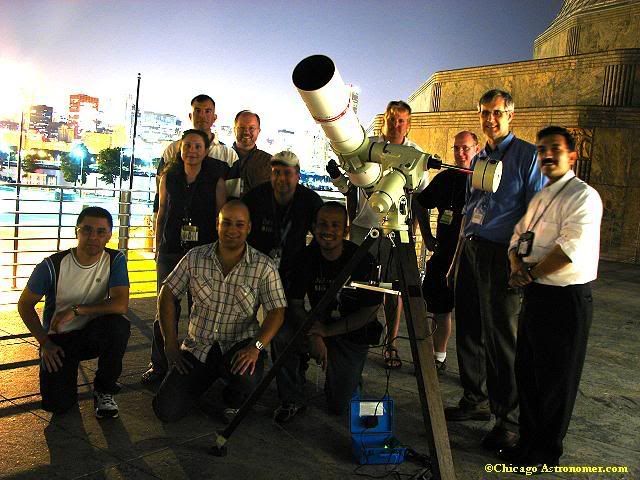 The evenings crew - bottom row: Chicago Astronomer Hiram, Rob and Adler's Santiago.

Top row: Adler's Linda, Chicago Astronomer Alfred, Adler Astronomer Mark, Adler's Fred, Adler's Greg, Adler's Jeff, Adler's Steve and Adler's Joe