Post by Chicago Astronomer Joe on Feb 10, 2007 12:08:06 GMT -6
Here is my Slave trigger and Camera Bracket set-up
I got my slave trigger last week, and had not the chance to play around with it. This afternoon I did some experiments and found a problem or two.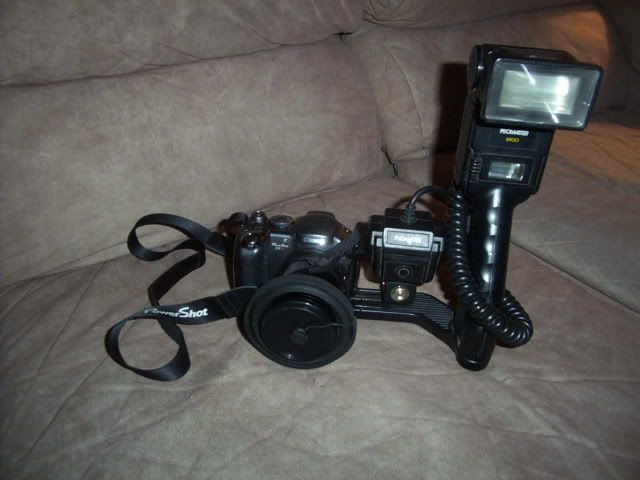 I located the slave trigger on the base of the camera flash bracket. (I have had this nice bounce double-element adjustable & rotatable flash unit from my Nikon 35mm film days. Even has C batteries in the handle as well as auxiliary 4 AA batteries as back-up!)
When I adjust the on-board flash to minimum, (1/3), it does not activate the main flash. If I kick it up to 1/2, then it does. The camera is set on manual.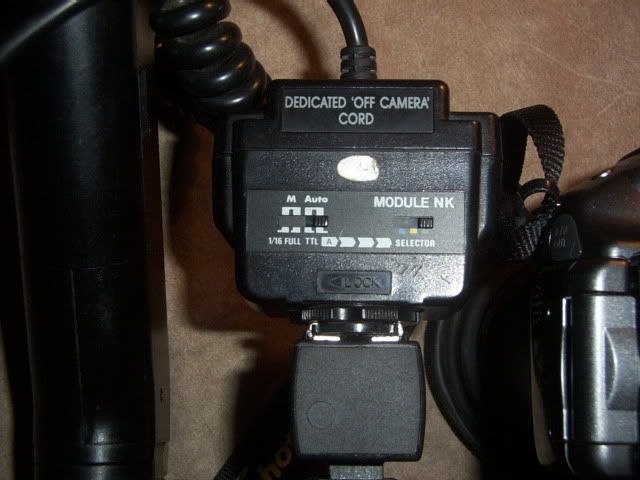 There are adjustments on the back of the bounce flash and thystor sensor. Perhaps I'm not setting properly? I have played with different setting but I just don't know.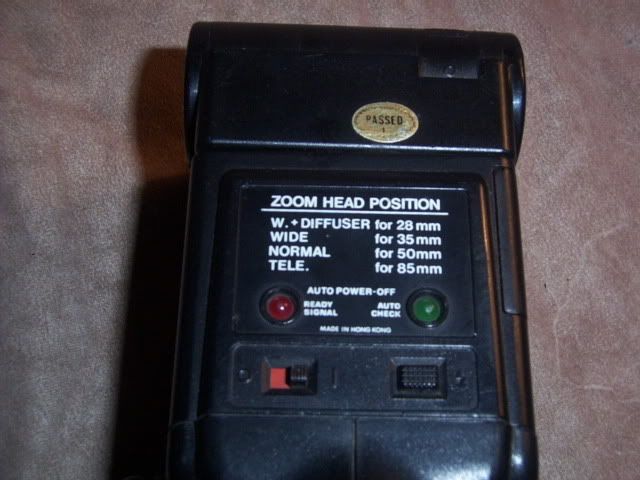 Could it be that the slave trigger is too far down, resting in the shadows on the bracket, to "see" the weak 1/3 on-board flash? The attached hood I'm sure is blocking some of the flash too.
With setting it to 1/2 flash, "I think" I'm getting synched flash shots from the bounce flash.
UPDATE:
I think I solved the problem.
It seems I'm not getting good contact between the trigger box and thystor sensor. Sometimes it fires when I shoot the camera flash off, and other times it just sits there.
The knurled ring to tighten the flash down to the hotshoe seems to cause it not to fire. There's something about it being too tight that prevents good contact. If I just slide it in the hotshoe on the slave trigger, and slightly tighten it...it works.
What I had thought about the sensor being too low resting on the bracket doesn't seem to be a factor.
I hope this solves the problem.
It is a beast, but I tell you...people stare at it and ask questions.
I was at a Planetarium classical concert this evening. The sinfonetta was playing a long lost piece from the astronomer Hershel.
I received positive comments on the camera and was asked for copies of the images I took from Adler cooporate organizers.
Also...
I took the lens cap leash off. It's goofy to have it hanging and dangling while shooting. With the concert going on, it was banging against things and aggravating me. From now on, I will pocket the cap. And I'm getting just a little annoyed with the neckstrap as well...
It looks pro, feels good and the beast lives!