Post by Chicago Astronomer Joe on Aug 25, 2011 5:40:46 GMT -6
Imaging Jupiter....all alley-like

25 August 2011
The recent cold front pushed all of the atmospheric gunk away - displaying a crystal clear sky. With Polaris clearly standing out without any difficulty, I felt I should do something astronomical.
I set up the C11 outside of the garage and caught me some Jupiter high in the east. It's the only position I can really catch Jupiter, as my trees and garage building block any other angles. So, dealing with my limited vista, I observe some pretty decent Jovian features, including the GRS and a splotch on the NEB. I also observe a whimsical formation of satellites...
Stellarium says this...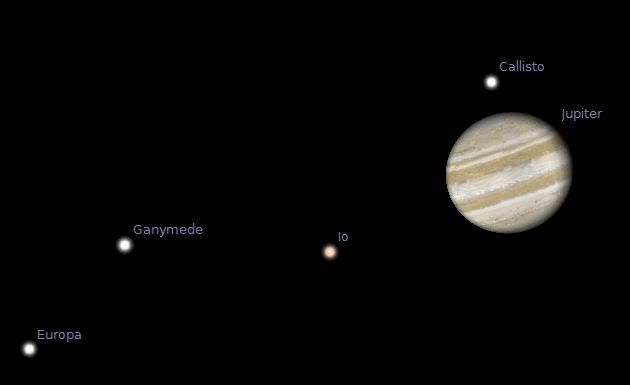 A bit off, as Ganymede and Io are closer together...and in this next shot, the satellites are more than just pin points...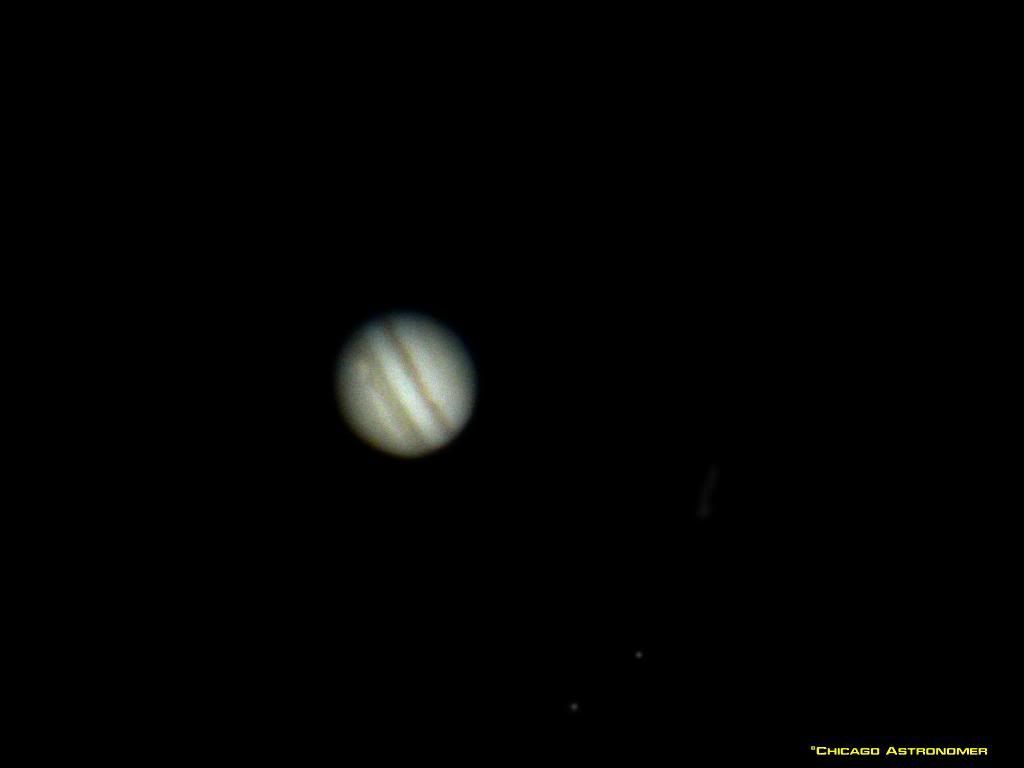 I don't know what that smudge is....perhaps the Mother ship...
The GRS slipped away pretty quickly as I observed it overnight...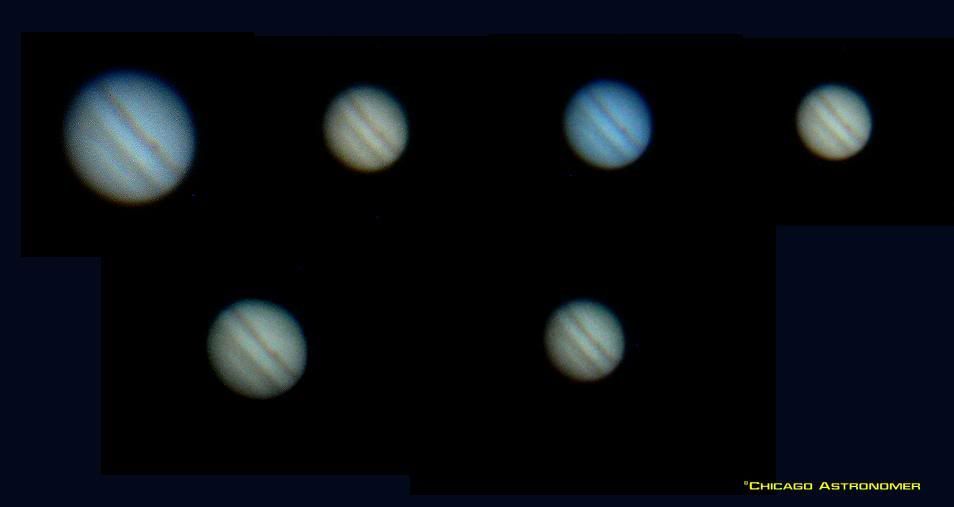 For the above pics, I used the 2" 26mm eyepiece, but for the next series, I used a 1.25" 17mm...
The early morning crescent Moon peeked out from the neighbor's treeline at around 3:30 am....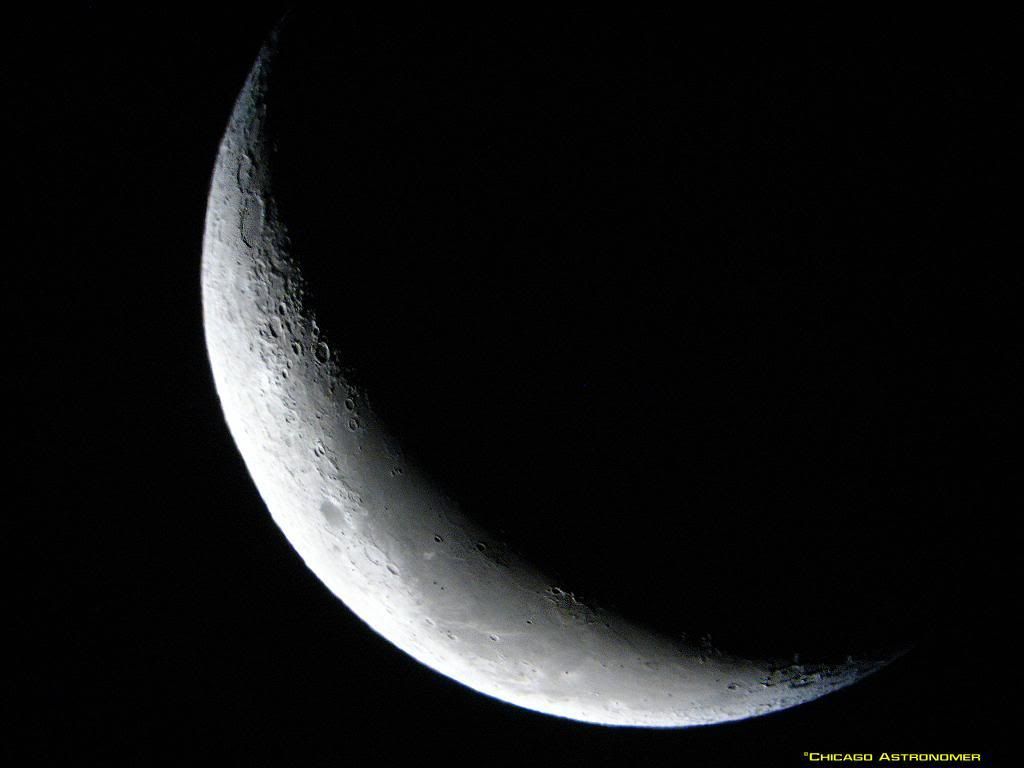 My best next door neighbor Chicago Astronomer Fan Jack, (looking away), his girlfriend Laurie and roomie Aaron, stopped by for some peeks at Jupiter, The Moon and the Orion Nebula...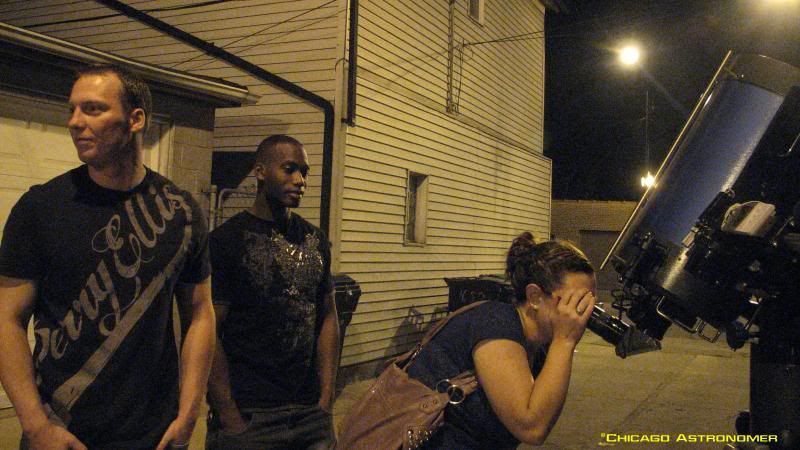 Jack really digs astronomy and discussing the subject with me in the early mornings he sees me out, spreading the word near & far about how cool to have an Astronomer next door. The crew really dug the targets presented and I tried to get the Pleiades, but alley lights were pouring into the 60mm finder scope and literally washed every out.
Horrible...
But, it was my pleasure to share what I could with my friends...No extra charge Jack...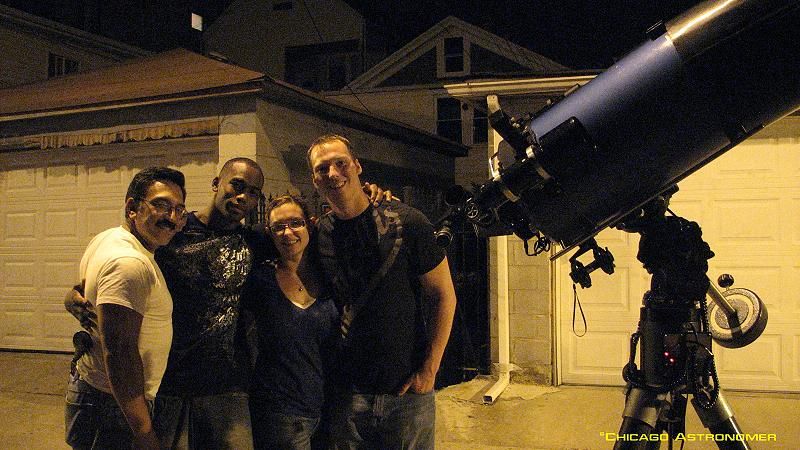 012th District Police also stopped by for awhile, talking astronomy, sharing views and chatting about my years in the District. I also spent some time re-collimating the C11...as I bumped one of the Bob Knob's on the secondary - knocking off the sharpness. After some time, I got it back nicely, but want to address this again when I have some time for a close to perfect alignment.
Alway fun to see who stops by the observation site... ;D