Post by Chicago Astronomer Joe on Jan 10, 2007 0:28:21 GMT -6
Comet McNaught Observed and Captured Under Chicago Skies
09 January 2007
Somethings are expected, planned and a good session comes out of it. Other things are just a great treat that it becomes memorable.
Comet McNaught is one of those things.
I first read about this comet's discovery sometime ago, but never...ever thought it would be as bright and clear as I have seen it from downtown Chicago.
It's been cloudy here in the city for sometime, but Tuesday afternoon found some sunshine breaking thru the clouds in the early afternoon, and I hoped for some clear skies to try and catch the comet. Clear sky clock said a clear night was in store for us, and I observed to the west the mass of clouds breaking up.
I sprang into action.
I gathered my camera, warm clothes and called Chicago Astronomer Bill to see if he would join me in a comet session. (Bill already caught the comet from the roof of a local Target store parking lot last Sunday). I met him in the parking lot and set up the camera and Bill brought along his grab-and-go 90mm refractor.
It was still early, about 4:45 pm and the sun was fast setting. Venus was not out yet, but the sunset was pretty.
Venus can be seen to the left and right of center is Altair. Comet McNaught is there...somewhere.
Bill has sharp eagle eyes and shouted out that he spotted Comet McNaught naked eye. My being so near-sighted, I could not, and grabbed my 10x50 binoculars. And sure enough...there it was!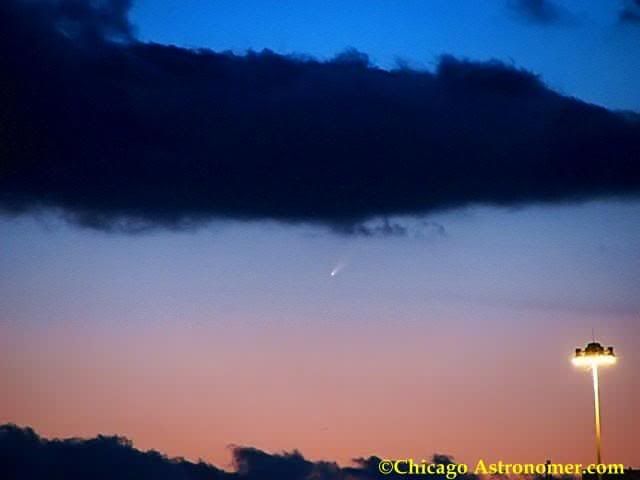 It was still rather bright, but the unmistakable coma and tail was observed from the roof of the Target parking lot. I started to shoot images, while Bill trained his scope on the comet.
As the minutes ticked by, the comet became more and more evident in the western Chicago sky, brightening, but also sinking quickly. There was a condo complex potentially in the way of the setting comet which might hinder the view and occult it.
Binoculars showed a great bright coma and magnificent tail display - fanning out away and a yellowed hue.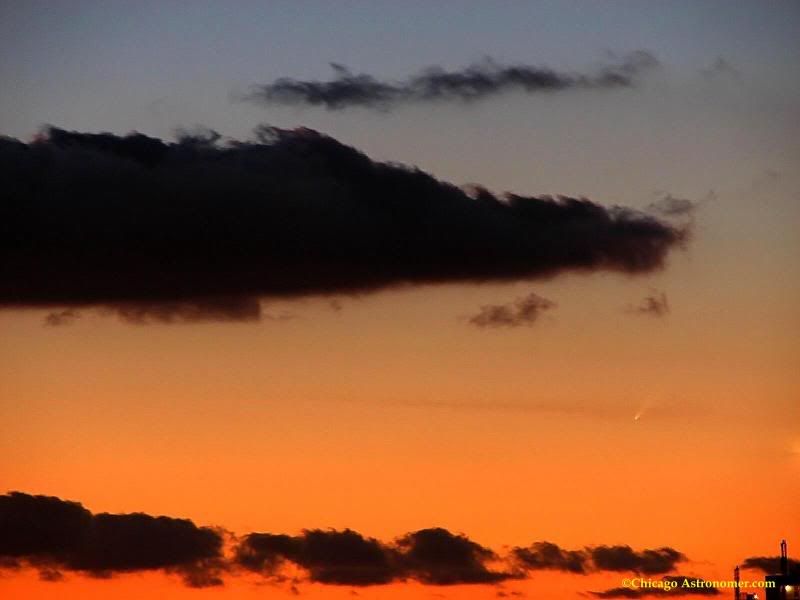 The skies were now darkening nicely, with the clouds thinning, but occasionally some smaller blocking the view.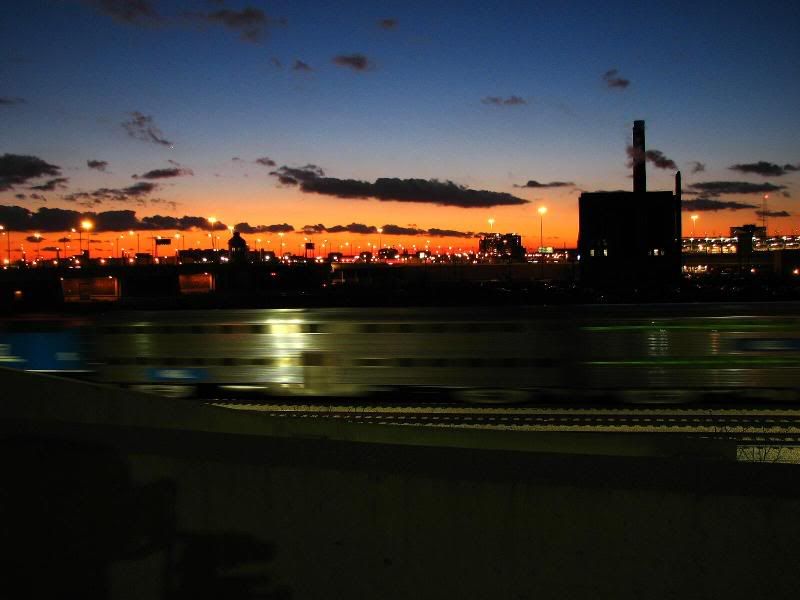 Here the Metra train blurs while the skies darken
Zooming in on the comet, it was bright enough to display sharply in the Canon S3 LCD screen. Quite cool! I had not seen quite a display since the mid-90's when comets Hyatake and Hale-Bopp made their grand appearances. But this comet was in some ways better, as it is significantly brighter and more dramatic. As it's diving in between the Earth the sun, this results in a spectacular showing...and it's going to get better!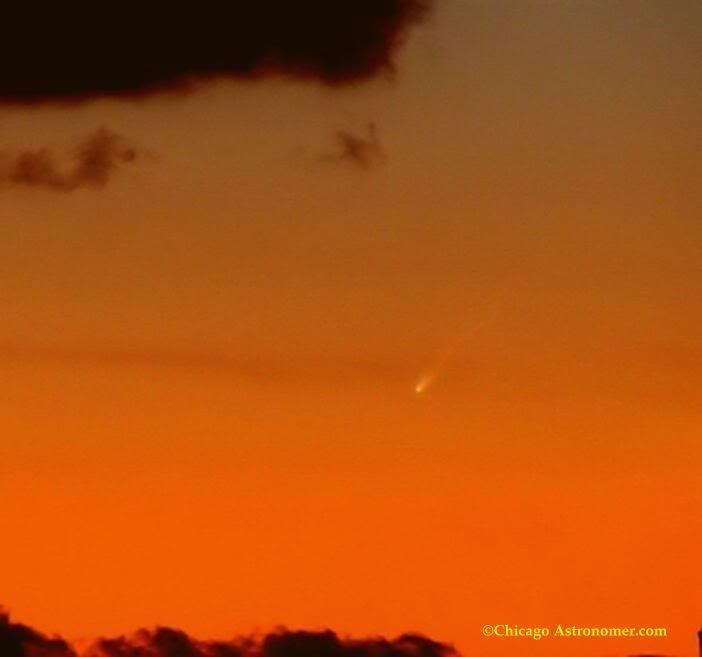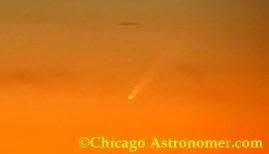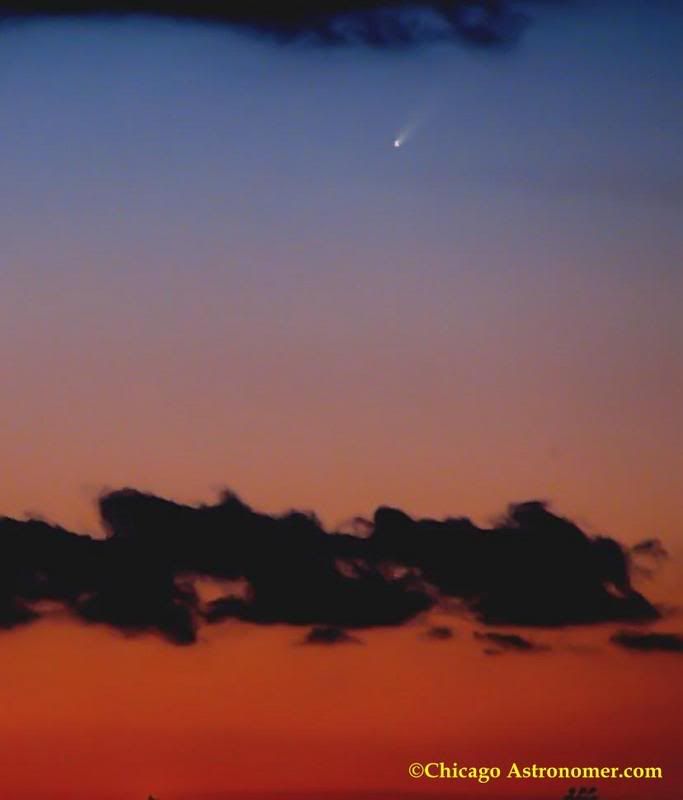 The winds were blowing fiercely, and shaking the camera's tripod. Many shots were unusable, but some great images came thru. Bill and I stayed for about an hour and the session ended when the comet dived behind the condo complex and was lost.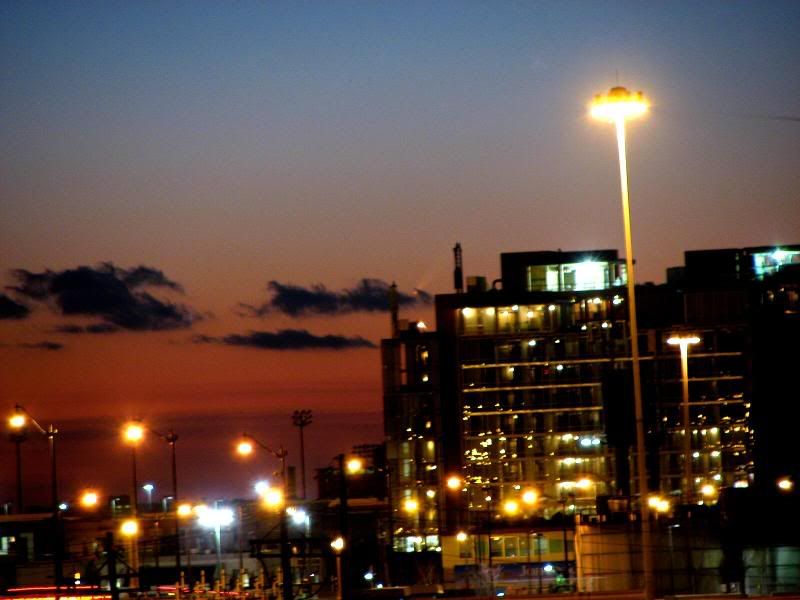 We ventured inside the store to partake in warm beverages and recount our experience with the comet. Bill said it was much brighter now than when he saw it on Sunday evening.
I desire to bring out the reflector or the dob to catch it next time, but it was just too windy for any serious observing time with the telescopes.
I will make all efforts to catch Comet McNaught again and again in our murky Chicago skies till it goes south...but man, what a great evening of comet spotting already!... ;D
What a great surprise.
Ain't it fun being an astronomer?