Post by Chicago Astronomer Joe on Feb 22, 2006 19:55:31 GMT -6
Hubble Confirms Two New Moons of Pluto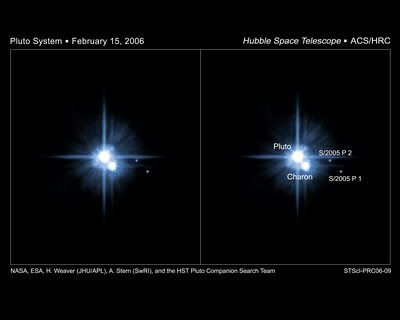 Credit: NASA, ESA, H. Weaver (Johns Hopkins University/Applied Physics Laboratory), A. Stern (Southwest Research Institute) and the HST Pluto Companion Search Team
Anxiously awaited follow-up observations with NASA's Hubble Space Telescope have confirmed the presence of two new moons around the distant planet Pluto. The moons were first discovered by Hubble in May 2005, but the science team probed even deeper into the Pluto system last week to look for additional satellites and to characterize the orbits of the moons.

The confirmation reinforces the emerging view that the Kuiper Belt, a swarm of icy bodies encircling the solar system beyond Neptune, may be more complex and dynamic than astronomers once thought. Pluto resides inside the Kuiper Belt and is about 3 billion miles from the Sun. Pluto was discovered in 1930.
The moons' orbits are in the same plane as the orbit of the much larger satellite Charon (discovered in 1978). This likely means the moons were not captured, but instead were born, along with Charon, in what is commonly theorized to have been a titanic collision between two Pluto-sized objects over 4 billion years ago.
Astronomers believe that the formation of the Pluto system is similar to that of our Earth and Moon. In both cases a comparable-sized body slammed into the parent planet. Simulations show that debris from the collision would go into an orbit around the planet and coalesce to form one or more satellites. Investigating how Pluto ended up with three moons while the Earth has only one should yield valuable insights into the processes by which satellite systems form around planets.
The team will use Hubble again on March 2 to study the new moons. They hope the follow-up observations will provide information on the moons' color, as well as their size and shape, which could yield further clues about the formation and evolution of the Pluto system.
In the Hubble image, Pluto is in the center and Charon is just below it. P 1 is to the right and just below Charon. P 2 is to the right of Pluto and Charon.
Source: Space Telescope Science Institute
Full story here:
www.physorg.com/news11093.html
======
I bet in 10 years, the old view of our solar system and space in general will be drastically different than is understood now.
It's a whole new universe...