Post by Chicago Astronomer Joe on Jan 18, 2006 3:51:21 GMT -6
Life on Venus may be microbe clouds - The Venus/Flu Connection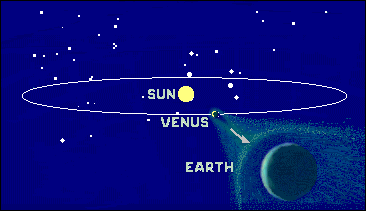 A Search for Evidence of
Interplanetary and Atmospheric
Microbial Delivery Systems
In 1950, amongst his other breaches of scientific protocol, Immanuel Velikovsky claimed that ancient texts provided evidence that various life forms, including some insects, exist in the atmosphere of Venus, and that in about 1450 BC some of those life forms were transported alive to Earth in the (then) comet-like tail of Venus.(2)
In 1953 Sir Fred Hoyle is reported to have informed Velikovsky that "his work was not properly scientific." Even so, Hoyle eventually came to champion the idea that pathogenic bacteria and viruses are brought to Earth by comet tails and meteor streams.(3) He and his colleague Chandra Wickrasminghe found evidence that the severity of influenza epidemics seems to be related to sunspot activity.
In 2000 a research team lead by another long-time colleague of Hoyle, Jalent Narlikar, reported (to the SPIE) what they consider unambiguous evidence of the presence of clumps of living cells [from space] in air samples from as high as 41 kilometers above the Earth's surface.(4)
But are the 2000 findings the "first evidence" of live drop-ins?
There is an earlier report on what was speculated to have been a "dropping-in on Earth" of alien bacteria which occurred during the middle part of the twentieth century. The report was published in 1963 by Donald Barber, who had just retired as Director of the Norman Lockyer Observatory at Sidmouth England. His article(5) documents a series of nine "unidentifiable" rain-water borne bacterial invasions which occurred at the Lockyer observatory between 1936 and 1961. Based on the bacteria's phenomenally rapid liquefaction property (of astronomical photographic plate emulsions), its toleration to highly toxic silver halide salts, and the unique correlation of their arrival times with certain "space weather related" events, Barber came to speculate that the bacteria were of extraterrestrial origin.
More here:
www.ebicom.net/~rsf1/vel/iamds.htm
Venus is considered the most inhospitable of planets, a barren inferno where surface temperatures approach 900 degrees Fahrenheit and the atmosphere is composed of metal-eating acids. But the second planet from the sun actually may be harboring life, according to a University of Texas at El Paso research team. Studying conditions above the surface, it noticed mysterious patches swirling around, which may be communities of bacteria.
"From an astrobiology point of view, Venus is not hopeless, said Dirk Schulze-Makuch, a professor of hydrology and environmental science, who led the research. "I'd even argue that the chance for life on Venus is about as plausible as the chance for life on Mars."
The team's theory is that microbes could be living in clouds 30 miles up in the Venusian atmosphere, where conditions are relatively balmy -- water droplets are present, the temperature is 158 degrees Fahrenheit and the atmosphere is similar to what it is on Earth. Using data from the Russian Venera space missions and the U.S. Pioneer Venus and Magellan probes, the team found chemical oddities there that could be explained by the presence of living microbes.
He suggested the bugs could be using ultraviolet light from the sun as an energy source, which would explain the presence of strange dark patches on ultraviolet images of the planet.
More here:
www.chron.com/disp/story.mpl/space/1616042.html
Influenza 1918, A Venus Connection?
Historically, outbreaks of new strains of influenza and influenza related illnesses (SARS for example) have occurred shortly, on average 83 days, after Venus inferior conjunctions.
Venusian cloud-colony bacteria may serve as the viral hosts and, when clumped together, as radiation shielding viral spacecraft. Here, we're talking a War of the Worlds scenario, only the extraterrestrials are a lot smaller than in the H.G. Wells version.) Before one laughs oneself silly over this bit of seeming science fiction, go to Google.com and do a search on "life on Venus," A direct link to an online news report on the topic of possible Venusian bacteria is the HoustonChronicle.com article Life on Venus may be microbe clouds.
More here:
www.ebicom.net/~rsf1/vel/1918.htm
www.ebicom.net/~rsf1/vel/ven-tran.htm
===============
Well...this is quite interesting. I have not made the corrolation, nor have I made the event connections, but it seems that others have.
Quite interesting...