Post by Chicago Astronomer Joe on Oct 25, 2007 2:23:42 GMT -6
Comet Holmes P/17 Outburst and bright
We have a new surprise comet in our skies.
Comet 17P/Holmes has brightened incredibly, from magnitude 17 to magnitude 3 literally overnight. That's a brightening of a factor of 400,000! The comet is in the constellation Perseus, and is about 4 degrees from the bright star Mirfak.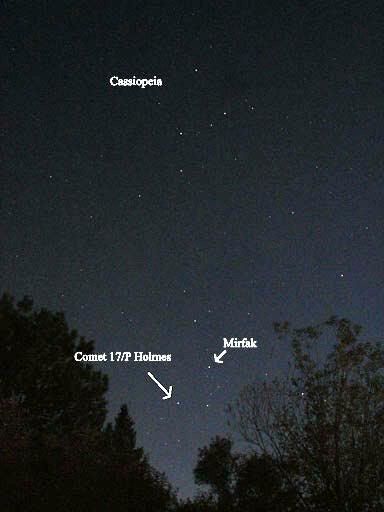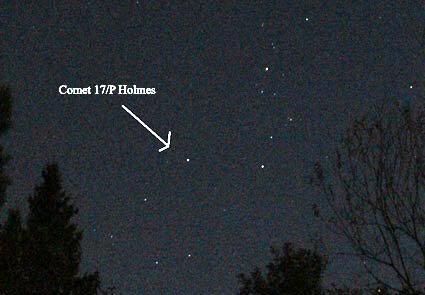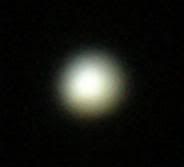 Images credit: Bad Astronomer.com

From the Cosmic Mirror:
A most amazing eruption is occuring on comet 17P/Holmes which was at 17 mag. at best but on October 24 suddenly began to brighten like crazy: Now (afternoon UTC) it has already reached 3rd magnitude and is easily visible to the naked eye, as reports from Japan indicate: "Perseus does not look 'Perseus' familiar to us due to the bright stellar object now."
The comet looks like a bright, yellow star, and only magnification reveals a fuzzy coma around the dusty core. Holmes was discovered in 1892 thanks to a similar outburst, and hope is that the further development will be similar now: the coma should expand over time but stay bright for a week or more. "Following the initial stages of the [1892] outburst, the comet's total magnitude faded only very slowly and it remained visible to the unaided eye for about 3 weeks," advises comet guru John Bortle: "During this interval the coma expanded dramatically (as might be expected), reaching 20'-30' in size before its outer regions began to drop below the sky background."
Moreover, there was a second outburst "of almost equal amplitude to the first one, about 75 days following its 1892 November brightening. Thus, I would urge everyone to watch very carefully for a possible repeat of this secondary event about the turn of the year." Source:
www.astro.uni-bonn.de/~dfischer/mirror/306.html
Here is a link to the details of the comet:
cometography.com/pcomets/017p.html
And another link to a large wide sky image taken of the bright comet:
www.flickr.com/photo_zoom.gne?id=1736413863&size=o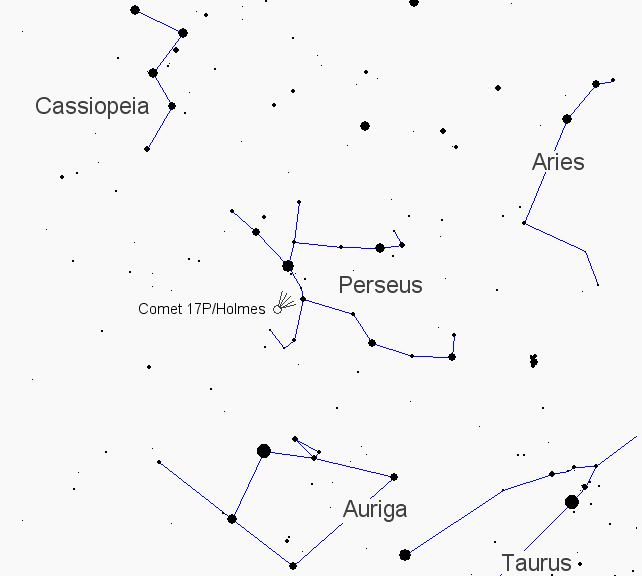 Source:
www.spaceweather.com/images2007/24oct07/skymap_north_holmes.gif?PHPSESSID=eo6bnkmum8ft2tqrqur6pp9k05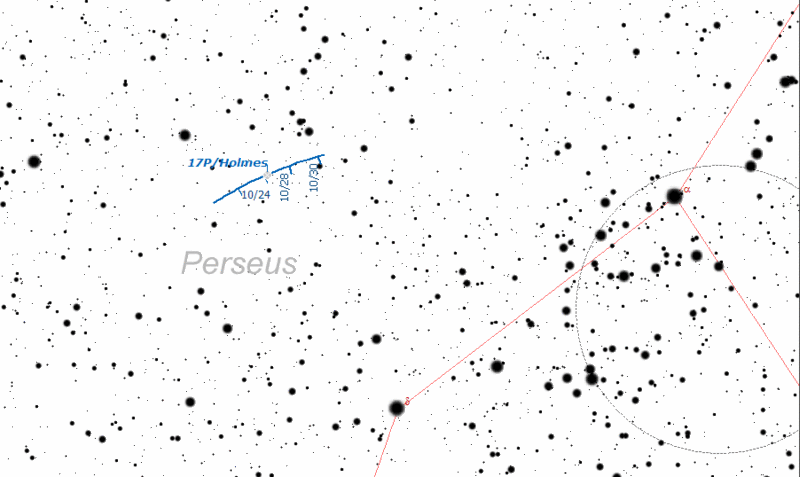 Source:
cometchasing.skyhound.com/comets/17P.gif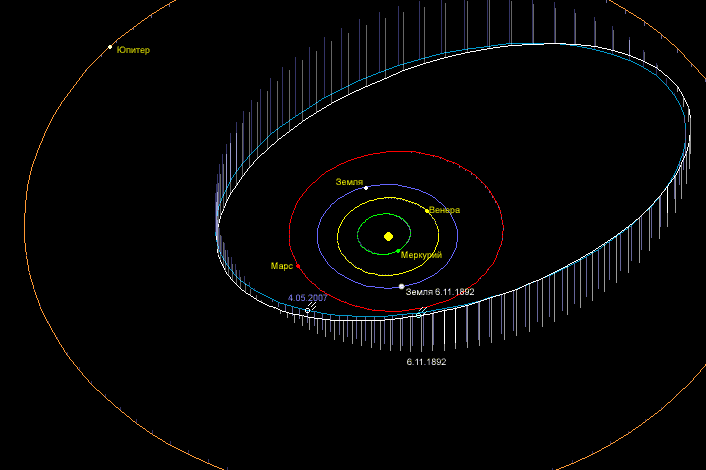 Here is a nice Russian orbit plot. Source:
www.nevski.nm.ru
Even in light polluted Chicago skies this will be a good target to look for with binoculars or telescopes. Presently the Waxing Moon will be a hindrance, but even with the bright light, the comet is still quite visible. A similar outburst was observed in November of 1892. During that outburst it was a naked-eye object for several weeks.
No discernible tail...yet, but it may fade just as quick, so catch it now while you can and while it's displaying it's outburst.