Post by Chicago Astronomer Joe on Feb 25, 2006 14:28:10 GMT -6
C/2006 A1 Pojmanski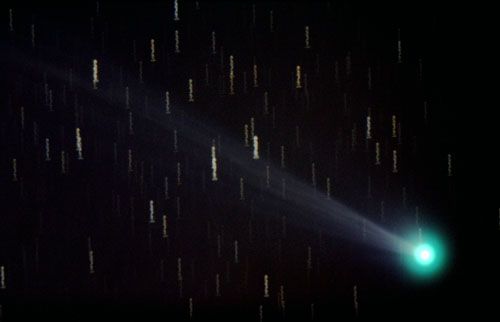 www.possumobservatory.co.nz/comet_2006a1_pojmanski.htm
Comet Pojmanski is peeking over the eastern horizon, ready to display itself to northern hemisphere observers in the early dawn. Promising to be at least a +5 magnitude comet, it's showing a faint tail and should be visable in binoculars and small telescopes.
From Space.com:
"On Jan. 2, Grzegorz Pojmanski at the Warsaw University Astronomical Observatory discovered a faint comet on a photograph that was taken on New Year's Day from the Las Campanas Observatory in La Serena, Chile, as part of the All Sky Automated Survey (ASAS). A confirmation photograph was taken on Jan. 4. Later a prediscovery image of the comet dating back to Dec. 29, 2005 was also found.
Interestingly, about seven hours after Pojmanski detected the comet, another astronomer, Dr. Kazimieras Cernis at the Institute of Theoretical Physics and Astronomy at Vilnius, Lithuania, spotted it on ultraviolet images taken a few days earlier from the SOHO satellite. Despite this, however, the comet bears only Pojmanski's name.
Currently, Comet Pojmanski is shining at around magnitude 5, which is roughly about the same brightness as the faintest star in the bowl of the Little Dipper. Sharp-eyed observers in a dark, clear sky can actually glimpse it without any optical aid.
The comet is located in the zodiacal constellation of Capricornus, the Sea Goat. Beginning Feb. 27, skywatchers in the Northern Hemisphere can try locating it, very low above the horizon, somewhat south of due east about 90 minutes before sunrise. You can use Venus as a guide on this morning: the comet will be situated roughly 7 degrees to the left and slightly below the brilliant planet (the width of your fist held at arm's length and projected against the sky is roughly equal to 10 degrees).
As viewed from midnorthern latitudes, Comet Pojmanski will be positioned a little higher above the horizon each morning at the start of morning twilight. While it's only 5 degrees high on Feb. 27, this quickly improves to 10 degrees by March 2; 16 degrees by March 5 and 22 degrees (more than "two fists" up from the horizon) by March 9.
What you can see
In the early morning sky it can be readily picked up in binoculars looking like a small, circular patch of light with a bluish-white hue and an almost star-like center.
The comet will passing closest to Earth on March 5, when it be 71.7 million miles (115.4 million kilometers) away.
In small telescopes the comet's gaseous head or "coma" should appear roughly 1/6 of the Moon's apparent diameter as seen from Earth (an actual linear diameter of 209,000 miles or 335,000 kilometers). It will also likely display a short, faint narrow tail composed chiefly of ionized gases. "
From the Griffith Observatory:
"Starting Saturday morning, the comet should be visible through binoculars, appearing as a slightly fuzzy blue star of magnitude 5, with a short tail. The best time to see it is at 5 a.m. To find it, first locate the brightest object in the entire sky at that time, Venus, low in the southeast. Move your binoculars until Venus appears at the upper right edge of your field of view. Look for two fairly bright stars to the lower left. These two stars are the brightest of Capricornus, the Sea Goat. The top one is the double star alpha Capricorni, and the lower is beta Capricorni, and they are 2 degrees from each other, which will provide a handy scale for finding the comet.
On Saturday morning, center your view on beta Capricorni, the lower star, and the comet will be about 3 degrees to the lower right of the star. On Sunday morning, the comet will be 1 degree to the right of beta Capricorni. On Monday, it is between alpha and beta, only one-half degree below, alpha. On Tuesday, the comet is the same distance from alpha as beta, but to the upper left of alpha. On Wednesday morning, it has moved 5 degrees to the upper left of alpha, and can also be found by scanning a little more than one binocular field, or 11 degrees directly to the left of Venus."
------------------
The following are locating charts:
Space.com
www.aerith.net/comet/catalog/2006A1/2006A1.html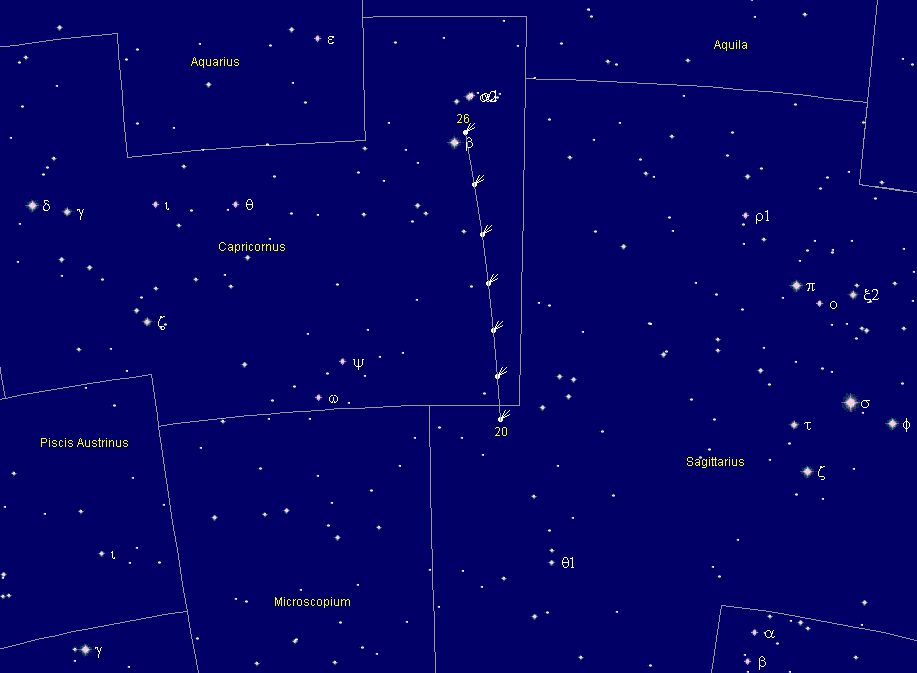 -------------------
Links to Comet Pojmanski:
www.space.com/spacewatch/060224_night_sky.html
www.aerith.net/comet/catalog/2006A1/2006A1.html
www.possumobservatory.co.nz/comet_2006a1_pojmanski.htm
It's been awhile since we have seen a good comet in Chicago skies, let's hope this one will put one a good show, although brief...