Post by Chicago Astronomer Joe on Mar 14, 2006 2:15:02 GMT -6
Chicago Astronomer Member Notice -
13 March 2006
Fellow Chicago Astronomers, Adler crew and enthusiasts,
A couple of cool astronomical events for us to enjoy.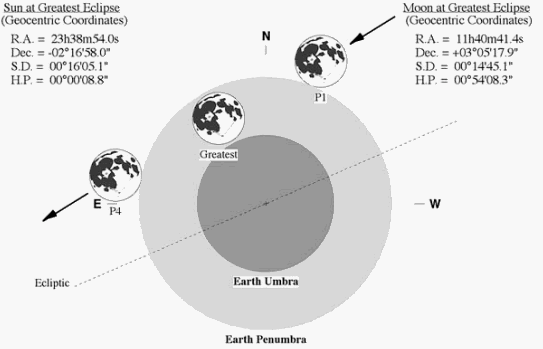 TUESDAY 14 MARCH 2006 5:00 PM-is
A Pre-Umbral Lunar eclipse can be visible from Chicago on the evening of Tuesday the 24th of March. Although the eclipse will be half way done as it rises over the lake, we should still be able to catch the final half.
From our Chicago Astronomer member Curt (Centaur) we have the following information:
2006 MAR 14/15 (Evening of the 14th CST)
21:24 UT (15:24 CST) Moon Enters Penumbra
23:48 UT (17:48 CST) Maximum Eclipse
02:11 UT (20:11 CST) Moon Exits Penumbra
Sunset at Chicago's Adler Planetarium will come at 17:56 CST. Moonrise will occur at 17:51 CST at an azimuth of 85.9° (4.1° on the north or left side of due east.) So for Chicago the Moon will begin rising about 3 minutes after maximum eclipse.
The last such TPLE occurred in 1999, but the next one following this month's event will be in 2053. In fact only one occurs in each of the periods 1666-1899 and 2158-2428
More information here:
astronomer.proboards23.com/index.cgi?board=Conjunctions&action=display&thread=1141205629
More info from spacedaily.com:
www.spacedaily.com/reports/Penumbral_Lunar_Eclipse_Due_Wednesday.html
I will be set-up at the East side of the Adler Planetarium at 5:00 pm to observe this event, and it should be quite interesting to see the Moon already in shadow as it rises. It will make good photographic shots.
--------------------------------------------------------------------------------
Also...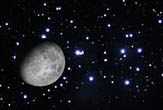 Lunar Occultation of the Seven Sisters - April 1st 2006 - 6:00 pm-ish
On the 1st of April 2006, there will be quite a neat lunar occultation of the major stars of the Pleaides. Those with telescopes can see the starshine dance through the mountains and valleys of the Moon. Always great to witness.
Fellow Chicago Astronomer Curt provides us with the following:
Below is the Pleiades occultation timetable I've calculated for observers at Chicago's Adler Planetarium on 2006 APR 01. The Sun will set at 18:16 and the Moon at 22:47. All times here are CST. The stars' coordinates are for the date of the event (not 2000.0). ZA is a star's Zenith Angle on the lunar limb as measured counter-clockwise from the Zenith.
The list includes the 7 fairly bright Pleiads for which observers in Chicago will be able to witness emersion after sunset. However, 3 of the immersions will occur before sunset and 2 during twilight.
Mag 2.9 - RA 03:47:50.2 - Dec N 24°07'33" – Alcyone #1
18:41:27 – ZA 036.4° - Immersion
19:47:03 – ZA 194.9° - Emersion...
Visit the Chicago Astronomer for all the precise times of both immersion and emersion of the stars:
astronomer.proboards23.com/index.cgi?board=Conjunctions&action=display&thread=1124427091
Weather permitting, I will set-up by the Adler to catch this event at 6:00 pm.
I encourage all to join in on these rare events and let me know of your intent. It's always nice to see all of you and share a session of the Chicago Astronomers.
- Catch up on the 30 most recent posts at the Chicago Astronomer :
astronomer.proboards23.com/index.cgi?action=recent
See all soon...
Joseph Guzmán
The Chicago Astronomer
Administrator & Founder
www.chicagoastronomer.com
astronomer.proboards23.com
"We are all in the Gutter, but some of us are looking at the Stars"
Oscar Wilde -1854-1900